Rugby Australia chairman Paul McLean says Rugby Australia CEO Raelene Castle was the victim of constant and "abhorrent" bullying during her tenure.
Speaking to media via video conference on Friday morning, after Castle tendered her resignation, McLean said concern for Castle's welfare amid constant "abhorrent" bullying, especially on social media, was a major concern in recent months.
Castle had been the subject of numerous personal attacks in her time as CEO, some from high-profile media personalities such as Alan Jones and others from social media users.
Comments ranged from criticism of her job performance to criticism of her appearance and her New Zealand heritage, all of which McLean said were "abhorrent".
"I'm not a social media person but I'm aware of some of the things that were said over a period of time in a quite vicious and vitriolic way," he said.
"So, I think it's the silent forces, the dark forces, they're the things that upset me most.
"I think most of you (media), as professionals, would come through the front door on things like that and get the information correct and then write about it.
"I think it's the people that didn't ask for the information, didn't know the facts or were just one of those faceless people that was the damaging thing from her perspective and she shared some of that with me which I found quite abhorrent."
Castle announced her resignation on Thursday night in a statement after an afternoon phone call with McLean, where he informed her that she no longer had the board's full support.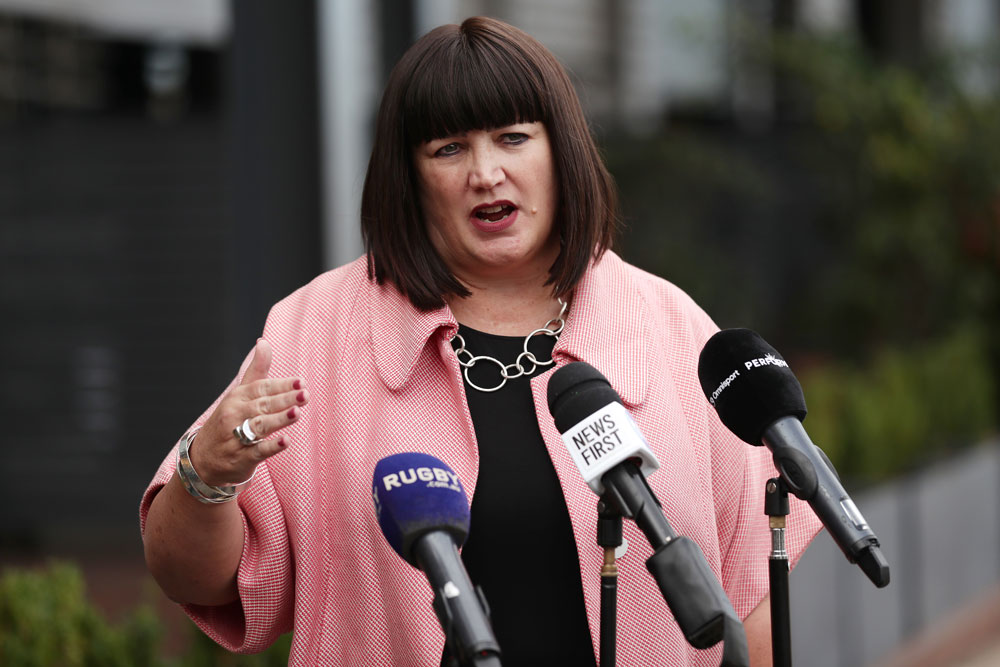 "The relationship with not only with me as chair but previously with Cameron, Raelene's position was always if she didn't have the board's support (she would walk away)...I suppose the last three months I suppose the board's had to consider how we take the game forward and it's not just today, tomorrow but it's the next six months and beyond and I suppose that crystallised some of the thinking that was Raelene the right person to do that?," McLean said.
"I think in a normal circumstance without the things that have happened in the last two years and some of the unwarranted criticisms and in fact bullying I think it might've been a different scenario but at the end of the day the board has to make a decision about how the game can progress and if there was a clearer pathway to doing that we needed to take that pathway because we represent and manage the whole of the game.
"The decision of the board was a change needed to take place there at the leadership level and that's what took place and that's the discussion I had with Raelene yesterday."
NEW ZEALAND RUGBY "SAD TO SEE" CASTLE RESIGN
It has been reported that a Wednesday night meeting of the board's directors, that Castle was not immediately aware of, was a key factor in the events of Thursday and McLean confirmed that discussion "crystallised" some ongoing discussion of her future.
"One of the things that we were concerned about was and I've said this to Raelene as well, one of my greatest concerns with her was her welfare and how she was on a daily basis," he said.
"Because a lesser person would've thrown the towel in ages ago, quite simply.
"So, the discussion that we had to have as a board was what is the succession plan if that happened, if Raelene rang me one day and said, 'I'm gone, I can't do this anymore".
"We'd had broader discussions about that over the last six months and I suppose it crystallised with some new eyes around the board table and it probably crystallised given the circumstances we're all faced with from a general economy and how we're living our life at the moment.
"So, Wednesday that evening a discussion probably crystallised some thinking that had been happening for six months."
Asked whether the board should have defended Castle more during her time at the top, McLean said it was not straight forward.
"If defending someone and doing it as best you can is not going to be news, you're not going to get a run," he said.
"It was very difficult for us to get airtime in some of those areas. (Former Rugby AU chairman) Cameron Clyne finished up getting some space to write an article in one newspaper to even out the process and let people know what was actually happening.
"I don't think it looked like that (criticism) was going to go away any time soon."
McLean was also quick to defend Castle for some key decisions, saying that the board should shoulder some of the responsibility for some divisive actions.
"I've got to say there's been times where she's been criticised for things which weren't of her making and the board took a different view on some of those things and the board need to take some responsibility for that as well," he said.
"So, but she's had to wear the brunt of some of those things.
McLean praised Castle's work with aligning the high performance units across the Super Rugby franchises and Rugby Australia.
Certainly during her tenure , i think the most critical thing she has done besides engaging at community level in her own indomitable way and provided guidance and pathways for our community game," he said.
"She's also done what others failed to do in the past and that was to align our high performance areas across the country.
"Hopefully that will be a very strong legacy that she leaves at rugby Australia because if we are to restore our position as a force, a genuine, consistent force in world rugby we need to be aligned on the field in those particular areas."
McLean paid tribute to Castle's work ethic and passion for the job even in difficult circumstances.
"Raelene and I, even before I became the chair, she was very open with the board about their relationship with her and all she ever wanted was to know that the board supported her and whilst that was the case she would run through broken glass to get things done and she has done that," he said.
"Her commitment over the last month has been extraordinary.
"I'm not too sure there's many of us on this call that have worked 40 days straight and the hours that she's done but that's what she's done in the last month plus.
"From my perspective, that resilience dedication is absolutely unquestioned and she leaves our organisation and I'm very grateful for what she's done in a very challenging time in rugby."
NEXT STEPS
With Castle stepping down, the hunt for a replacement begins for Rugby Australia, though the timeline on a full-time replacement is unclear.
Unlike her NRL counterpart Todd Greenberg, who stood down on Tuesday, Castle was employed as a salaried employee with Rugby Australia not on a fixed contract, so there is no requirement to pay out of any fixed-term contract.
Castle will finish in her role immediately, requiring quick steps to fill that void.
McLean is set to take over as executive chair for the immediate future and the board will meet with Rugby Australia's executive team on Monday to discuss the next steps.
There has been speculation that new board member Peter Wiggs could step up into the interim position, while the two most senior executives in Rugby Australia with Castle departing are chief business officer Simon Rabbit and chief commercial officer Cameron Murray.
"The immediate future of that role is being discussed," McLean said.
"In the very short-term, I will adopt the role of executive chair but for a very short period until such time as we meet with the executive team on Monday and map out what the next steps might be an interim CEO, running in parallel with a program to seek a process to appoint a full-time CEO somewhere down the track."
The makeup of the board has also been criticised in recent months and McLean reiterated the recent changes to the directors as well as forecasting further change later in 2020.
Rugby Australia introduced three new board members in Wiggs, Daniel Herbert and Bruce Godfrey at last month's AGM, two of whom were elected by the member unions.
McLean said he expected two more board members to change in the coming months, along with the CEO change and his own plans to step down, would result in a 75 per cent change in the board.
"What we've done at this point in time I'm not sure whether people don't listen or don't want to listen, but we've had three new directors on the board which is a 37 per cent change of the board, which is what we managed through with member unions.

"If I stand down in July or sooner that'll be 50 per cent change in board and two other members who come up in the balance of the year and if they change, which I suspect they will, we'll have a 75 per cent change in the board going forward.
"The board you saw in December last year and the board you see in December or early next year will be 75 per cent different.
"And now that's without including a CEO. There is significant change at that governance level and it's been taking place in conjunction with the member unions of the last 12 months."
McLean has said he would be handing over the chairmanship by July 31 but said on Friday that it could even be sooner than that, depending on the circumstances.
"I think we're in a situation, where that's still the plan and I don't think that will change, that's what I told the unions," he said.
"That may happen sooner depending on how things go. We also need to be cognizant of the amount of IP around the table, our new directors are saying, 'Let's be a bit cautious here" but short answer its that's my timeline."