RUPA and Rugby Australia to resume talks over Easter weekend
UPDATE: There will be no pre-Easter resolution on Australian rugby players' salaries with RUPA and Rugby Australia discussions set to continue over the long weekend.
Rugby AU CEO Raelene Caste also told the Sydney Morning Herald that she has decided to increase her 50 per cent pay cut to 65 per cent until the game is back on its feet, matching the number that the national body is believed to be requesting from its playing group.
Rugby AU and the Rugby Union Players' Association were set to meet on Thursday to continue talks but were forced to reschedule after an attendee was ill, with their next meeting set down for Saturday morning.
Rugby Australia is reportedly asking players to take a 65 per cent pay cut for up to the next six months, with Super Rugby and any domestic replacement suspended until at least May 1.
The fate of this year's Test matches is unclear but Rugby AU has said previously it is preparing for the worst case scenario that could see $120 million in lost revenue should no rugby be played in 2020.
This was the first week of progress in talks after Rugby Australia delivered more detailed financial information to the players' association last Saturday morning.
Their first major meeting was on Sunday afternoon, Rugby AU describing those talks as "robust and positive", but RUPA have opted against commenting publicly in the days since that meeting.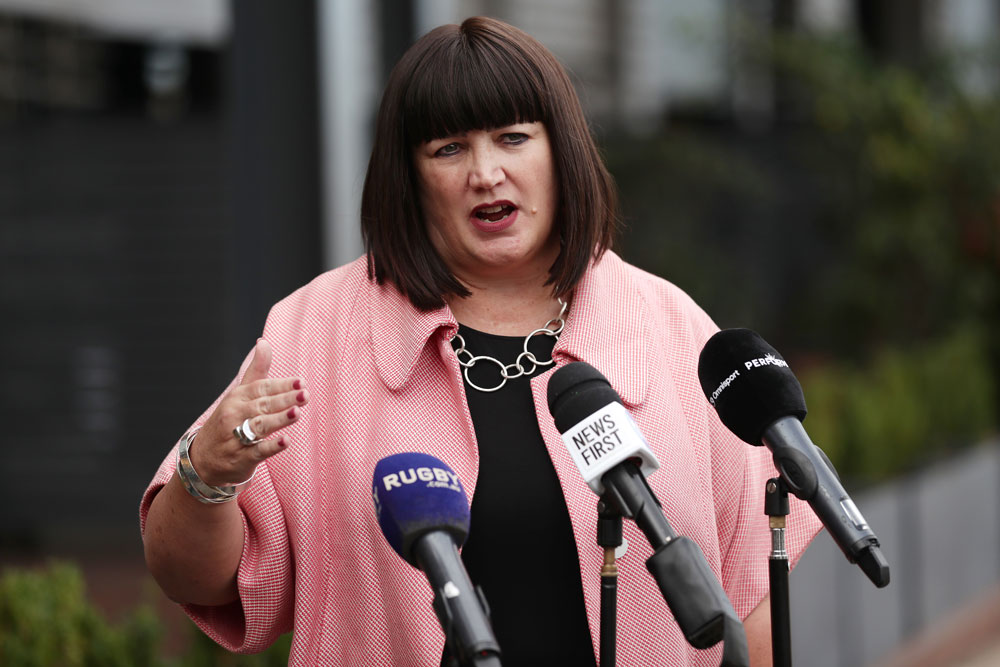 Castle last week announced she would be taking a 50 per cent pay cut and her executive team have taken 30 per cent pay cuts for the next three months.
Speaking to the Sydney Morning Herald on Thursday night, Castle said she decided to reduce her salary by an extra 15 per cent.
"We've been head down concentrating on trying to find a plan that protects the long term viability of the game, looking under every rock to try to save every penny we can to make sure the game is on a stable footing for the long term," she said.
"Off the back of that I've decided to take an additional 15 per cent that will take my pay cut to 65 per cent.
"Overnight 80 per cent of the game's revenue was turned off and, at the time, taking a 50 per cent pay cut was the best thing I felt I could do to lead in this unprecedented situation. After another few weeks of work, the right number is 65 per cent."
When those figures were released after the organisation's AGM on March 30, RUPA CEO Justin Harrison said players believed that range was "adequate" for players.
RUPA represents all of Australia's Super Rugby players, Wallaroos and Sevens players, and their board includes high-profile current players including Scott Sio and Sevens co-captain Shannon Parry and president Damien Fitzpatrick.
The Western Force are an affiliate member and are not covered in the collective bargaining agreement.
Although the Force's Global Rapid Rugby competition has been cancelled, the club's players are still training, and being paid as normal.
Currently Australia's Sevens teams are a fortnight into annual leave, which began when the remainder of the 2020 World Series was postponed last month.
All of Australia's Super W and Super Rugby teams are training in relative isolation, using home gyms and nearby ovals and parks to train where possible.
If a resolution to the pay discussion does not come soon, some Super Rugby clubs are reportedly considering standing down their players, in the same way they have staff in recent weeks.
Rugby Australia has stood down 75 per cent of its staff, as have the Waratahs while the Brumbies and Reds have kept staff on but reduced their pay and working hours.
Rugby is the last of the three major winter football codes yet to decide on a pay deal with NRL and AFL both signing off on agreements in the past fortnight.
The NRL, which also announced on Thursday that it was planning on resuming the competition on May 28, had come to an agreement where players would forego their final five months' salary this year.
The AFL, which is suspended until May 31, will see its players take a 50 per cent pay cut for the next two months.
Further abroad, Wales's rugby players have agreed to a 25 per cent pay cut for three months, unless that player earns less than $A49,000 a year.
Ireland's players have agreed to a pay deferral on a sliding scale between 10 per cent and 50 per cent of their income, depending on how much they earn.
New Zealand is yet to announce a deal but it has been reported that players will accept a 10 per cent pay cut.