'When you get the ball, just run': Clarke announces himself to the world with Lomu-esque Bledisloe performance
In the lead up to Bledisloe II, former Wallaby turned pundit Morgan Turinui crossed his fingers that All Blacks coach Ian Foster didn't promote Caleb Clarke.
He did.
A week ago, Clarke, 21, did what anybody that tuned into Super Rugby Aotearoa or, indeed, the Brisbane 10s a couple of years ago, knew he was capable of by producing a frightening cameo off the bench in Bledisloe I.
Such was his performance that Turinui compared Clarke's performance to Jonah Lomu - the legendary All Blacks winger - on The Rugby Ruckas Podcast.
It was a comparison few dare make, but no-one could argue with it following his performance in Bledisloe II at the All Blacks' spiritual home at Eden Park.
Clarke was the difference in the All Blacks' 27-7 victory over the Wallabies on Sunday, which saw the All Blacks move 1-0 up in the best of four series.
The Wallabies missed 40 tackles - more than double from the previous week in Wellington where the visitors produced a stirring performance to leave with a 16-16 draw - and their dodgy defensive effort was almost single-handedly because of Clarke.
Clarke - the son of former All Black Eroni, who played alongside Lomu – tore Australia to shreds, bumping away Wallaby defenders like cars on Australia's roads.
Following the match, he explained his simple game-plan.
"When you get the ball, just run. You don't have to think about anything," he said after his first Test start.

In total, he finished with 123 run metres in attack, bumping away 10 defenders along the way and making three linebreaks in the process.

It was a performance that announced him to the world.
His run early in the second half, where he crashed through five Australian defenders in the lead up to Ardie Savea's try - the All Blacks' third five-pointer of the afternoon - broke the Wallabies' hearts in Auckland.
It was small wonder that the Eden Park faithful gave him a standing ovation when he left the field midway through the second half.
All his father could do was smile from the stands.
Post-match Foster tried to keep a lid on Clarke's awesome potential.
"He's an uncomplicated individual. He's got great self-awareness at who he is, he knows what he's good at on the rugby park and he just believes in it," the new All Blacks coach said.
"He just wants the ball and wants to run hard. He's taken a challenge off the bench, done well and know he's started and I think the whole team will be thrilled for him."
Over the ditch in Australia, former Wallabies captain George Gregan spoke of the rare characteristics that Clarke has.
"We saw the makings of a wonderful player during Super Rugby with this man," Gregan told Fox Sports.

"He comes from pretty good lineage with his father, who we played against in Ronny Clarke, but today just reinforced how important power and precision are and he has the ball skills and went looking for work.

"Gee he was dynamic and it was a great example of a young man backing himself and his skill-set."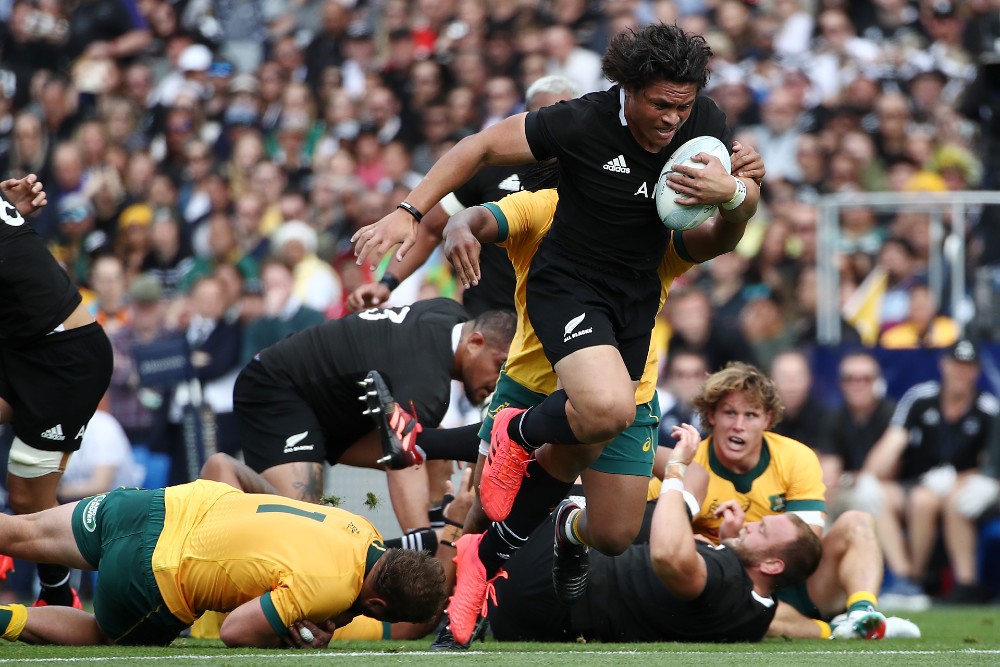 Added former All Blacks playmaker Andrew Mehrtens: "He has got phenomenal acceleration and he just pulls his legs out of tackles and he is obviously very physically tough to bring down.

"Just the times today when the All Blacks needed a bit of spark and some go-forward and he just got it going and got his arms free as well."