Exclusive: Rennie is All Blacks' loss and Wallabies' gain, says Cruden
World Cup-winning All Blacks playmaker Aaron Cruden says the Wallabies have got themselves "a good one" by securing Dave Rennie as coach and believes New Zealand might have missed a beat by letting him join Australia.
"I think the Wallabies have got a great one," the 50-Test All Blacks playmaker told RUGBY.com.au.
"I understand the industry we're in. There's only a certain amount of spots, a certain amount of coaching jobs.
"But I would have loved to have seen him coaching here with New Zealand. I believe he was good enough to get the top job, but for whatever reason New Zealand Rugby Union went a different way and on a different path, and then Rens had to make some decisions that were best for him as well.
"I've said it to a few people over here, I think the Wallabies and Australia have got a good one, and now the pressure's on Rens not to let me down."
Few know Rennie, who last November was appointed as Michael Cheika's successor, better than Cruden.
The 31-year-old veteran, who led the All Blacks to World Cup glory in 2011 on home soil, first played under Rennie as a teenager for Manawatu, before joining him in 2012 at the Chiefs, where the duo spent six years together.
They still keep in contact too, with Rennie and his wife Steph catching up with the Crudens when the coach was back in Palmerston North in the middle of the year, where, amongst other things, they spoke briefly about the talent emerging in Australia, including in Cruden's position at fly-half.
To watch every second of the Bledisloe Cup and The Rugby Championship live, purchase a Kayo subscription here
In their first two seasons at the club, where Rennie replaced new All Blacks coach Ian Foster, the duo helped the Chiefs go from underachievers to back to back Super Rugby champions.
Cruden, who also played under Foster at the All Blacks for six years, says that Rennie's rebuilding mission started with fixing the club's culture.
"I just think with Rens, he invests so much of his time into providing a culture, a healthy culture in his teams," Cruden tells RUGBY.com.au on the eve of Rennie's first match in charge of the Wallabies.
"He commits to the culture of the team; he likes to try and understand the background and the area or the people that he will be representing while coaching certain teams.
"Rens will invest in developing a strong culture because he believes, ultimately, that's half the job done.
"Obviously you've still got to have the ability on the field, and he's got to coach and teach his players to play a certain style that's going to be a winning style, but I think he tries to unite the players through the culture of the group, which can be difficult because there's a lot of different cultures, there's a diverse range of ethnicities as well that are associated with rugby teams, but he certainly dedicates a lot of time in that and coming into the Chiefs in 2012, I reckon that was a big part of us being so successful."
But what is culture?
"Probably a word I just used before was 'connection' as well," Cruden said.
"I think you can't really have a strong culture if you're not connected with players, both on a professional and personal level. That's also one thing I've often admired about Rens, he's able to get that balance right between professional and personal, which is a tricky task itself.
"You know he's the head coach, he's the boss, but, at the same time, he still does take time to get to know his players as people and what they're about, what makes them click.
"It's a bit of a talent.
"And he's very intelligent. He puts the right people around him in terms of his coaching set-up.
"I don't know how many times he's been quoted in the media as saying, he's 'just got hard-working, good buggers in his teams' and, ultimately, if you can get the majority of those types of people in your environment you're relatively guaranteed success."
Knock, knock, knock.
Rennie's arrival at the Wallabies just so happened to coincide when the Wallabies' culture had been tested.
When Rugby Australia completed its review into the Wallabies' quarter-final exit at last year's World Cup, "culture" was identified as one of the major shortcomings along with leadership, investment in coaching and high-performance alignment.
It didn't specifically go into the detail, but undoubtedly the messy fallout from Israel Folau's sacking left ripples at the Wallabies, where more than a third of the squad was Polynesian.
Since the Wallabies went into camp together three weeks ago for the first time in 2020, culture has been on the tip of players' tongues.
Even those that weren't involved in the Wallabies in 2019 recognised that the identity of the Wallabies had become stronger under Rennie's watch.
It's something that sounds familiar to Cruden.
"I think a lot of fresh faces came in around 2012 when Rens was given the head coaching job," he said.
"I suppose sometimes bringing in fresh faces can change that a little bit too.
"The guys that did remain, they're getting a different kind of stimulus because of these new players coming in, a new coaching staff too.
"Every year in rugby teams, there's always some fresh new faces, but judging on my experiences there, we really nailed down and locked in on creating a strong culture and I think a lot of things were able to blossom and flourish out of that. We won a couple of titles from it, as well as having some decent rugby players as well – that certainly helps.
"It's getting that balance right. Sometimes you watch teams and you can just see that, 'yep, they're unified, the balance seems right' and then sometimes you can just visibly see by watching a team that something doesn't seem to click. That's the whole challenge of it, isn't it? Trying to nail that balance of on-field, off-field, culture, connection, which can be challenging, but if you get it right it's pretty powerful."
In the 11 months since Rennie was appointed Wallabies coach, some, including former national coach Alan Jones have questioned the legacy left at the Chiefs because of a couple of incidents at the end of his tenure, including a Mad Monday celebration in 2016.
But Cruden was adamant the culture at the Chiefs was as strong at the end of his six-year tenure as it was at the beginning.
"One thing I'd say with Rens as well is that he's very self-aware and that after six years at the helm, he knew it was probably time for someone else to come into the Chiefs and for him to move on and continue to develop," Cruden said.
"So in terms of that aspect, he was very self-aware. But looking at when I started to when I left, I still thought the culture was just as strong."
Under Rennie, the Chiefs were ferocious at the breakdown and were lethal on the counter.
They were helped by having the likes of breakdown kings Liam Messam, Tanerau Latimer, lock Brodie Retallick as well as a young Sam Cane to bring off the bench.
In attack, meanwhile, Rennie harnessed Sonny Bill Williams' ability in the centres, they had fleet-footed Tim Nanai-Wiliams in the back three and others including Charlie Ngatai and Tawera Kerr-Barlow.
In the background, too, they had wizard assistant coach Wayne Smith, who is regarded as one of the great rugby minds of the modern era.
Cruden believes that Rennie will bring that same approach to the Wallabies but won't hesitate in changing things on a whim.
"I think there'll certainly be similarities but, look, Rens is really intelligent, he's a student of the game, he understands that trends evolve and change all the time and you can't assume that what worked back in 2012 and 2013 - when we were able to win a couple of tittles - is going to necessarily work in today's game, but there will be certain aspects that you can still take from then and execute them in today's game," he said.
"Rens has a very positive approach and style in the way that he likes rugby to be played and I'm sure we'll see that with the Wallabies.
"But he does understand a platform needs to be laid up front first and a lot of that is around your breakdown work. What he was really good at was it wasn't necessarily an old school approach, where the lower numbers are the ones that are doing the tough stuff, he would often say regardless of what number you have on your back, you've got to be able to execute in some of those breakdown situations around the rucks.
"I think he'll do a good job.
"He likes to play positive, he likes to play tempo when he can. I suppose everyone's trying to control tempo as you go, but one thing, having worked Rens for a long time, is technically he'll put a lot of work into skill-sets, not just your catch-pass that you need to be able to execute under pressure, but a skill-set being around the breakdown, moving bodies quickly to generate quick ball if that's what's on, or, if it's the defensive side of things, trying to slow down the opposition ball as much as possible.
"One thing with Rens is that he's very good at making quick adjustments when he has to. If something doesn't work, he'll make a necessary adjustment to obviously try and change the flow and get things back rolling the way that he likes."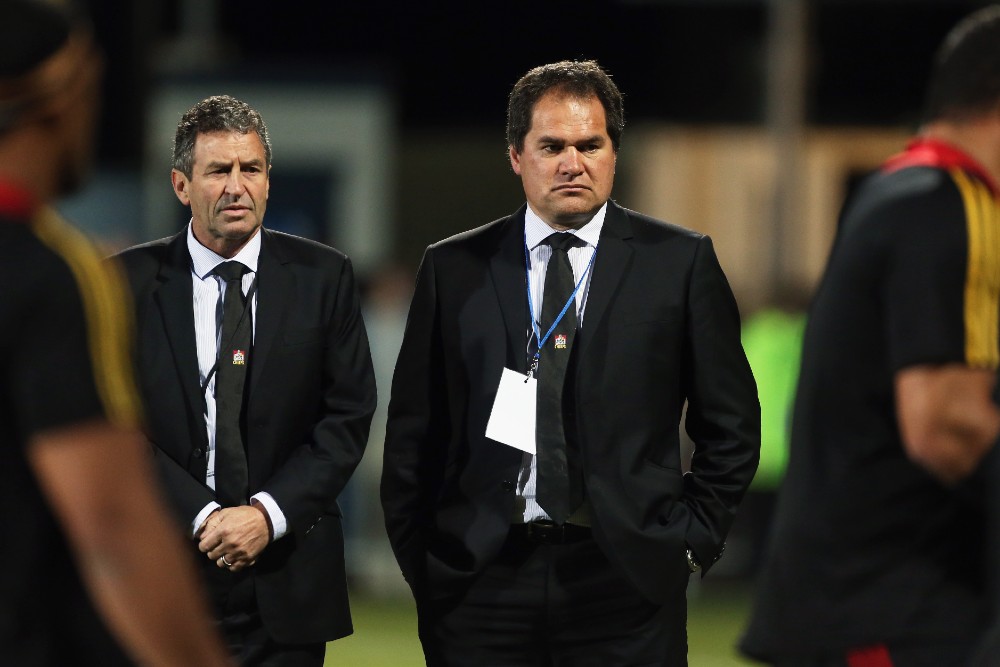 Can he coach without Smith, the highly successful former All Blacks assistant coach, as Jones has questioned too?
"I think he can," Cruden said.
"I suppose the question might be asked and results will prove that, but I certainly think he'll take a lot of the lessons and the experiences he had alongside Wayne Smith, and he'll put them into his practice moving forward and we'll see what he can do with the Wallabies.
"Rens is right up there, right near the top of the best coaches I've played under, alongside the likes of the Wayne Smiths of the world because of their intellect, their ability, not only to coach, but to teach their players.
"You get a lot of coaches that are really good coaches, but I found that with both Rens and Smithy, they really took the time to teach their players to continue to develop because, ultimately, as a player that's what you want, you want to be able to see yourself continually evolving, continually getting better and to be able to do that you need to be taught different things."
Rennie's Wallabies are considered massive underdogs ahead of Sunday's Bledisloe opener in Wellington.
But if his tenure at the Chiefs revealed anything, it's that Rennie has a proven record of turning teams from underachievers into genuine threats in a short space of time.
On the comments coming out from the Wallabies over the past few weeks, he's already on track to bringing his squad together.
READ MORE
TO'OMUA: Wallabies won't 'disrespect' Bledisloe Cup by naming team 'full of debutants'
UNDERDOGS: Wallabies excited to see where generation next takes them
MO'UNGA OVER BARRETT: Why the Wallabies think champion Crusader will wear prized 10 All Blacks jersey