Wallabies won't 'disrespect' Bledisloe Cup by naming team 'full of debutants': To'omua
There have been calls for a complete overhaul of the Wallabies' team in 2020, but veteran playmaker Matt To'omua is predicting a "balance" between experience and youth in Dave Rennie's first side to take on the All Blacks in Wellington on Sunday (2pm AEDT).
In August, pundit Rod Kafer called for Rennie to pick a team made up exclusively of players under the age of 24 so that the Wallabies are in the best position to challenge for the World Cups in 2023 and 2027.
Rennie's first squad announcement - where 16 uncapped players were named alongside 10 others with less than 10 Tests of experience in the 44-man squad - reflected the mood to invest in youth.
The two-time Super Rugby-winning coach at the Chiefs, however, played his initial hand by reappointing 99-Test stalwart Michael Hooper as his captain despite the emergence of openside flankers Liam Wright and Fraser McReight.
Whether he opts for Noah Lolesio over experienced duo James O'Connor or To'omua at fly-half, or Tom Banks over Dane Haylett-Petty at fullback remains to be seen.
But To'omua, who made his debut against the All Blacks in 2013 as a 23-year-old, suggested it would be disrespectful to the Bledisloe Cup if they picked solely on youth.
"That first Test was quite a stressful week actually, I remember, it is definitely a step up in that sense," To'omua told reporters on Tuesday.
"But one thing the young guys here do have is they've got a ton of confidence, a lot of them have come from a winning team, particularly the Brumbies guys.
"Someone like Noah (Lolesio) is a good example, who has just won a competition and he's got some good experience under his belt.
"I don't think anyone will be disrespecting a Bledisloe team and naming a team full of debutants, but we've got to develop players and develop a squad for the future as well, so I'm sure it'll be a balance.
"I think it'll be a mixture of both."
To watch every second of the Bledisloe Cup and The Rugby Championship live, purchase a Kayo subscription here
In any other year, players would have a fair idea about what the boss was thinking around selection by October.
To'omua described the long wait between Tests - the Wallabies played their last Test against England in the World Cup quarter-final on October 19 - as being like newlyweds.
"It's still very much early days. We're almost in a honeymoon period," To'omua said.
"He hasn't dropped me yet, he hasn't dropped us yet, we haven't had to experience too much stress in that sense.
"It's been a good breath of fresh air in that sense.
"Michael (Cheika) did a great job and he put in a great shift for the Australian rugby community, he got us to a final and all that. (But) it's been nice, it's been different, I think we'll learn a lot more about it life under Rennie over the next month).
"He's definitely got a few different tendencies. He loves a little sing a long, he loves all these different things, it's been good. A lot of it's new, but he seems like a very calm and composed character which is quite nice."
READ MORE
UNDERDOGS: Wallabies excited to see where generation next takes them
MO'UNGA OVER BARRETT: Why the Wallabies think champion Crusader will wear prized 10 All Blacks jersey
REVEALED: Trans-Tasman set for 2021, three teams to be added in 2022 for Super Rugby Aotearoa
As has been the case right throughout his career, just where To'omua ends up playing on Sunday is one of the many selections mysteries ahead of the Bledisloe opener.
To'omua has always wanted to play at fly-half but has often been selected either at inside centre or on the bench because of his versatility.
In many ways, the mystery around the thinking of the Wallabies under Rennie is shared with how the All Blacks will play because they too have a new coaching set-up after Ian Foster was promoted from an assistant to the head coaching role following the departure of Steve Hansen.
"It's hard to analyse them because they haven't played a game, so we take hints from last year," To'omua said.
"So we've watched clips from our two games against them and their last game against England - and they're teams that did really well against them, so we've used that as a guide.
"And also probably the North v South game is probably a nice one to get a little bit of context, but they're probably in the same boat as well, maybe even more so because we've got a completely new coaching staff.
"The old cliché that we're focusing us on ourselves, we probably don't have a choice but to focus on ourselves because there's not much footage around."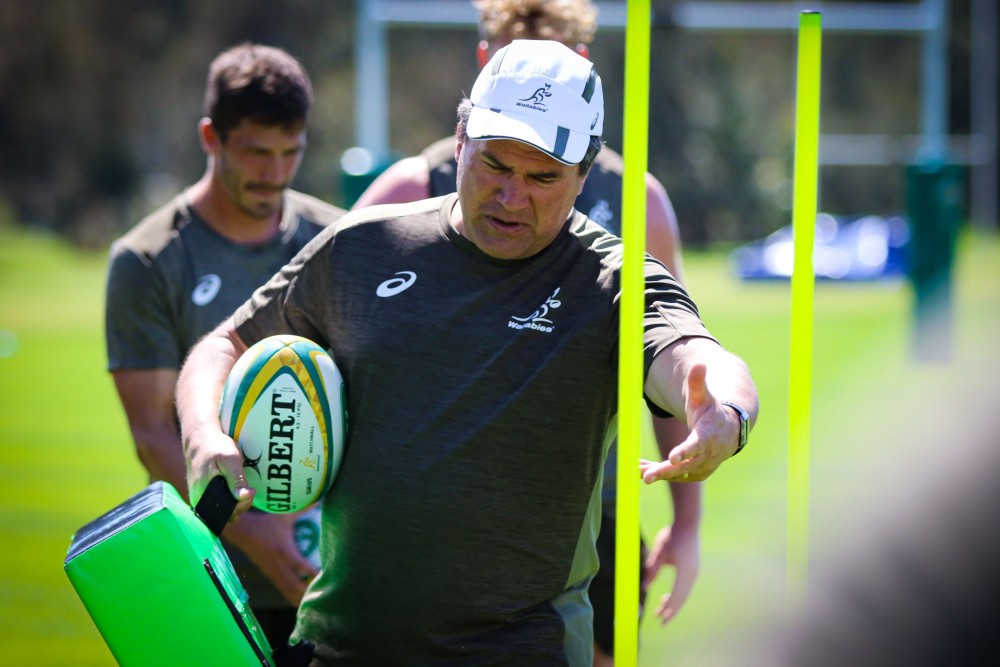 Those hints from last year were clear as day from the Wallabies' two Tests against the All Blacks.
When the Wallabies got quick ball, they unsurprisingly stressed the All Blacks and produced their biggest win over their trans-Tasman neighbours in Perth.
A week later, the All Blacks pounced on the Wallabies' mistakes and managed to apply more pressure at the breakdown and reversed the result to retain the Bledisloe Cup at Eden Park.
Just how the Wallabies play under Rennie, who has spent the past three seasons with Glasgow, also remains a slight unknown.
But given his Chiefs, whom he won back to back Super Rugby titles with in his first two years at the franchise, were known for their ferociousness at the breakdown and their counter-attacking flair, those same characteristics are well suited to the rigours and tightness of Test match rugby.
"We still want to play the Australian and New Zealand way, however you want to frame that," To'omua said.
"If you've looked at his teams in the past, particularly the Chiefs around 2012-14-15 very, very physical around that breakdown, often beautiful tries off counterattack, they were a super aggressive team at the breakdown, so I think breakdown and opportunities off broken play is something definitely that he focuses on."