'I'm not a tyrant': Hooper stitched up as Reds tell roommate McReight to be on best behaviour
Sharing rooms is common practice at the Wallabies, but when Fraser McReight knocked on Michael Hooper's door on Monday the newly reappointed Australian captain quickly discovered something wasn't quite right.
No, it wasn't because Hooper and McReight are competing for the same jersey and the latter was the incumbent Wallabies captain and the former the Junior Wallabies skipper.
It was because McReight's Queensland teammates had told him to watch out for Hooper because as Wallabies captain over the past couple of years, he was entitled to have his own private room - something reserved for the skipper.
But it didn't take long for Hooper to catch on that something wasn't quite right.
"I think the boys wound up Fraser a bit before he roomed with me," Hooper told reporters on Wednesday just minutes after being announced as Rennie's Wallabies captain.
"So on the way down, I think the Reds found out that they were getting roomed with a couple of senior guys.
"Look, I don't think I'm too much of a tyrant but the boys sort of made it out to be that I'm used to having my own room, so when I've been put in with someone it could be a bit of a spanner but I think I'm pretty accommodating."
The duo were paired together by new Wallabies coach Dave Rennie.
Nor are the duo the only ones that have been tactically paired together, with veteran James O'Connor paired with young Brumbies playmaker Noah Lolesio.
It's a shrewd bit of planning from the New Zealander, who took matters into his own hands by selecting who would bunk down with who - something the logistics manager, Chelsea Jones, would usually do.
"In the end I did it," Rennie said.
"It's not normally my role, but when you've got six days to prepare what normally takes six months it was all hands on deck so I said to Chelsea Jones, our manager, that I would sort that out.
"We always wanted young guys with the older guys and a chance to get to know them a bit better and get an arm around them, so it's been good.
"It's important.
"We've got a big side, it's easy to go two or three days without speaking to some people so we're making a real effort that we acknowledge each other each day and a lot of our old boys getting their arm around the young fellas and showing them the way."
Hooper is all but guaranteed to wear the No.7 jersey against the All Blacks in the back to back fixtures in New Zealand after being reappointed as Wallabies skipper.
But the openside flanker said Rennie's forward-thinking was a positive for the Wallabies.
"It's been good having him (McReight) as a roomie. I've loved it," Hooper said.
"I love the idea that Dave and the staff have implemented by putting more senior guys with some junior guys."
READ MORE
'DOMINATE THEIR JERSEY': Why Rennie chose Hooper as Wallabies captain
'HANDS ON': This is how Dave Rennie wants the Wallabies to play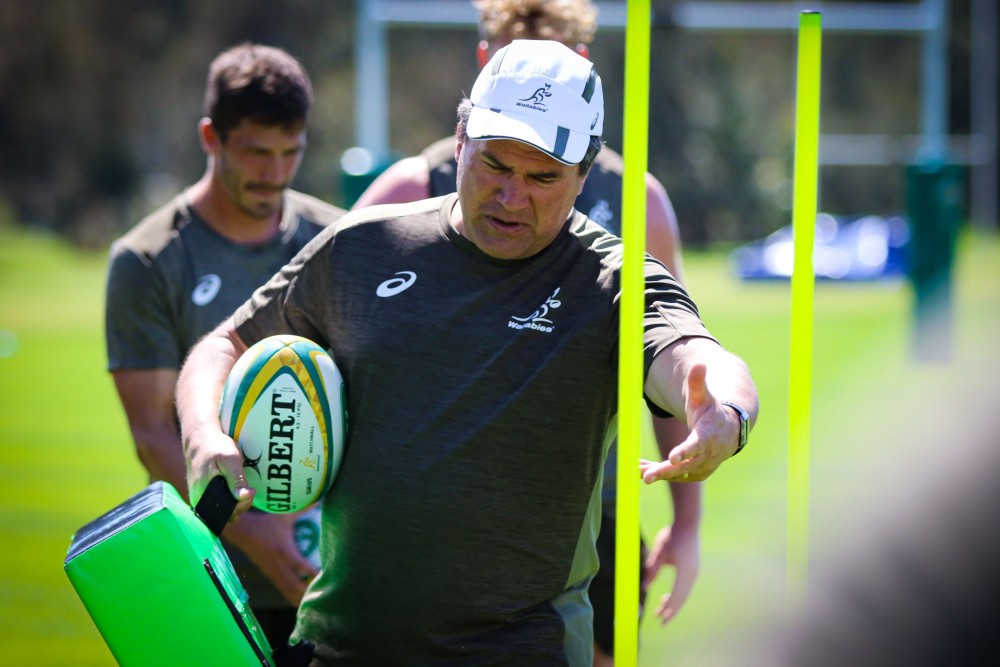 With the Bledisloe Cup a little over two weeks away the Wallabies haven't wasted a second since gathering as a group on Sunday, with members from the Brumbies and Reds joining their national teammates a day later in the Hunter Valley.
Not only has it been announced that Hooper will continue to lead the Wallabies forward, Rennie has been cracking the whip by starting the days at 6am and finishing them at 6:30pm.
But the two-time Super Rugby-winning coach says there will come a time when he pulls out the guitar - something the well-respected coach has done previously at the New Zealand under-20s and Chiefs - but for now, every second is valuable.
"We did a lot of homework on these boys, so the selection wasn't just about the rugby it was around character," Rennie revealed.
"We've got a lot of good men here and we're going to work them hard, we know that's really important and we've got some shifts to make in our game and a lot to learn.
"We don't fill the boys heads with too much and then we lack intensity on game day, but we're playing a very good side and we need to be clinical in key areas so we're putting a lot of time into the basic stuff and trying to get the boys tighter together, so hopefully we'll see an example of that when we play that we have a group of guys prepared to spill a bit of blood for each other."
Blood on the dancefloor.
If the Wallabies can get anywhere near Michael Jackson levels they'll win over a lot of supporters.
PICK ME: The five players whose Wallabies stocks rose during the Super Rugby AU Final
VERY COOL: Irae Simone didn't leave New Zealand until after high school. As an 11-year-old he told his family he wanted to play for the Wallabies