Forget about theories of Dave Rennie simply being a coaching coordinator, on the first full day of Wallabies training in 2020 it was the New Zealander that rolled up his sleeves.
In recent weeks, former Wallabies coach Alan Jones has rubbished the idea of having assistant coaches and called on Rennie to coach.
Well on Tuesday, it was Rennie, who took over from new All Blacks coach Ian Foster at the Chiefs in 2012 and turned them into back to back Super Rugby champions in his first two seasons in charge, that was doing the dirty work.
"Yeah, he's been real hands on," Queensland Reds No.8 Harry Wilson said.
"Obviously he's got his assistants, (but) everything's been going through him.
"On the field today he was running most of the drills and he was just keeping us honest, making sure that we were doing everything 100 per cent because he knows how important it is against the New Zealand teams not to slack off.
"So he was really big today on just doing everything right and that's something we will have to learn real quickly around the breakdown because there was a big emphasis on that today at training and he was really hands on on running those sessions."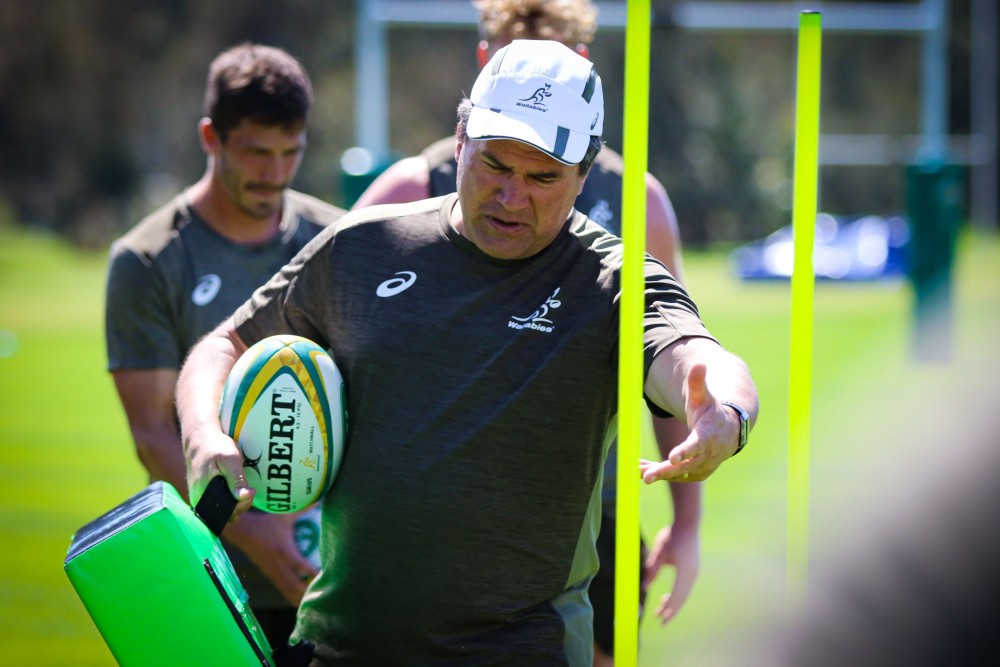 The 44-man Wallabies squad began assembling in the Hunter Valley on Sunday, with the 13 Brumbies and nine Reds players who were involved in the Super Rugby AU final joining a day later on Monday afternoon.
Ever since Rennie was appointed as Michael Cheika's successor on November 20, the New Zealander has preached the importance of physicality and fitness.
Those that know him well say he's an attacking coach, someone who recognises the importance of having a balanced game-plan.
Without wanting to give away any secrets, new Wallabies squad member Irae Simone said there was an obvious lift in the intensity at training.
"I'm liking the style that he wants," the newly crowned Super Rugby AU champion said.
"It's just quick footy. We want to play up-speed, with a lot of tempo, a lot of good skill, just playing smart footy and on the back of that we want to be physical, we want to be dominant around the breakdown.
"We just want to be physical, that's all he's after and that's what everyone's got to to buy into, and then play with a lot of skill and good footy."
But the other common strain under Rennie coached sides is culture.
He's well recognised for bringing people together and that was one of the key learnings to come out of Rugby Australia's review of the Wallabies' World Cup campaign in 2020.
On day one of the Wallabies' camp, that's where Rennie started.
"So far we've been just doing a lot of learning in terms of how we want to play," Simone said.
"Just trying to build a foundation of where we want to start and how other teams want to look at us when we step onto the field, and how we approach the games and that's been happening over the past 24 hours.
"We've had a few meetings here and there, just getting our shape, just seeing how we want to play and leave a footprint.
"After the last couple of years there were a lot of mixed messages around the group, but now with the new coaching staff, a lot of new faces in the Wallabies squad, as well as myself, there's something real special that's brewing at the moment and hopefully we go a long way in the next couple of matches.
"He's fit in really well. A lot of boys have a lot of respect for him so far. You've got to give respect to earn respect and he's one of those people that leads by his actions."
While it has yet to be confirmed, the Wallabies are hopeful of flying across the ditch to New Zealand on Friday night before they have to quarantine separately for three days.
It's understood that Rennie and his assistants Matt Taylor and Scott Wisemantel - a trio who Rod Kafer thinks is the best Wallabies coaching structure since Eddie Jones' in the early 2000s - plan is to smash the Wallabies at training, before using their quarantine period to recover.
The Wallabies will play the All Blacks in back to back Bledisloe Cup Tests on October 11 and October 18, before returning to Australia where they will host The Rugby Championship.
READ MORE
PICK ME: The five players whose Wallabies stocks rose during the Super Rugby AU Final
INJURY UPDATE: Wallabies optimistic Petaia will be fit for Bledisloe Cup
VERY COOL: Irae Simone didn't leave New Zealand until after high school. As an 11-year-old he told his family he wanted to play for the Wallabies