Rugby Australia interim CEO Rob Clarke says The Rugby Championship will have a "mini-World Cup" feel to it, after Australia won the rights to exclusively host the entire tournament.
After months of uncertainty surrounding whether the Southern Hemisphere would go ahead, SANZAAR announced on Friday afternoon that the tournament would be run in Australia over six weeks from November to December.
New Zealand had been the favourites to host the tournament, but lost out to Australia, in large part, because of the tougher quarantine restrictions that international arrivals would have to adhere to.
But with the NSW Government allowing sporting teams to train in a "bubble" during their two-week isolation period, the six-week tournament was awarded to Australia and will predominately be based in New South Wales, with Brisbane to host at least one Bledisloe Test too.
Speaking on Friday afternoon, a grateful Clarke said that he felt for his neighbours across the ditch but said their loss was Australia's gain and an opportunity to host a mini-World Cup campaign, seven years before Rugby Australia hopes to host the 2027 World Cup.
To watch all the Super Rugby AU finals action LIVE, purchase a Kayo subscription here.
"In some ways I feel sorry for (New Zealand Rugby CEO) Mark (Robinson) and the team," Clarke told reporters on a zoom call.

"In other ways I'm delighted for us and for Australian rugby and the fans of rugby because this is going to be the equivalent of a mini-World Cup, played over six weeks and I think you couldn't get a better finish to the year in what has been a helluva tough year for everybody to have some world class rugby played in Australia.
"We see it as a great opportunity for rugby in Australia, clearly, and I think with our SANZAAR joint venture partners they understand that we can put on a good show, and that's what we're going to aim to do."
The Rugby Championship will be the first international sport to have been played in Australia since the outbreak of COVID-19.
Given, too, that the tournament will be played following the NRL and AFL finals, Clarke said The Rugby Championship was a major opportunity to get some significant cut through in Australia's typically competitive sports market.
"I think it's an enormous opportunity," he said.
"Off the back of a heavily disrupted calendar this year to be able to play Test match rugby with four of the top global Test unions in a competition format such as it will be over a six-week period, in a time of year that's not really traditional to play rugby, at a time of year in a nice way there's not a lot of other content that's going to compete with us, I think it's a fantastic opportunity.
"I think it's wonderful for fans, you're going to be able to potentially go to one ground and experience two Test matches out of four of the best nations in the world and that will be happening week in, week out in NSW, so what a great opportunity for the game and fans."
While SANZAAR said that the Springboks had yet to confirmed that they would be able to play in the tournament, Clarke was confident that the world champions would be on deck to add to the tournament.
"We're not anticipating that that's going to be a problem," Clarke said.
"We could of course stand up the competition with three teams only, that could be an option, but South Africa is confident that working with their government they'll be able to participate, but at this point in time given the restrictions within their country they're not just not in a position now to guarantee it but they're confident that they'll get to that position in the coming weeks."
Nor is South Africa the only country facing COVID issues, with Argentina confirming that their coach Mario Ledesma and a further seven players had contracted the virus.
READ MORE:
KAFER COLUMN: Inside the 'unique' interview that turned the Queensland Reds into a force
RUGBY CHAMPIONSHIP BOOST: Skelton, Kerevi in frame for Wallabies recall after Rugby Australia amends eligibility laws
UNDER ATTACK: Everybody knows Taniela Tupou is the most penalised guy in Super Rugby
But, again, Clarke said he was confident that the tournament was on track to be run and it was full steam ahead.
"Not at this point because we're still far enough out from the tournament to be able to manage that," Clarke said.
"The Pumas have gone into a bubble arrangement over there, they're having regular testing and those that have tested positive, be that asymptomatic or otherwise, are being removed from the environment and separated. That will happen during the course of them being in the bubble and we anticipate then that they'll all be negative and ready to go sooner than later and we'll be able to fulfill all of the health requirements and the protocols in Australia."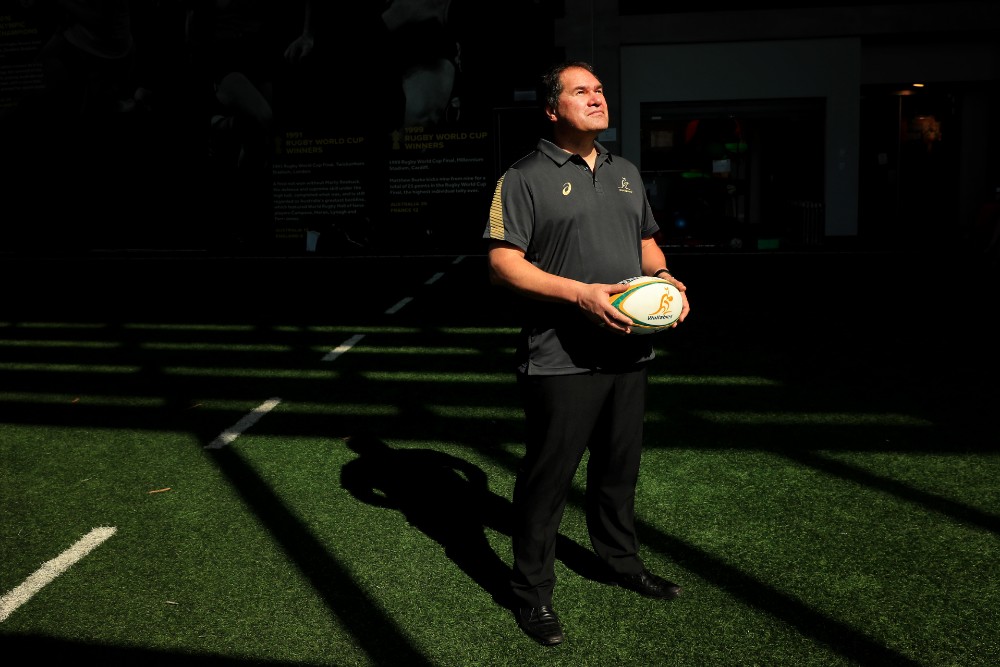 The Pumas have already made inquiries as to whether they'll be able to play some warm-up fixtures in Australia ahead of The Rugby Championship.
With the Wallabies to play two Bledisloe Tests across the ditch in October, where they'll also have to quarantine for two weeks, Clarke said arrangements were being made so that Argentina could play a couple of warm-up matches.
"Certainly Argentina's asked for some warm-up games here in Australia and we would be more than happy to help arrange those, so that's being discussed right now," he confirmed.
"Argentina unfortunately have not been able to play any rugby so those matches will be really important for them.
"I believe South Africa are looking at getting a domestic competition up and running in the coming weeks, so they believe that they're going to have some lead in games in South Africa before they travel.
"Well, we're possibly looking at a couple of games against an Australian A team and then one of the Super Rugby clubs. At this point of time that's what we're looking to deliver for Argentina, which is more than satisfactory to them and would also enable us to showcase some of our emerging talent."
ANZ Stadium, Bankwest Stadium and Newcastle's McDonald Jones were being looked at venues for The Rugby Championship.
The entire schedule is expected to be announced in the coming weeks.
LISTEN UP: Reds halfback Tate McDermott and Queensland great Greg Martin join Nick McArdle and Christy Doran ahead of Saturday's Super Rugby AU qualifying final.