"We'll be ready best we can": Aussie Sevens prepared for anything amid Olympic uncertainty
Australian women's Sevens coach John Manenti says his team is forging ahead with its Olympic preparation despite the uncertainty surrounding the Tokyo tournament.
Australia's preparations have already been interrupted after two men's Sevens players were tested for coronavirus, forcing the shutdown of Rugby Australia's headquarters for two days.
Another player reported symptoms on Thursday, keeping the men away from the Moore Park headquarters for another day as the women returned to training.
Manenti said the team was taking a host of precautions to try and prevent a player contracting the virus, including stopping massage sessions and trying to train in smaller groups of players.
Manenti said the team had planned for the scenario of a player contracting the virus but that continuing training with players in isolation would be impossible.
"We've spent a lot of time preparing for that because the reality is as much as we're trying to be squeaky clean and everything, it doesn't take too much for things to change in a heartbeat," he said.
"We've got a bunch of plans around people doing as much as they can from an athletic preparation point of view on their own but the reality is, it's a contact sport...so some of those things are going to be pretty hard to keep going with but certainly conditioning's one thing we can work out a way in most cases to get something done."
The IOC and AOC have in recent days reiterated their commitment to working towards staging the Tokyo Olympics but as the coronavirus situation constantly changes, there is still doubt over the Games' fate.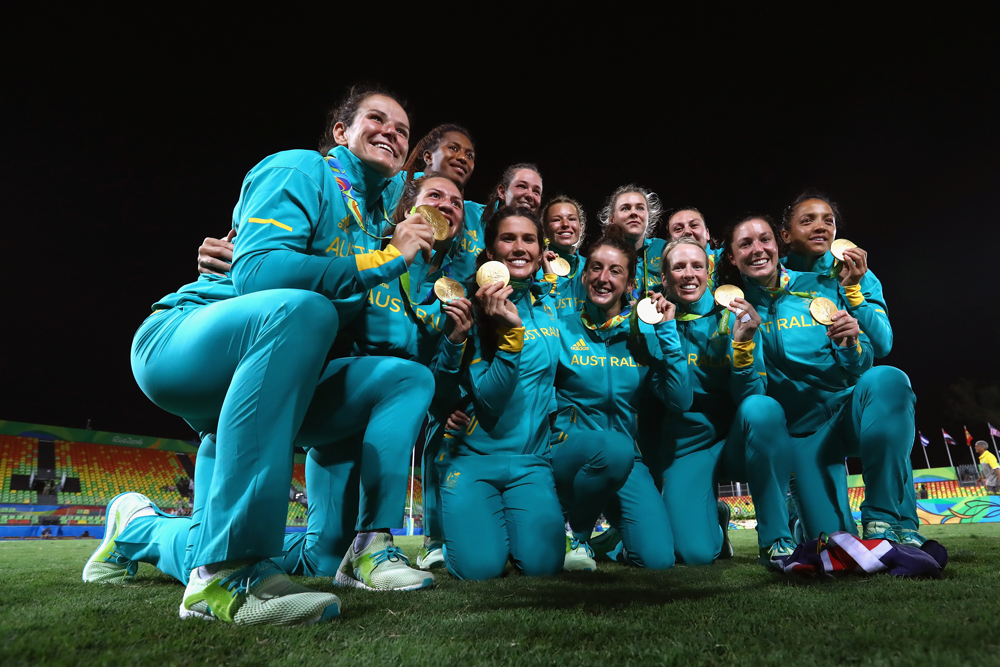 Manenti said while he would be surprised if the Games did go ahead, his team was preparing as though everything was on schedule.
"I think there'd have to be some miraculous changes in place for us to get everything under control and be in that position but it's not for me to control," he said.
"All I'm doing is reacting on advice and we heard today that the Olympics are going ahead at the same time.
"If that happens, we'll be ready best we can, God willing with a healthy side and we'll go out there and give it a crack. If they tell me it's two days later or two months later or two years later, we'll make that adjustment when we get that information."
While Australia's men's and women's Sevens teams have safely qualified for the games, a number of teams are yet to compete in a global repechage in June.
The fate of that competition is unclear, with many European teams set to be part of that.
Manenti said that alone raised questions as to how the Olympics could proceed as normal.
"The qualification process, I just don't know how they get through that," Manenti said.
"We've nearly all qualified but there'd be a lot of other sports where there's still a lot of time to go - time trials, events, athletics are getting through trials and all that sort of thing.
"So, I don't know how that'll happen.
"It's not something for me to control or get concerned about. What I'm working towards is just trying to keep the girls focused and make sure if things happen the way they're suppose to happen at the end of July, we'll be ready to roll."
If the Olympics does go ahead, it could shape as Australia's first competitive tournament in close to six months.
Australia's women haven't played a World Series event since February's Sydney tournament and the upcoming Hong Kong and Singapore events have already been postponed.
Their next scheduled event is in Langford in May but that looks unlikely to go ahead after Canada's Prime Minister closed the country's borders.
Beyond that, the London and Paris World Series events are in doubt as coronavirus sweeps through Europe.
If those tournaments are postponed, Tokyo would be the next opportunity for teams to face each other.
Even outside of World Series events, there is only a slim chance that Australia could play even friendlies against international teams in the coming months.
Already international travel has been restricted out of Australia and Prime Minister Scott Morrison announced on Thursday afternoon that no non-Australian citizens or residents would be admitted entry into the country after 9pm Friday.
CASTLE CONFIDENT RUGBY CAN SURVIVE CORONAVIRUS CRISIS
SUPER W: FINALS POSTPONED DUE TO CORONAVIRUS
Those restrictions effectively make it impossible for the Australian Sevens to organise any external matches in the lead-up to the Olympics.
"The reality is we don't know when our next game will be because we were going to Fiji which is now out the window," Manenti said.
"Canada hasn't been ruled out yet but I can't see that happening in May and then Paris which is basically end of May, they've moved the French open back so my inclination is they'll probably move that or cancel it.
"Nobody can really come into the country because they'll be in lockdown for 14 days and that'd make it a fairly long trip for someone to do that.
"We're going to have to resource ourselves, have internal matches, look at bringing some of our pathway or our PONI (Players of national interest) girls, our development group that I suppose we're looking to bring through as the next crop of players coming through.
"Depending on the status of Super W we might ask some Super W girls to come and play some games against us as well."