It's the single word that means the most to James O'Connor.
More than a return to the Wallabies and playing a hand in a record win against the All Blacks.
More than a World Cup berth he'd dared to dream of but never really believed would happen.
And more even than returning home to fulfil a boyhood dream to play for the Queensland Reds.
Peace.
For so many years, O'Connor had been in a battle - with drugs and alcohol, with his battered body, with his ego.
But just months short of his 30th birthday, O'Connor has found a space he believes will allow him to express himself on the rugby field, while leaving behind the vices that almost cost him his career.
And that, to O'Connor, is success.
"For me, it's just peace. You want to be happy but if you're happy you have to come back to sad," he said.
"For me, peace is … when you're creating. For me, my creative flow is rugby. Other people are artists or they're very good with numbers.
"The most freeing feeling I have is when I'm on the field and I'm moving and moving the way I want, stepping, throwing long passes and it's just happening, it's all just flowing.
"You come off and you're like, that was a good day. And that just makes me appreciative and grateful to be able to do that again - because for a while, I never thought I never would."
Much has been made of the prodigious talent's fall from grace and eventual return to sign a two-year deal with the Reds and Rugby Australia last year.
His rapid return to the Wallaby fold and selection for the World Cup seemed the fairytale end to the O'Connor story.
But to the man himself, it was just the beginning.
"Everyone talks about getting to the World Cup and that was always the goal and the dream but that was almost the driving force to keep me motivated, to get me through the pain, the day to day," he said.
"I'm genuinely telling you, to be at peace - which I didn't think I would be for a long time - that's success to me.
"Just to be able to wake up and move freely throughout the day and face it pain free but also not be angry at the world for what had happened, that's why everything's a bonus now.
"Being able to come back and play here, it's a bonus - I didn't think it would ever happen again.
"I thought after what happened in France (when he was arrested by police for using cocaine following a nightclub sting in 2017) I was done. So to be here now, it's just, enjoy it."
That year was O'Connor's nadir in many respects.
"I was close (to giving the sport up). I thought if I do my ankle one more time, I'm done.
"That was in 2017 - if I hurt it again, I was done. I thought it would (happen). I was like, I'll just give up and I'll find something, something good will come about.
"But I was at that point where I thought: 'I'm not putting up with this anymore'.
"You become angry. You genuinely become angry and you become a victim, have that victim mentality.
"You create your own reality with the decisions you make and what you're focusing on."
O'Connor's move to English club Sale and well documented work with the Saviour World organisation helped turn things around, although it was not easy.
Pain had been a constant companion for years and learning to rebuild his battered body and reject the lifestyle he had adopted partly to deal with that, was a difficult path.
"It riddled me for so long. But my choices didn't help," he said.
"I remember after I got my first ankle surgery, I was with the boys on the weekend and we went to one of the boys' houses and got some drinks.
"Obviously alcohol is so bad on not only your body and your guts but it thins your blood and it's not the way to (recover).
"But back then, I was like, I'll heal, I'm young, I've always healed in the past.
"But you get to a certain age where you don't heal the same and if you don't look after yourself, you can't play rugby - if you don't make the right decisions, if you don't put rugby first, it will be taken away from you.
"And it was for me.
"I spent three years overseas where I was in pain every session. I couldn't run, I couldn't side step and that was my main game, so I had to develop other areas.
"But it was frustrating. That put me more into a hole because if you can't express yourself, you're just whacking against a wall.
"I was like, I just can't catch a break. But I was the one causing it, with my life choices and where I was putting my energy."
Turning things around was tough.

"I'd fallen into some horrible habits," O'Connor said.
"I was broken. I was broken physically, I couldn't get on the field, I could train only an hour a day, maximum.
"Sometimes, I could only train once or twice a week, my body was just weak, I'd had so many surgeries.
"And then mentally, I wasn't in a good place because if you're not flowing, if you're not sleeping right, if you're not energised, you've got no patience, you've got nothing.
"The first part was tough, but then you start enjoying the pain again. You start enjoying doing gym sessions - for a long time, I didn't enjoy training anymore because I'd become so ill disciplined.
"I was always looking for gratification and pleasure."
His work with Saviour World though started to "build the structure from the bottom up again".
"And then I just started loving the little things in life - not just in rugby.

"Just getting up and going for a coffee, or going for a walk, or going to the beach for a swim, those little things which I'd taken for granted, I started enjoying again.
"And then I got to the point where I was like, this is my love - my love is rugby.
"I've got three loves in my life, my partner, (my family) and rugby. So once I got that flow back, I never want to leave that place now."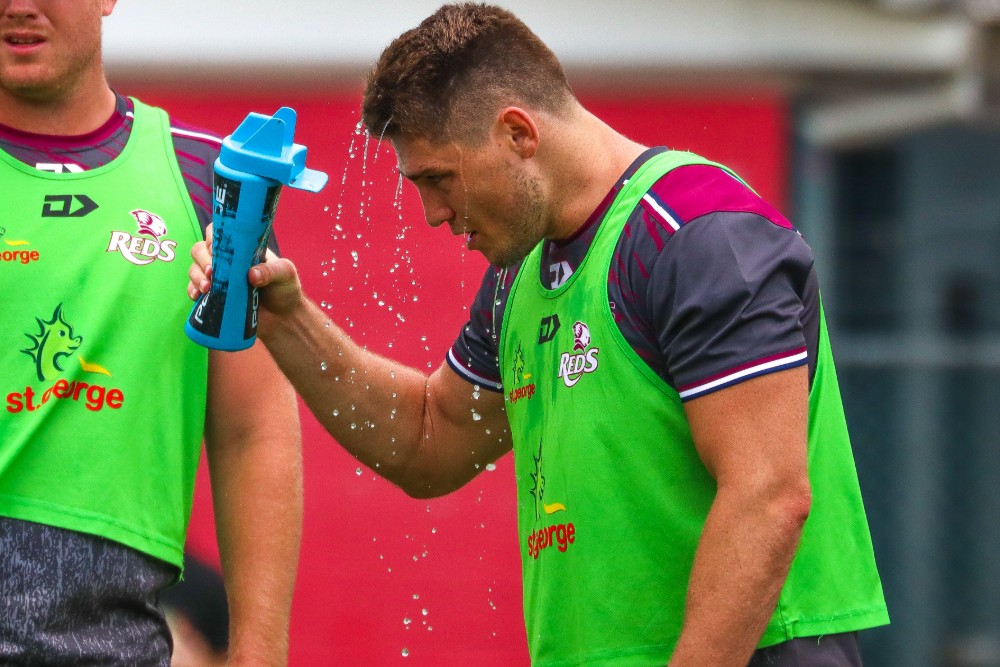 O'Connor has signed a two-year deal with the Reds but wants to stay on beyond 2021.
"That's my plan. I want to plant some roots down in Australia," he said.
"I'm here for the long term. I'll let my rugby do the talking and go from there but I'm home now."
And he has a message for young players looking to chase their dreams overseas.
"You want to be here, you want to be hustling, you want to be grinding with your mates in Australia," he said.
"We have an amazing country - this is genuinely where you want to be.
"You speak to anyone who goes and lives overseas, they love the experience - but they can't wait to get home."
O'Connor is not only home, but back to doing what he loves.

"For a long time in my career, rugby was third in my life. It was after everything," he said.
"By the time I was 22, I'd done everything I'd dreamed I could ever do in rugby. So I started focusing on other areas … and the story told itself.
"But for me now, this is what I love to do. I love coming in to work and to be able to create on the field because now I can verbalise.
"Before, I struggled to communicate, so at times I couldn't quite do what I wanted to on the field and I felt like I was smashing my head against the wall at times, I couldn't articulate well enough.
"But now everything's flowing and when you're putting the right energy in off the field and you're working hard at training and doing all the little things right, you can just go out there and enjoy it and then when you come back, you can say: 'That was an awesome day'.
"You can just switch off and not be thinking about: 'Why did this happen?', or 'why didn't they understand what I was trying to say?', or, 'why won't this coach listen to me?'. You just leave it there and come home and have your home life.
"Now, I play for me now and I play for this state, I play for something more than just the ego."
But it's not just his time on the field. Giving back is a key plank of O'Connor's return.
His recent Reds to Regions stint, where he headed to Townsville and Charters Towers with Wallabies teammate Lukhan Salakaia-Loto was "unreal" and only part of what O'Connor has been quietly involving himself in since his return.
The Gold Coast product headed to Schoolies at the end of last year - as a volunteer for Red Frogs, an organisation that provides safety and support for teens during the festival - while he is working with the Rugby Union Players' Association (RUPA) to provide advice at their camps and work with players at his old stomping ground at Nudgee College.
"That's my purpose now. I came back not just to play for the Reds, I came back to help bring these guys through," he said.
"I went on my journey. I did things that I know isn't the right way to go. So I want to make sure that these kids coming through don't make those mistakes that I did.
"That's why I'm getting involved with some the U16s and some of the club sides and the back to school stuff because I want to see the talent come through.
"I don't want them to feel that pain when I went away and wanted to come home but couldn't - my ego didn't want to lose the battle.
"Instead of taking all the time and turning up with your hands out, it feels good to be able to give."
On the field, O'Connor is also determined to make the most of his second chance with the Reds.

"I'm taking it with both hands. I'm jumping out of bed energised, ready to go, get on the field and start creating," he said.
"I know it's a young team but it's a skillful team and a team that, I guess, has a lot of composure in a way.
"I've come into it and they're already at that stage where they've got the basics down pat, let's create and let's do something special.
"I think the game plan of (attack coach) Jimmy (McKay) and the other coaches and ballplayers, that we've all created together, is passionate.
"We can go out there and be passionate about our rugby because we know it is an attack-oriented side."
O'Connor was in the stands at Suncorp Stadium in 2011 when the Reds won the Super Rugby title and knows how much another title would mean - to the club, players and fans.
"It would be unreal. We are a rugby hub - people talk about Sydney and NSW but you look at schoolboys rugby, this is where it happens," he said.
"Most of that U20s team (came from Queensland). When I came through, we won my schoolboys, both 16s (and opens). We have the talent here and we have the fans as well, it is a very passionate sporting state.
"If we get some wins on the board, people do want to come and support us, it's what Australians are like, they do want to get behind us.
"We just have to give them that to bring them all together and get rugby back to the top."