'Something New Zealand hasn't seen in a Wallaby jersey': Wallabies want debutant to bring hit-man aggression
Michael Hooper believes Lachie Swinton can bring something "New Zealand hasn't seen in a Wallaby jersey" after being called up to make his debut against the All Blacks in Bledisloe IV in Brisbane on Saturday.
That something is raw physicality.
Few know Swinton better than Hooper, who has played alongside the 23-year-old for the past two years at the NSW Waratahs.
Yet, even before the former Junior Wallabies lock had even made his Super Rugby debut, this correspondent had felt the full weight of a Swinton hit after unwisely taking part in a Waratahs training session. His forwards coach at the time, Simon Cron, reacted by telling Swinton "don't kill him".
But it's that no-nonsense attitude from Swinton that won over the Waratahs and has been rewarded by the Wallabies too.
Now, Hooper wants his back-row teammate to deliver what he's capable of on the biggest stage.
"Lachie's got a history of being very physical, bringing a real aggression to the game and that's what he's been picked for," Hooper told reporters on Friday.
"However he can get into doing that against New Zealand, I'm excited to see it. I know he's absolutely chomping at the bit to get out there, that's why he's been picked and that's what he's got to deliver on.
"I've played with him a lot now. I really enjoy what he brings to a game and the energy and excitement and the aggression, it's enjoyable to play with. It's great reward. The guy trains hard. He'd do anything for his teammates."
BE THERE FOR BLEDISLOE IV AT SUNCORP STADIUM, SATURDAY, NOV 7: BUY TICKETS HERE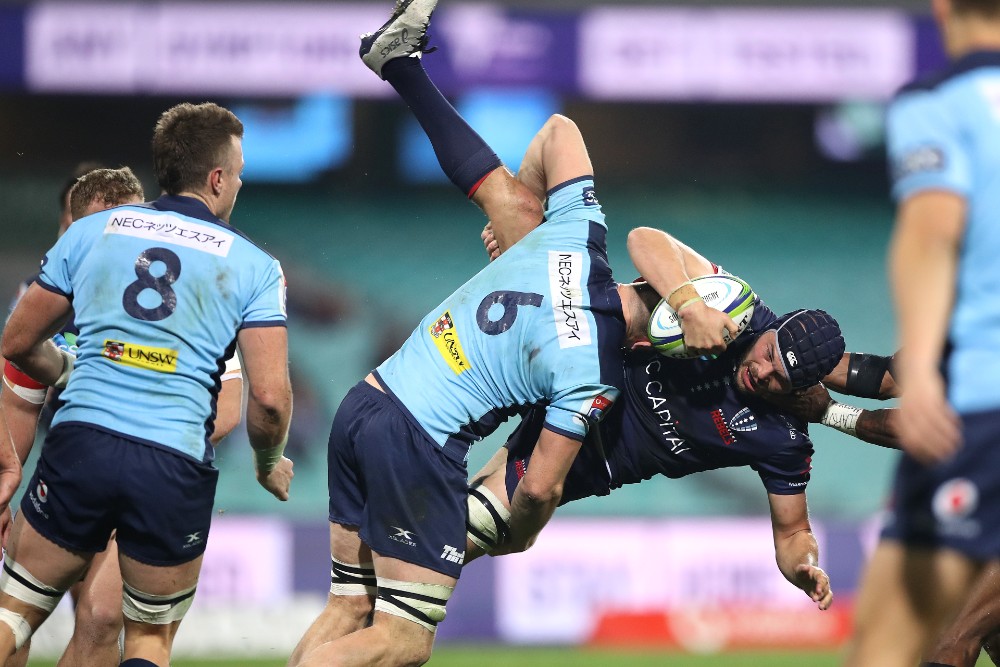 Like with any player that plays on the edge, playing within the letter of the law is Swinton's biggest risk.
The blindside flanker, who plays more like a hit man than a saint, was red carded in his return to club rugby after his debut Super Rugby season in 2019.
This year, Swinton was yellow carded for a dangerous late shot.
But what Swinton offers – similarly to Taniela Tupou – is a forward who can sting in the tackle and won't take a backwards step.
Hooper said finding that happy medium was important, but the upside was massive for the Wallabies.
"It's a growth of his game, and a growth that he's aware of," Hooper said.
"Like all of us, we have points of our game that we need to improve and Lachie's no different. He's very green. This was just his second year of Super, so he's a growing player but one with huge potential and something potentially that New Zealand hasn't seen in a Wallaby jersey."
Swinton is the third person that coach Dave Rennie has turned to wear the No.6 jersey in his opening four Tests in charge of the Wallabies.
The Wallabies coach said he expected to deliver that same physical presence on the field.
"What we like about him at training is he creates a bit of edge because he's physical, and even if it's supposed to be at 60 per cent he's normally running around at 100," Rennie told reporters on Thursday.
"We expect him to bring that sort of intensity to the game.
"He's a big defender, excellent around cleanout, he's developing his distribution game and developing as a lineout forward, but we think the edge that he can bring will create opportunities elsewhere."
Just what route Rennie ultimately goes down with his blindside flanker will be fascinating too.
Ever since Scott Fardy left for Ireland the Wallabies have struggled find an adequate replacement, who can get on the ball but also be effective at the lineout.
Sean McMahon looked like being a long-term option, but the former Rebel left to Japan just as he was hitting his straps.
Since then, Ned Hanigan, who made a good fist of his return to the role during the Bledisloe series after a two-year hiatus, Lopeti Timani, David Pocock, Pete Samu, Lukhan Salakaia-Loto have all been used in the role but no-one has been able to own the position.
Rennie said that a mix of Hanigan's set-piece skills, footwork and ball-carrying and Swinton's physicality is ultimately what he's after.
"We've used Ned the last couple of weeks and he's gone well," Rennie said.
"Based on Lukhan's unavailability and Ned covering lock, we're going to use him off the bench. But Ned's a very good lineout forward, he's a good athlete, carries well, good footwork and a big engine, and likewise Lachie's got a big engine and he's got a bit more of an edge about him but not necessarily the skill-set.
"We're pretty open-minded about that spot, but a combination of those two men at the moment would be world class."
READ MORE:
SELECTION SHOCK: Why Rennie has turned to Hodge for Bledisloe finale
ANALYSIS: How the All Blacks shattered the Wallabies' hopes and the tactic Rennie must 'rethink'
'DELIGHTED TO SEE SELECTORS GIVE THEM A GO': Rennie's Wallabies told not to 'panic' and stick with youth