Wallabies coach Dave Rennie is preparing to name a bigger squad than usual for this year's Rugby Championship but says players not included in August's PONI squad can still very much force their way into the Test calculations.
On Friday The Sydney Morning Herald released a list of 44 players included in Rennie's Players of National Interest squad.
It included 14 Brumbies, 11 Waratahs, 10 Rebels and nine from the Reds.
The August list comes months after another PONI squad was revealed in May that included just three players from the Waratahs.
But that can be, in part, explained by the Waratahs' own improving stocks on the field and an increase in the overall squad as the Wallabies prepare for what could be a two-month tour of New Zealand.
Yet Rennie was adamant that those not included in the recent list weren't out of the selection picture and said up to three players from the Western Force were being looked at while Reds duo Hunter Paisami and Alex Mafi were also on the list before suffering injuries against the Rebels in round seven of Super Rugby AU.
"I mean they're initially set up from a strength and conditioning and medical perspective to be able to keep in contact with the Super Rugby sides and around how certain players are going and how they're being managed and return to play and so on," Rennie told RUGBY.com.au.
"We've added an analysis element to it where we're collecting additional data on top of what we get through Opta to get a little bit of clarity around where these boys are at and how hard they're working.
"It (the list) constantly changes.
"If you even look back to the weekend before where Hunter Paisami and Alex Mafi both got injured, they've got long-term injuries, so we took them out of the mix to replace them with other guys that we would look at over the next months.
"I guess this is as much a discussion document as anything else and there'll still be people potentially from outside of that current group that could be in the Wallabies."
To catch all the Super Rugby AU action LIVE, purchase a Kayo subscription here.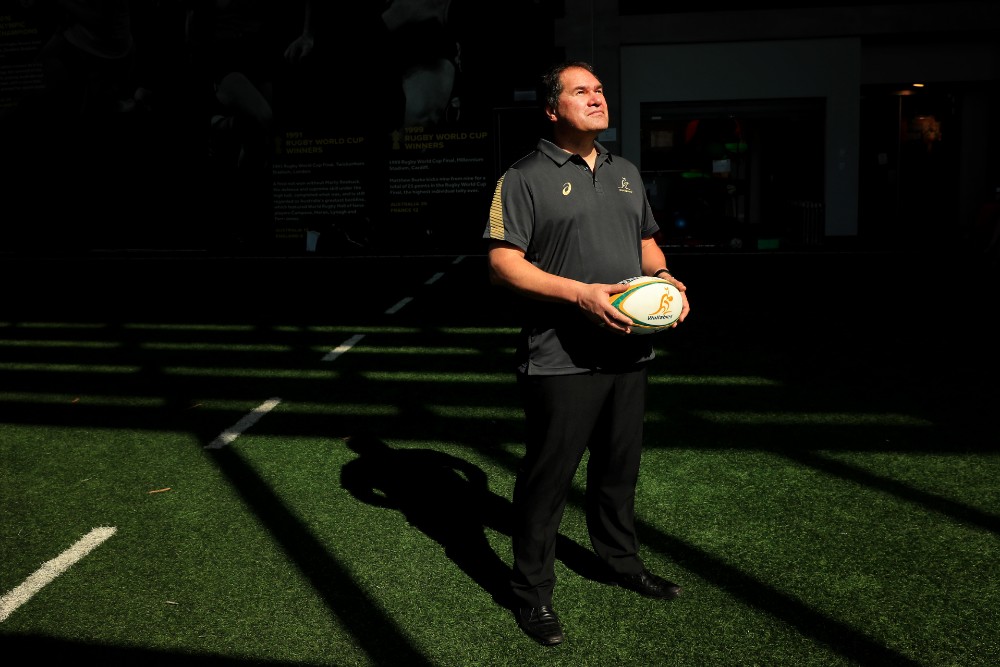 Rennie, who arrived in Australia last month, is preparing to name a bigger squad than usual for The Rugby Championship.
While The Rugby Championship schedule has not yet been confirmed because of COVID-19, SANZAAR has said their preferred model is for a hub to be set up in New Zealand and for the tournament to be played over six weeks in the Shaky Isles.
Argentina and South Africa are preparing to bring extended squads to New Zealand because unlike their southern hemisphere rivals their players haven't been playing, with foreign tournaments only just starting to get underway.
Given quarantine restrictions in both Australia and New Zealand, squads will have to isolate too meaning countries won't be able to call on replacements at the click of their fingers either.
"We decided to increase the numbers because if we end up going to New Zealand, if the Rugby Championship happens there, there's talk about enlarged squads," Rennie said.
"Obviously the Africans and Argentinians are keen for huge squads and obviously from a quarantine perspective if you get injuries you can't really call anyone in, so they're going to have to be in the bubble already and the fact that those guys wouldn't have played an enormous amount of footy either.
"Just the attrition that can naturally happen from that, so we're aware that we could be taking enlarged squads to New Zealand if The Rugby Championship goes ahead and so we need to dig a bit deeper and get a bit of clarity around who we think is next or would benefit from being away for maybe eight weeks in a national squad and from a development perspective.
"So lots of things to consider, but it's certainly not the Wallabies squad but a group of guys we're having a decent look at."
🤷Who needs backs when you have forwards who can do this! #FORvRED #SuperRugbyAU

MORE: https://t.co/7TroKfVO2A pic.twitter.com/V564ipTWQA

— RUGBYcomau (@rugbycomau) August 22, 2020
The Brumbies and Reds, save for their disaster against the Waratahs earlier in month, have been the form sides of Super Rugby AU.
But Rennie said it wasn't as simple as picking players solely from the sides at the top of the standings.
"We're looking at some kids, if they're good enough they can play for us this year but we're confident that they'll be strong long-term prospects, and we're not so much looking at how the teams are going either it's more around individuals and trying to create a bit of depth and, as I mentioned earlier, learn more about those players," the first-year international coach said.
"We've had a lot of conversations with them and with the support of the Super Rugby coaches and we've been collecting a lot of data, a lot of off the ball stuff that isn't normally coded.
"It's been good for us but it's not necessarily a document I want plastered around the media because some guys will think they're either in the mix or they're not, but that's not actually the case.
"We've been talking about two or three boys in the Force for example that are not in that list but we're still looking closely as them.
"Once we get closer to the date we'll announce the squad and that'll include a big chunk of the guys mentioned the other day but not necessarily all of them."
⁉️ How did Pete Samu score this?! #SuperRugbyAU #BRUvWAR

WRAP: https://t.co/KrvtoIsMIX pic.twitter.com/huehzXtC9F

— RUGBYcomau (@rugbycomau) August 22, 2020
It's likely the Wallabies squad - and his captain - will be named following the Super Rugby AU final on September 19.
But until the Bledisloe Tests are set in stone it's not yet known where the Wallabies will base themselves.
Nonetheless, Rennie says the Wallabies will be prepared as best as possible.
"We don't even know where the first Test is going to be and so based on that we're not even sure where our previous camps are going to be which seems crazy," the softly spoken coach said.
"There's a lot of logistics to go, so from a coaching perspective and from a S & C perspective we're just getting our plans together so regardless of where we are this is what those weeks will look like heading into the first Tests.
"We know our time is going to be pretty short.
"We'll probably get two and a half weeks with the squad prior to the first game so we're trying to prioritise what's going to be important heading into game one and we'll try to grow our game over the next couple of months.
Quite the introduction to your first year as an international coach.
"Well, I ran a session for the Palmy boys when I was back home (in New Zealand) but outside of that I've barely coached for the last six months," Rennie said.
"This is certainly different for me.
"Look, there's a lot of people worse off for us.
"We're lucky that we've got Super Rugby back playing here and there's a lot of good men and we're really excited by the challenge and can't wait to get back on the field."
READ MORE
BACK ON TOP: Second half onslaught sees Brumbies hammer Tahs
WALLABIES: Is it time for McDermott, O'Connor to become Rennie's halves pairing?