To'omua, O'Connor pushing Test flyhalf claims as Rennie mulls Wallabies balance
Australia's youngsters have been the talk of the Super Rugby AU competition but it's two experienced heads who look to be leading the race for the Wallabies no. 10 spot.
Matt To'omua and James O'Connor look to have the inside running for the first crack at the no. 10 when the international season eventually kicks off, in whatever form that takes.
Brumbies youngster Noah Lolesio was arguably the form 10 in the competition before being struck down with a hamstring injury against the Waratahs, leaving him with some catching up to do on the field.
To'omua has been shifted to 12 for Friday night's Rebels clash with the Brumbies, playing outside Andrew Deegan, after spending much of the year at flyhalf.
He is the incumbent Wallabies 10 but has played in both 10 and 12 throughout his career.
To'omua has been open about his preference to play 10 and Rennie said that was how he viewed the 30-year-old.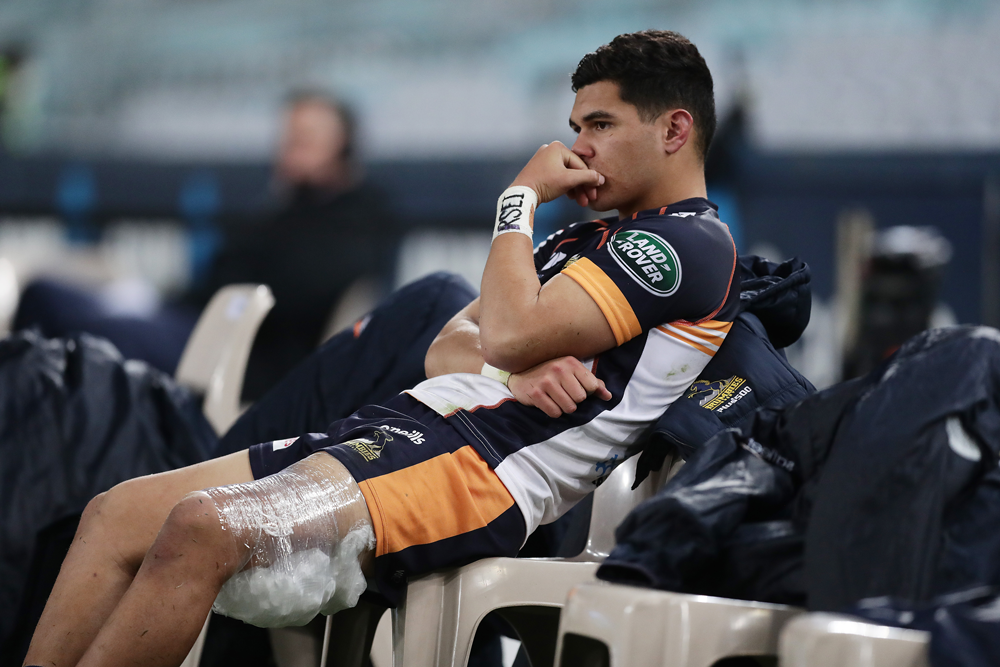 "He wants to play 10 which is exciting from my perspective," he said.
"James O'Connor's the same - he probably hasn't had a massive history at 10 but he wants to play there and he wants to run the ship so that's good to hear that we've got experienced Wallabies who are prepared to take on that responsibility and then we've got a couple of good young kids who are getting lots of game time until Noah's injury unfortunately.
"We're in a positive position there looking forward but I know Matt might be playing 12 but he definitely wants to be 10."
O'Connor has emerged as the other strong contender for an experienced 10, back in the playmaking seat after settling into the centres in recent seasons.
"I've been really impressed with James," Rennie said.
"I caught up with him when I was here in January, probably talked to a list of players via zoom and WhatsApp and all this sort of thing.
"I've been impressed with him - he's really matured, I think he's comfortable in his own skin and he's playing really good footy.
"He's got himself in the best nick of his life.
"He's worked really hard and I just think that's why he's producing good footy as well, enjoying his time in Brisbane so he's pushing hard for selection."
Lolesio was well and truly in the mix for a Wallabies spot before his injury, among a number of promising talents stepping up in the Super Rugby AU competition.

The challenge for Rennie will be ensuring he finds the right balance between precocious talent and Test match experience, especially with the notion of up to five Bledisloe Cup Tests on the cards in an amended 2020.
"I've always been of the mindset if you're good enough you're old enough," he said.
"So, what you can't do, is throw 15 of them in together.
"We've got some experienced guys who are going really well, it's important we get an opportunity to blood some of these young kids so we're looking to the future.
"We've done a lot of work, a lot of stuff remotely, and as a coaching group we've been working for the last eight months so we've got a pretty good idea of where the guys are at and the shifts they need to make."
The return of Jordan Petaia last weekend was a timely reminder of the talent of some of Australia's youngest professional players and he impressed Rennie off the bat.
"He's had a wretched couple of years with injury and even in that cameo saw the quality of him.
"So that's been really good but obviously there's been a lot of talk about the young 10s, Noah's obviously done a hammy which is a bit of a bugger because he's going to miss a couple of months of footy but Will Harrison great young 10s are getting a start and being put under a bit of pressure to perform and run their team around the park so that's been great."
One area where Rennie has openly admitted Australia is "thin" is the second row.
Rob Simmons is the only World Cup Wallaby lock playing in the Super Rugby AU competition after Rory Arnold, Adam Coleman and Izack Rodda all left to head overseas in the past year.
Simmons is also heading to London Irish after this season and fellow capped Wallaby lock Matt Philip will join French team Pau for a season.
Rennie gave little away about any potential changes to the Giteau Law, reiterating his view that Wallabies should be picked from players playing in Australia.
If there were room for flexibility, though, Rennie said the crop of locks overseas would be the department most worth doing it for.
"We're thin but there's an opportunity for guys to put their hand up but there's no doubt that if we're going to bring anyone in that's probably the position we'd do it in," he said.
Rennie praised Simmons' Super Rugby AU form, after the Waratahs captain was left out of wider Players of National Interest squads earlier this year amid a lean NSW season.
"It's been good to see Rob Simmons - h'es played 100 Tests, 100-odd games for the Reds obviously now captain of the Waratahs," he said.
"It's been a challenge but he's really tried to bring some physicality to his game so that's the sort of feedback we'd been giving him.
"That just shows a guy who's been around a long time can still be better and the attitude he's shown has been great.
"But you've got Matt Philip who's going pretty well. some good young locks around Hosea...Angus Blyth I think's looking like he's got a bit of mongrel in him which we like, keen to see that develop and so on so it's really open, which is great for those guys, they get an opportunity to make an impression."
The Reds take on the Waratahs on Saturday August 8 at the SCG, kicking off at 7:15pm AEST, LIVE on Foxtel, Foxtel Now and Kayo Sports. Buy tickets here. Buy a Kayo Sports subscription here. The Brumbies take on the Rebels on Friday August 7 at Leichhardt Oval, kicking off at 7:05pm AEST, LIVE on Foxtel, Foxtel Now and Kayo Sports. Buy tickets here. Buy a Kayo subscription here.