UPDATE: Broadcast talks to resume, hopes for trans-Tasman competition in 2020
UPDATE: Rugby Australia CEO Raelene Castle says broadcast discussions could restart by the end of June and hopes that trans-Tasman rugby could resume by the end of 2020.
Rugby AU and RUPA finalised the player's pay deal on Monday night, with players averaging a 60 per cent pay cut across the board until September 30 giving the organisation greater financial clarity moving forward.
That deal reportedly saved the organisation and its member unions roughly $12 million in the coming six months if no rugby is played.
Rugby Australia is also expected to be requesting a World Rugby loan worth up to $15 million under the international organisation's newly-created relief fund.
The negotiation process for a new broadcast deal, set to begin in 2021, was paused when Super Rugby was suspended last month, with no clarity on when it might resume.
Castle said on a video conference call on Tuesday that the organisation was on the verge of turning tenders into a formal negotiation when the season was suspended.
It had been expected that a deal for the coming years would be finalised before the March 30 AGM but that was ultimately not the case.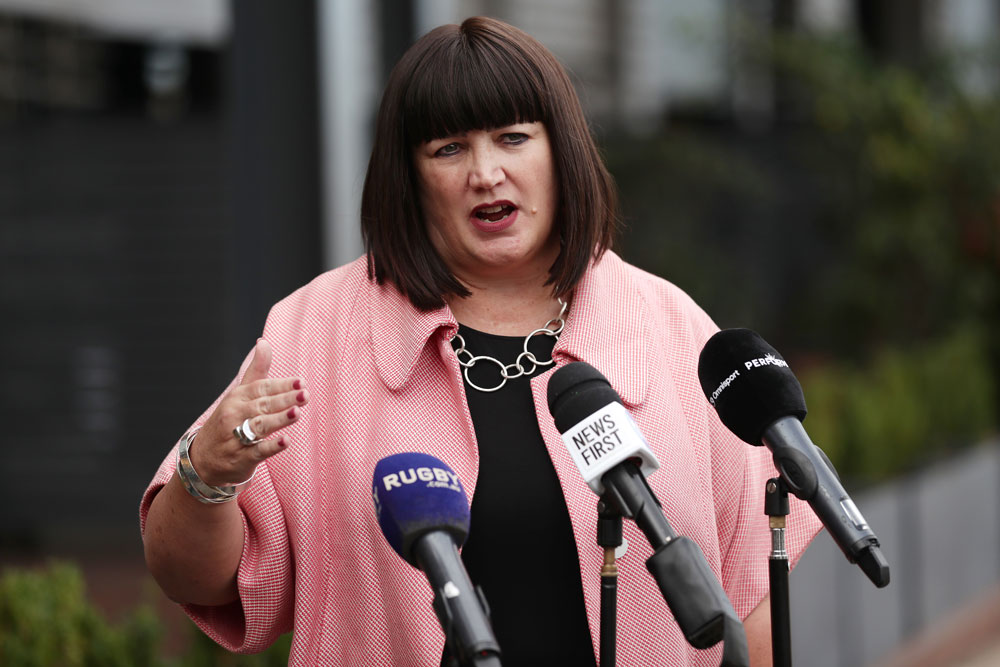 "We certainly believe that we were in a situation where the tenders were closing and we were going to have some significant tenders step into that process that was going to give Rugby Australia the ability to start negotiations with parties," Castle said.
"We were confident that that was in a strong position.
"Obviously, we couldn't control COVID-19 and it is what it is.
"I know there's opportunities to start those conversations again, I'm not sure if that's this week or next week but it has to be in the months, coming months after that.
"All of the broadcast landscape is in a challenged position both of what '20 looks like and ultimately what '21 looks like and what contracts have been signed against what competitions but we are confident that we'll able to pick those conversations up probably in the back end of quarter 2."
Castle said she was confident that the organisation would also be able to produced an audited financial report by the end of the month.
Rugby Australia has not been able to produce its audited annual report because of the ongoing uncertainty around COVID-19 but have until April 30 to deliver those books.
The completion of the audit is not a prerequisite for World Rugby to grant any relief, Castle said.
"We have enough dialogue and relationship with World Rugby for them to understand the situation that not only Rugby Australia's in but all tier one nations are in and how challenging the projected loss looks like for all tier one nations across the globe as this virus stands at the moment," she said.
"They understand our position and the need to support us but we're not alone in that conversation."
Castle said the ongoing financial position of the game was still dependent on when rugby would resume and what that meant for broadcast and sponsor deals.
"It's dependent on whether we get rugby back on in the back half of the year - which we are hopeful we will be able to - and what sponsorship and broadcast elements there are that we can open up," she said.
"We know that the loan from World Rugby is certainly very helpful and will give us an extra level of support and certainty but there are other elements that will play into that mix as well."
The possibility of playing trans-Tasman rugby is something the sport is hanging out for, with both New Zealand and Australia among the strongest-performing countries in navigating the pandemic.
Currently professional rugby in Australia is paused until at least May 1, with community and club rugby on hold until a month later, on June 1.
New Zealand has put in place a plan to roll back its current total lockdown, opening up the possibiity for professional sport to potentially resume in six weeks.
In Australia, the NRL has already pencilled in a May 28 return date while the AFL is reportedly aiming for A June comeback pending government advice.
International travel bans are still in place for the foreseeable future but if there were any country that Australia would likely be able to make an exception with it would be New Zealand.
If restrictions were eased, that could open the door for Australia to play a trans-Tasman Super Rugby and Bledisloe Tests.
"That's certainly one of the models that we are working through at the moment," Castle said.
"We remain in consistent discussions with New Zealand because obviously, that makes a lot of sense.
"The indications we're getting with government agencies is that the sequence of opening up (borders) is likely to be domestic first, then into Trans-Tasman, then into Asia Pacific, so we have a number of different scenarios to look at and that is certainly one of them."