WATCH: O'Connor steps up in iconic Bledisloe moment
James O'Connor's 2010 Bledisloe Test match-winning kick has become iconic in rugby folklore and even at just 20, former Wallaby Drew Mitchell recalls the moment as one that suited him down to the ground.
The October 30 clash was the fourth in the Bledisloe series that year and the third trans-Tasman encounter to be played in Asia after 2008 in Hong Kong and a 2009 Tokyo clash.
With the Cup already wrapped up for the year, it was pride on the line for the Wallabies at the end of a different style of week.
Preparing for a rugby match in Hong Kong on the eve of Halloween, the vibe was markedly different to that of most other Bledisloe weeks, Mitchell recalls.
"I think when we got there, Hong Kong they do it really well, it was on the the eve of Halloween and the guys would get out and you go and experience the town, go to the markets, maybe visited a couple of bars, you'd see the costumes picking up and Halloween parties.
"In the nights leading into the game see it all happening and you'd immerse yourself in it walking around."
"There's such a good energy around Hong Kong, it's obviously a big expat community and there was big interest in the game but also another element to that Halloween was the next night."
Australia burst out of the blocks with tries to Quade Cooper and Adam Ashley-Cooper giving the Wallabies a 12-0 lead before Jimmy Cowan replied on the half-hour mark.
Another score, through Cory Jane, had the Kiwis up at the break and when Ma'a Nonu scored first after half-time it was the Wallabies trailing by 10 points.
MItchell scored his own try in the second half to narrow the margin to five points and that's where the scores sat until the final seconds of the match.
The Wallabies were trailing by five points at the 80-minute mark and it looked like being another loss to the All Blacks, which would have been their 11th straight trans-Tasman loss.
That position meant there was a sense that maybe the game was lost and Mitchell said it wasn't exactly on tenterhooks in the final moments ticking down to full-time.
"In the lead-up to that try, I didn't think it was edge of your seat stuff because we were kind of already out of it in some ways, but we had put ourselves in a good position," he said.
O'Connor burst through the line, scoring a try to level things up after full-time and then it was up to the 20-year-old to slot the winning conversion.
"When James went through, we were pretty pumped but then there was the realisation that he still needed to get this kick to win and I guess it was his opportunity convert his own try and get us over the line," Mitchell said.
"When he was lining up, it was one of those moments where everyone was pretty quiet, and frozen in a sense.
"Everyone was in a position where they felt they had to stay still and just wait for it."
Even back then, still in the relative infancy of his Test career, O'Connor was exactly the player the team backed to step up in that moment.
"James was a confident young kid but I don't know even if at that point he was the regular kicker for his Super Rugby team," he said.
"If there was anyone who was going to get perturbed by that situation, he's definitely someone who wouldn't have been.
"He likes the big occasion, he's confident enough to be able to back himself.
"He's not someone who'd be sitting over the ball thinking of other things, thinking about it not going through.
"in those situations, you need someone who is confident, who has a healthy cockiness, because you need to back yourself in those occasions and you want someone to want that pressure."
Once the ball left O'Connor's boot, Mitchell said it was clear the miracle was complete.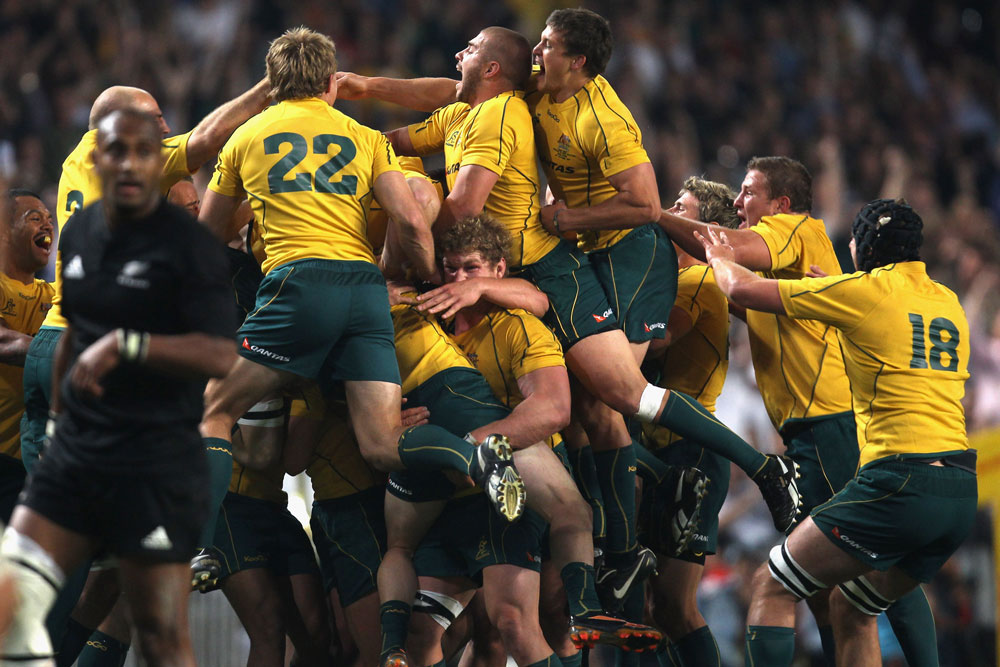 "As soon as he hit it, we could see from where were that it was going through so we just lost it, ran out, jumped on top of one another and they're the moments that you enjoy most when it come down to one last play.
"Too many times we've been on the wrong side of those moments."
Watch this classic Wallabies match on RUGBY.com.au's Facebook page from 7:30pm AEDT tonight and a take a look at more classic matches at rugby.com.au/videos.