Mehrts' must-watch: All Blacks legend's tips for coping with social isolation
What does an international Test legend watch when the world is in lockdown? Sean Maloney quizzed commentating colleague and 70-Test All Blacks Andrew Mehrtens about exactly that.
I am calling a regulation Springboks win over Namibia in a World Cup pool match in Nagoya when the bloke sitting next to me, the great Andrew Mehrtens, drops an unexpected line into our commentary.
"Imagine being one of the little monks on Lindisfarne Island back in 793 and seeing a Viking who looked like RG Snyman coming at you," he says .
"Can't imagine that would've been much fun. Not sure that's for me."
Andrew Mehrtens. All Blacks legend, and apparent history nerd.
He is at it again a week later in the southern Japanese town of Oita calling the Wallabies vs Uruguay game.
Los Teros hooker German Kessler charges up the park and his mullet is being displayed in all its glory on a humid Saturday afternoon.
"Mehrts" waits for the slow-mo replay then fires off a line from Dodgeball, the 2003 cult hit starring Vince Vaughan and Ben Stiller.
"Wow, look at the hair!!! Feathered AND lethal, you just don't see it nowadays," he says.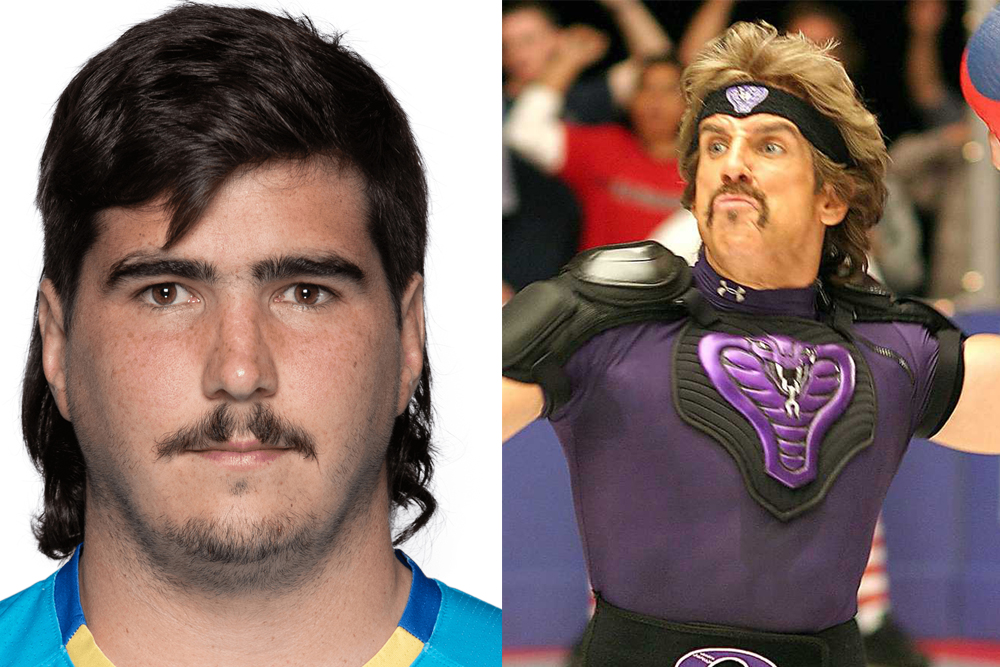 So, as it turns out, the history nerd is also a massive movie buff.

Those two moments really encapsulate what became our tournament experience, jammed with historical references and movie quotes.
It wasn't just in games, though, that this was the case.
In an effort to ensure we were on song for each match, Mehrts and I would lock ourselves away the night be a game with a kilo of karaage chicken, a couple of highballs and a platter of infamous Japanese convenience store sandwiches.
Armed with our fuel, we would binge watch anything and everything.
Every session only served to underline the broad knowledge and interest of Mehrts.
So, as we all self-isolate, quarantine and generally do the right thing by one another, I asked Andrew Mehrtens for his list of movies and TV shows to help break things up at home.
BYO Highballs.
Mehrts' must-watch list
TV Shows
The Sopranos - Foxtel Go
Iconic drama centring on the life of American mobster Tony Soprano
Vikings - Netflix
Historical drama that follows the exploits of Vikings chieftain Ragnar Lothbrok and his followers.
Friends - Stan
Ten-season sitcom about six friends in New York, traversing life's challenges.
Family Guy - Stan
Animated comedy series about Peter Griffin and his anything but conventional family and friends.
Blackadder - Stan
Classic Rowan Atkinson series that takes place at various points in history.
Britain's Bloodiest Dynasty - Amazon Prime
A four-part series about the Plantagenet Kings - Henry II, Edward I, Richard II and others, and Mehrtens' current bingeing obsession.
MOVIES
Shawshank Redemption - Netflix
Oscar-nominated film starring Morgan Freeman, about life in Shawshank prison.
True Romance - available to download
Quentin Tarantino hasn't made many bad movies but Mehrts rates this one the best of the lot.
Die Hard 3
While Mehrtens believes any of the Die Hard series is worth a watch, if you're going to pick one it's no. 3
The life of Brian - Netflix
A Monty Python classic about a man named Brian in Roman times.
Monty Python and the Holy Grail - Netflix
Another Python film, following the hunt for the legendary Holy Grail.
Pulp Fiction - Netflix
Another Tarantino classic, starring John Travolta, Samuel L Jackson and Uma Thurman.
La Vita E Bella - Stan
This mightn't be the most mainstream option but La Vita E Bella and Bienvenue Chez Les Ch'tis are both movies everyone should watch at some point in their lifetime, according to Mehrtens.
Looking to fill a rugby void in your life? switch on FOX SPORTS channel 507 for a selection of the best Rugby Championship and Super Rugby matches from years gone by.