Sevens confident of keeping squads stable as Olympic timeline shifts
Australian Sevens performance manager Scott Bowen hopes Australia can keep the core of their squads together as they work towards the prospect of a 2021 Olympic Games.
The Australian Olympic Committee has advised Australian athletes to prepare for a 2021 Tokyo Olympics and all but ruled out sending a team to the Games if they were to proceed as scheduled.
In response to the AOC stance, Rugby Australia stood down its Sevens teams, moving up their four-week annual leave period to begin on Tuesday.
Bowen said they could not ask their teams to continue to train without competitive matches in the immediate future.
AOC PLANNING FOR OLYMPIC POSTPONEMENT
"Raelene Castle and I had a call last night with our playing group to try and give them that news but also look to answer any questions they had," he said.
"We ultimately decided that we would give teams some time away, let them take their annual leave and fortunately that meant our Brisbane-based players were able to hit the road or look at flights so they could spend some important time with their families, as we digest what's happening in our own little worlds as well as broader society.
"Some World Series events have been flagged for September and October but that's months and months away and if the Games are postponed until 2021, that's still 16 months away and that's a huge ask physically or mentally for anyone to train for 16 months straight effectively," he said.
"The mental health and wellbeing of all the athletes was the key driver with this decision so we wanted to make that call for them to get away from here, so we can regroup and plan for whatever cards we're dealt over the next couple of months.
"There's still a lot of uncertainty around everything for players and staff."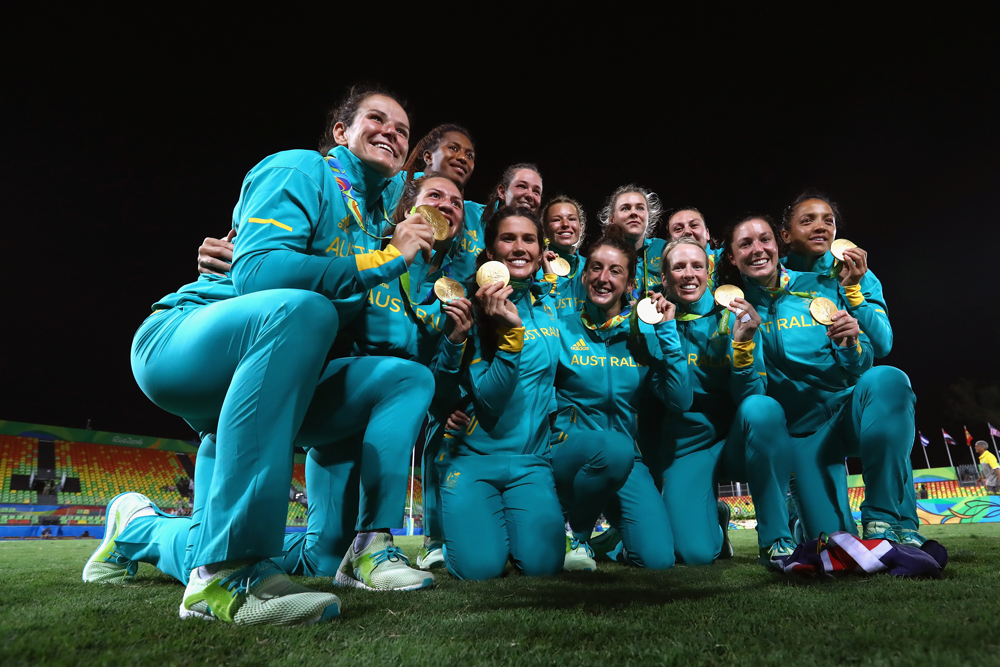 With a now extended lead-in to the Olympics, the next challenge for the Aussie Sevens is keeping the squads stable.
Australia's women's team is the more experienced, with a number of players looking to back up their 2016 Rio gold in Tokyo
The men's side has a number of newer faces and Bowen said they might benefit from another year together.
"It's going to vary individual to individual but there's a strong desire from a large proportion of both groups to stay on," Bowen said.
"The women's team with a lot of senior girls, they're looking forward to trying to defend their gold medal and they still have those aspirations.
"Planning for the men's program virtually came off the back of Rio, we invested in younger talent and then surrounded them with experienced guys with the goal of peaking in 2020.
"They're on an upward curve and another year for those young players in the program would hopefully give us a greater shot at featuring in the podium.
"Ideally, we would have the majority of players wanting to continue forward for another year, but we respect that some may go, 'That's too far away', and choose not to."
Willingness is one side of the picture but Bowen admitted the financial situation of rugby as it faces unprecedented circumstances would also dictate the future of the sport.
Castle said last week that there were no plans for players' pay to be cut but admitted the financial position of Rugby AU would be under extreme pressure with the growth of the coronavirus pandemic.
"The elephant in the room is the finances within the game, obviously how Rugby Australia navigates through a pretty difficult period of time, that will play a significant part for players and staff around what we can and can't do," Bowen said.
"We are fortunate that we receive some government funding being an Olympic sport and that certainly assists but the investment that Rugby Australia can make into the programs is key ultimately to our success.
"Importantly for all of us, we need to see games on TV (at some stage) and we need to see bums on seats to be able to help get the game back on its feet when those opportunities present themselves."
The Sevens teams were one of the first affected by coronavirus precautions and Bowen said it was a timely reminder of the risks the world is facing right now.
"We had days where players were coming in, getting ready to prep and they'd have to go home because we had another person having a test," he said.
"Fortunately all our tests, we've had five over the last couple of weeks, they've all been negative but we've all been far more educated about the seriousness of it not only to ourselves but also family and loved ones."
Ultimately, Bowen said, all the team could do was adjust to the situation as it became clearer.
"For everyone at the moment, it's how long's a piece of string, at what point can business as usual resume?," he said.
"All we can deal with is the cards we've currently been dealt with, give players some time away and hopefully over the next month there'll be more news coming out of IOC/AOC around whether the Games are postponed and more specifically to a time frame lead us to doing some greater planning around what 15 months or so."