One percenters: How Sam Whitelock became a Gold Coast local, coronavirus impact continues
All Blacks lock Sam Whitelock has faced the Wallabies plenty of times in his career but few know of the time he spent working with a host of young men who would go on to become his Test rivals.
After finishing school in New Zealand, Whitelock took some time away from the Crusaders rugby academy to travel to Australia and famous rugby nursery The Southport School.
The 31-year-old worked as a boarding master and spent some time with the first XV during a nine-month stint across the ditch.
Wallabies defence coach Matt Taylor recalled Whitelock's time as a boarding master at the school when speaking to RUGBY.com.au this week.
"Straight after school, he was in the Crusaders Academy but he wanted to do a little bit of travelling...so the Crusaders academy said yep have six, nine months off," he said.
"He chose TSS to come to and he was a boarding master there for nine months where he looked after the boarding kids and helped out with the sports and things like that.
"We knew he was going to be a good rugby player back then but none of us were knowing that he would have gone on to play for the All Blacks and stuff like that."
Whitelock just missed crossing paths with long-time Wallabies counterpart and TSS boarder Rob Simmons, who finished school in 2006, but he had plenty to do with a host of now capped Test players.
Going through the school at that time were names like James Slipper, Ben Tapuai, Luke Morahan and Jono Lance.
Slipper recalls Whitelock's time on the Gold Coast well.
"He came down to a few sessions, there was a bit banter going on around that time that a few of us might end up Wallabies, he'll end up an All Black."
"Every time we see Sam even if he's playing for the Crusaders we'll have a bit of a chat about that stuff."
Test calendar to be shaped by coronavirus progress
"Thank you very much and take care"

Captain Stuart Hogg sends a message to the Scotland supporters after tomorrow's game with Wales was postponed. #AsOne pic.twitter.com/YVu04FldyB

— Scottish Rugby (@Scotlandteam) March 13, 2020
There has been plenty of discussion around the fate of Super Rugby when it comes to coronavirus but the suspension of sporting events and ongoing quarantine restrictions could have a flow-on effect for the rest of the year.
Wallabies assistants Matt Taylor and Scott Wisemantel flew to Scotland last week, initially planning to watch the France-Ireland Six Nations match and shadow Wallabies coach Dave Rennie in his work with Glasgow.
That match was one of four Six Nations encounters postponed, likely to be pushed back to October.
With that new schedule, teams like England could be playing five consecutive matches in their Autumn schedule.
It is unclear whether the current restrictions will impact the inbound July series but Scotland coach Gregor Townsend admitted overnight that their mid-year tour could be affected too.
"We're hoping the virus' peak comes and goes by then and we can get back to normal life," he told Scottish radio.
"Hopefully that will be before the summer but obviously if that takes longer than that then (the summer tour) could be affected too."
Coronavirus blow for club visits
The ban on non-essential public gathering of more than 500 people is not just having an impact on crowds at games.
Queensland players were set to continue the community work they started with their Reds to Regions visits in the pre-season during this week's bye by visiting several rugby clubs around the greater Brisbane area.
But the visits have had to be cancelled due to the public health risk surrounding mass gatherings.
Coach Brad Thorn is helping keep his players on an even keel throughout the competition suspension, reminding them of the bigger picture.
"It's a serious situation, hopefully people can keep calm and look after others and each other and particularly think of the elderly people," Thorn said.
"Whatever the steps are that can look after the elderly and the people who are affected the most, it's important to do that.
"But Super Rugby, sport on a weekend doesn't compare to looking after stuff like that.
"It'd be good if there's some more footy played down the track but it doesn't compare to looking after people."
Former Wallabies captain named QRU life member
The Queensland Rugby Union has named former Wallabies and Reds captain Andrew Slack a life member at its AGM.
Slack, who played more than 130 games for Queensland between 1975-1986 and featured in 39 Tests for the Wallabies, captaining the side to a Grand Slam win in 1984 and Bledisloe Cup victory against New Zealand, has also made a vast contribution to the sport off the field.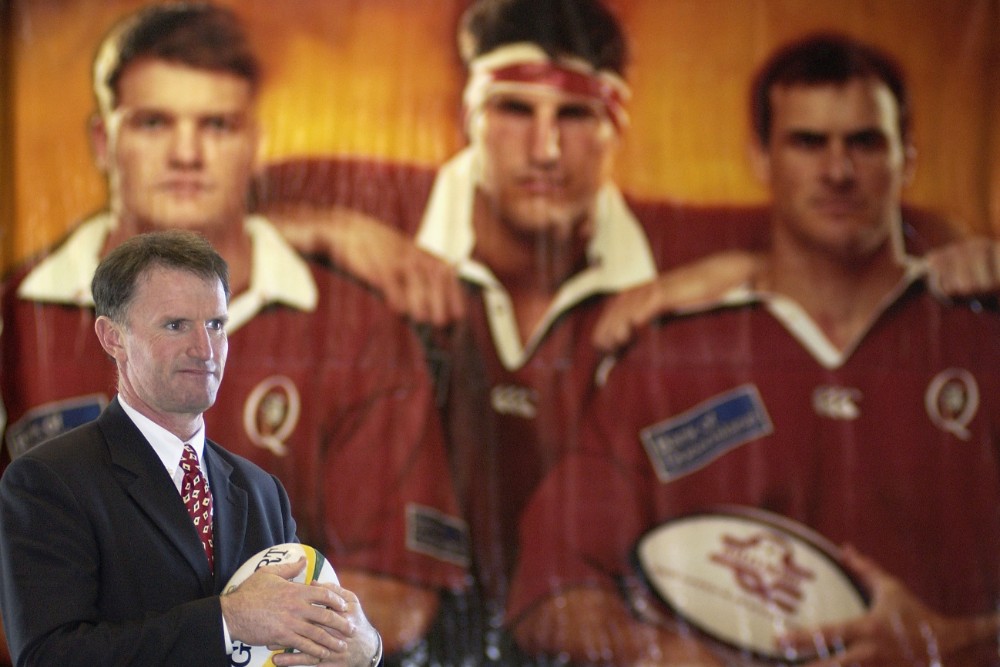 Slack coached the Reds in 2002-03 and was assistant coach in 1994 and 1995 when the team won Super 10 titles.
He was also QRU vice-president 2012-2019.
Meanwhile, another former Red and Wallaby, Roger Gould was elected QRU president, replacing David Codey, with Garrick Morgan re-elected as vice-president and directors Mark Stanton, Selwyn Button and Brett Clark re-elected to the board.
As reported by rugby.com.au, the QRU recorded a net profit of $32,000 for 2019 after depreciation on Ballymore was taken into account.
New era, new song for Reds
The Queensland Reds have embraced their inner bogans and adopted the melody from the AC/DC classic TNT for their new team song.
The team belted the song out for only the second time this season following their bonus-point win over the Bulls on Saturday night, with injured hooker Brandon Paenga-Amosa leading the way.
Captain Liam Wright said the ditty, which substitutes "QLD" for "TNT", was a fresh take for a new era for Queensland.
"We wanted something fresh after a few years of more of a losing culture, so we adapted ACDC's song to something more Queensland based around what we wanted to be," Wright said.
"It was Samu (Kerevi) that brought it in and Brandon (Paenga-Amosa), so Brandon leads that for us now.
"But it's awesome that we're getting a bit more of a flow with the words and we'll hopefully sing it a few more times."
The song, which includes the lines: "QLD Reds, we're dynamite; QLD, we've won the fight; QLD we're not going to stop; QLD, we're going to the top", has the full backing of coach Brad Thorn, who said his team was embracing their inner bogans when belting it out.
"I'd never met a Polynesian bogan before 'BPA' but I can tell you, there's a lot of bogans in there - I'm a third-generation - and this guy with the mullet (Wright) is one as well.
"The boys rip in."
Sadly the suspension of the Super Rugby season means they won't be singing it anytime soon but if the season re-starts, the Reds choir is ready.
Community coaches to tap into new resources
As part of a new National Coaching Week initiative, Rugby Australia has made hundreds of coaching videos available for those in the community.
More than 300 educational videos will be available for coaches across all forms and levels of the game to help schools and clubs develop their mentoring opportunities.
Aussie women's Sevens coach John Manenti is a product of community coaching and said the more assistance that could be given to developing coaches the better.
"I get asked all the time by people, what to do and how to do it," he said.
"It obviously there's stuff there for the under 8s coach, who's maybe a mum or dad who don't have any knowledge at all, right through to high performance staff, strength and conditioning staff.
"There's plays, there's skills, there's drills. there's something there for everyone.
"It's free but it means if you're not near somewhere where you can do coach development, you can go online, you can access it and somebody who's come through the pathway pathway , there's never enough time to go out and go to coaching courses and seminars so you can get online and find things you can use with your team at training."
Nela's priceless reaction to cap display
We're just going to leave this one here for anyone who needs a smile this week.