UPDATE: Reds coach Brad Thorn says his team has had enough of "noble defeats" and wants no is bitterly disappointed at missing an opportunity to notch a rare away win against the champion Crusaders.
The Reds were left to rue poor kicking after failing to convert a single one of their four tries in their 24-20 loss to the Super Rugby title-holders in Christchurch.
Without form flyhalf James O'Connor due to injury and with a new halves pairing after Tate McDermott (workload related) was named on the bench, the Reds headed into the clash massive underdogs to pinch a first win in Christchurch this century.
But the gallant Queenslanders refused to take a backward step and outscored the Super Rugby champions four tries to three in an effort that should have been rewarded with a match win.
They failed to convert any of their tries though, despite trying three different kickers, with Jock Campbell, Scott Malolua and Bryce Hegarty all spraying their chances wide and also rejected penalty goal attempts on two occasions, opting for a lineout and a scrum in a push for tries that eventually yielded no reward.
While they leave New Zealand with a bonus point, Thorn said it was little consolation.
We've had a lot of games like that this year," Thorn said.
"This is our third bonus-point loss. We've had enough of the noble defeats but you take your hat off to the Crusaders, they got the job done."
A former Crusader who played almost 100 Super Rugby games for the club, Thorn paid tribute to the Crusaders' ability to get the job done.
"I guess the Crusaders were too good for us in the end there but I'm really proud of my team - and I've been proud of them for the last six weeks," he said.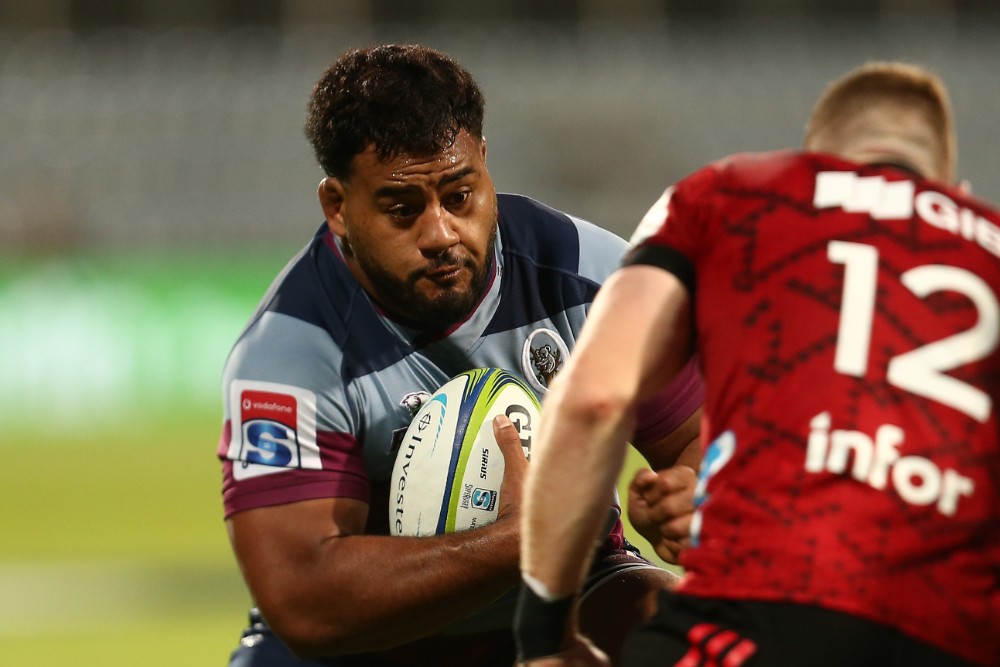 "They won't go away. We came here and probably everyone would think it would be a win for the Crusaders - and it was - but we came here to win.
"There's a belief in the group, so they'll be a bit frustrated with how that ended."
Instead they will have to be content with a bonus point, a consolation that seemed to have been snatched from them after the final siren before the TMO over-ruled referee Rasta Rasivhenge's on-field decision of a try to Sevu Reece due to a Reds knock-on.
The Reds had controlled the ball for 15 phases - although they were pushed almost back to their own tryline by an intense Crusaders defence - in their bid to steal the match after the final siren, before spinning it wide to Jock Campbell, who lost his feet and became isolated, with Reece picking up the crumbs and seemingly rushing over for a late try.
But the TMO spied a Campbell knock-on into his own player, with the decision at least leaving Queensland with a bonus point for their efforts.
The Reds showed great fight to bounce back each time the Crusaders scored but could not score the knockout blow, with issues remaining around their lineout which again conceded possession on several occasions.
"The Brumbies and the Lions and the Jaguares, we've been mixing it. Previous to this game, we've been leading at halftime every game, today we were dead even against the champions," Thorn said.
"These lads have been working hard and they don't wasn't to be participators and neither do I. They want to compete and we play to win.
"They don't want to be all happy about (the margin being) four points. We came here to win and that didn't happen but respect to the Crusaders, I love the joint.
"I guess I feel a sense of pride. Your team represent you in a way and I guess I feel the people who came and supported the Crusaders have a real respect for what's going on in Queensland."
The Reds were under massive pressure early and hardly touched the ball in the first 10 minutes as a rampant Crusaders outfit threw everything at the visitors.

While their general defence held firm, shutting down several Crusaders raids, the set piece struggles that plagued them against the Sharks returned early.
A short arm and then full penalty awarded against the scrum close to the led to a try to prop Joe Moody burrowing close to the line.
But the Reds hit back just minutes later following a mis-kick from the Crusaders and made the most of their first attacking opportunity, with Chris Feauai-Sautia scoring in the 14th minute.
Jock Campbell's conversion attempt, neither easy nor particularly difficult, sprayed wide and when Richie Mo'unga knocked over a penalty attempt just before quarter-time, the Reds trailed 10-5 and seemed as though they could be steam-rolled.
But they found their feet in the final 20 minutes, Harry Wilson barging over after a patient build-up following a Lukhan Salakaia-Loto break, with the scored level after Campbell again fluffed the conversion attempt.
The Reds gambled late on penalties, rejecting shots at goal in the dying stages of the first half and opting for a scrum against a seven-man Crusaders pack after the home side had no.8 Tom Sanders sin-binned for a professional foul.
The promising build-up was spoiled by a knock-on though, with the teams heading to the break locked at 10-10.
While Queensland had the numerical advantage, the Crusaders were the first to pounce in the second term. Under pressure close to their own line, the Crusaders counter-attacked, eventually scoring a through George Bridge, who slipped through four Reds defenders.

Again the Reds hit back quickly, controlling the ball well before Taniela Tupou burrowed over close to the line to keep the visitors in touch.
When Leicester Fainga'anuku scored in the 52nd, minute, it was three tries apiece but the Crusaders led by nine thanks to Mo'unga's radar boot knocking through each conversion attempt as well as a first-half penalty.
The Reds refused to yield though and scored a long-range try, with Henry Speight eventually touching down after Queensland won a five-man lineout inside their own 22 and followed up with an Isaac Lucas tackle break, Harry Wilson break and a neat draw and inside pass from Bryce Hegarty that put Speight over.
Hegarty could not convert though and the Reds' desperate final chance was thwarted, leaving them with a 1-5 record heading into next week's home clash against the Bulls.
RESULT
Crusaders 24
Tries: Moody, Bridge, Fainga'anuku
Cons: Mo'unga 3
Pens: Mo'unga
Reds 20
Tries: Feauai-Sautia, Wilson, Tupou, Speight