UPDATE: Good Reds on their way to becoming a great side
Brad Thorn believes the Reds have the genesis of a great side in the next few years - but he's not giving up on his very good side producing something special this year either.
Queensland righted their Super Rugby campaign with a record 64-5 win against the Sunwolves, scoring 10 tries to notch a confidence-bolstering victory that will restore faith their can claw their way to a first finals campaign since 2013.
Thorn was not getting carried away with a performance that came against a side that will not be in the competition next season.
But in an attractive win that will bolster what was an already decent first home-game crowd of 11,798, the Reds showed they are ready to turn potential into performance.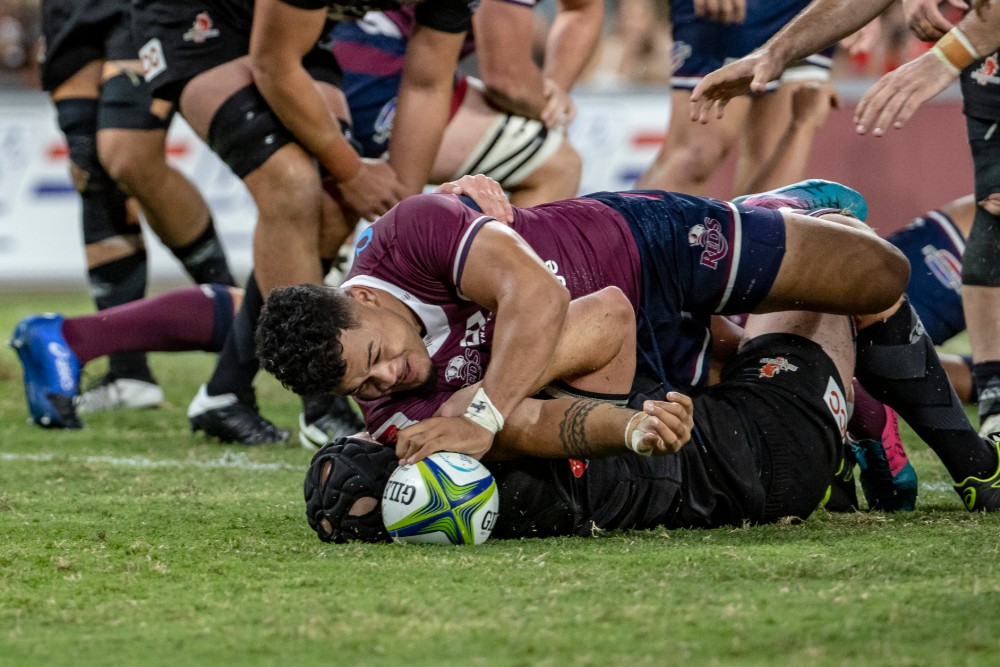 On the way to racking up a record score and record winning margin - eclipsing the 53 points they scored against the Rebels on their way to a 50-point win over the Melbourne side in 2011 - the Reds showed they had the depth to ease the workload on players that have had to shoulder the load for the past few years.
That alone showed Thorn he has a strong side.
"If you want to get to the business end and be in good shape and fresh, that depth really helps because you can manage games and time," he said.
"I've always through - whether it's league or union - you can tell a great team by its bench.
"I've been in Crusader teams where we've had All Blacks sitting on the bench."
But he does not think the Reds have yet reached their potential.
"It's always about fast-tracking and trying to learn fast and I think in three to four years there's going to be a pretty good team here," he said.
"To become a great team (it will take time). I think they can be a very good team now. I've said to the them: 'there's a good team here, we've just got to realise that'.
"But I'm just saying guys who are 25, 26, 27, 28, when you're in your prime, that's pretty exciting too.
"I don't know if I'll be here to be a part of that but I'm enjoying being here at the moment."
After being in a position to win each of their first three games of the season on the road, the Reds refused to give the Sunwolves a sniff, conceding just one try, in the 64th minute, when Siosaia Fifita took a cross-kick from Keisuke Moriya after Henry Speight drifted too far off his wing.
But they managed to snuff out every other chance, scrambling in defence and putting on a show that is likely to being rugby fans back next week when they will face a sterner test against South Africa's Sharks.
The victory pushed the Reds into eighth place overall on the live Super Rugby ladder, and importantly second in the Australian conference, although they trail the Brumbies by six points after the Canberra side's win against the Chiefs over the ditch on Saturday afternoon.
Thorn was well aware the manner of the win was just as important as the victory itself.
"I was pleased that there was something there for the people that have supported us - on TV and at the stadium - we've really believed in the talent that has come through Queensland and to see them express themselves as they did tonight was really cool," he said.
"It's one game so let's not get carried away and we've got a very tough opponent next week in the Sharks.
"But there was some attractive rugby there, which is good for Australian rugby as well.
"Even though we came home without a win from those three games, there's been a lot of positive stuff - that's what I'm hearing and that's what I'm being told.
"They turned out tonight, the fans and it was just good to give them something and we want to keep doing that."
There were good signs early for the Reds but their handling proved costly.
But after receiving a penalty, they drove the ball into the corner and Liam Wright scored from the resulting maul after a referral to the TMO to determine whether he had the right to make a second effort for the line.
They followed with a second try just minutes later, Taniela Tupou eventually crashing over after Hunter Paisami made easy metres with a show and go.
Paisami made five runs in the first 10 minutes and raked up 50 run metres with his bash and barge style inside the opening quarter.
His efforts were rewards with a maiden Super Rugby try when he barged on to a Tate McDermott pass from the ruck base.
After conceding their significant lead to the Jaguares' rolling maul, the Reds spent a substantial amount of time this week refining their maul defence and it paid dividends when they were able to repel their opponents on the line and win a turnover from the only real attacking chance the Sunwolves had in the half.
McDermott scored a try of his own soon after and when Ben Te'o was sin-binned for a shoulder charge in the 31st minute, the Reds ran in another two tries before halftime to lead 36-0, their biggest first-half return in a decade.
The one-way traffic continued in the second half, with McDermott scoring his second after Sunwolves scrumhalf Naoto Saito threw a wild pass after taking a quick tap following a scrum penalty.
And when Hamish Stewart's try was converted just minutes later, the Reds had racked up 50 points and equaled their greatest leading margin Super Rugby history.
Despite becoming disjointed at times in the second half with new combinations, the Reds continued to score, with young guns Josh Nasser and Isaac Lucas scoring, while Fifita's try was the only score the visitors managed.
RESULT
REDS 64
Tries: Wright, Tupou, Paisami, McDermott 2, Salakaia-Loto, O'Connor, Stewart, Nasser, Lucas
Cons: Campbell 6, Hegarty
SUNWOLVES 5
Tries: Fifita