One Percenters: Wisemantel calls for Super Rugby perspective, Paisami on the hunt at training
Wallabies attack coach Scott Wisemantel has called for perspective after a slow Super Rugby start from Australia's teams.
The Brumbies are sitting on top of the Australian conference after a 3-1 start to the season but they are the sole Aussie team with a winning record thus far.
The Reds nabbed their first win on Saturday night against the Sunwolves, in their first home game on Saturday night, after trips to Canberra, Johannesburg and Buenos Aires.
Speaking ahead of this weekend's Super Rugby round, Wisemantel said the competition picture wasn't entirely clear just yet.
"I think you've got to have perspective - the Tahs have played two away games and the one home game was in Newcastle but it was pouring down rain," he told RUGBY.com.au.
"The Reds have been on the road, they've had three away games so they haven't played at home yet.
"They've been unlucky against the Brumbies in the first round and then they've been on the road -they went to South Africa, very close, they could've won that game against the Lions and then they go to the Jaguares where until half-time they were doing really well."
Wisemantel said a more accurate reflection of the competition pecking order wouldn't be seen until at least round six.
"It's about putting things in perspective, I think you get a clearer picture after about round six or seven, where teams sit or how they're travelling," he said.
"You look from a 'Tahs point of view, there's some good learnings from some of those young guys, young Will Harrison he's done some good things, you look from a Reds point of view and there's so many exciting young guys there it's really good.
"You go, 'Far out that's a tough draw at the start', but after six or seven rounds it all balances itself out and all of a sudden we'll get a real feel of where teams are at."
Waratahs women keen to explore Pacific
NSW Waratahs women's coach Campbell Aitken says he'd support taking Super W trials to Pacific nations after the recent Fijiana tour of Australia.

Both NSW and Queensland took on Fijiana in the Pacific Island team's tour of Australia, with the Waratahs winning and the Reds conceding the game.
Aitken said on Friday night he would welcome more opportunities to take on Test sides from developing rugby nations, whether it be more visitors to Australia or Super W sides travelling to the Pacific.
"I'd love to see more sides come over or us go over there," he said.
"It'd be really good just to grow the game and grow the awareness of the game everywhere."
Australia and New Zealand both committed to sending development teams to the annual Oceania XVs tournaments, with the Wallaroos sending an A side to Fiji for the competition last November.
Paisami on the hunt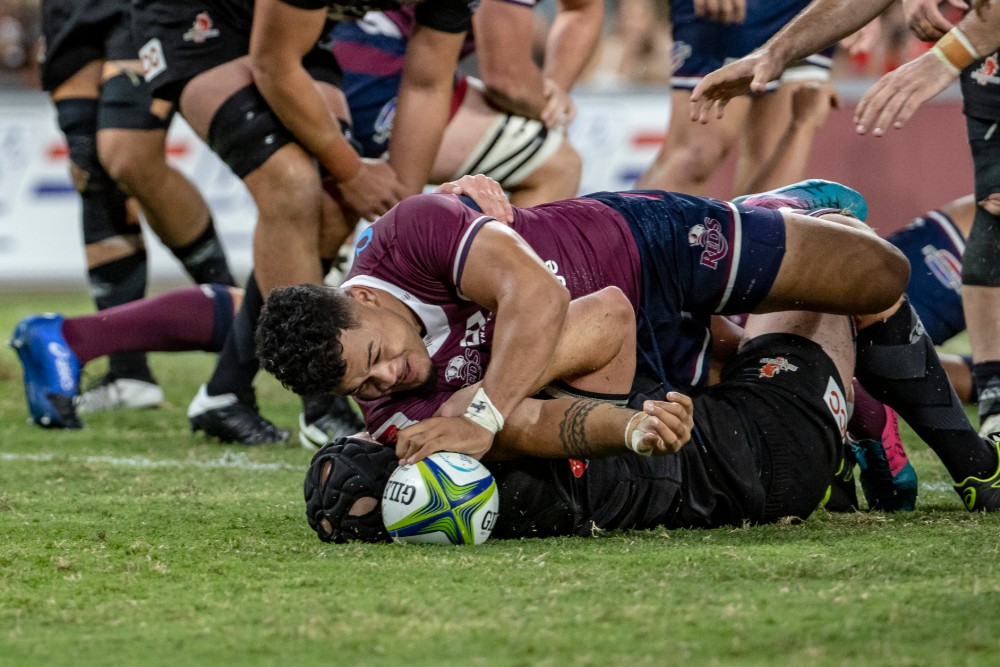 Hunter Paisami is gaining plenty of plaudits for his efforts after stepping into the shoes of Jordan Petaia this season.
But he's also gaining a reputation with his teammates as a hunter on the field.
Paismi trains as he plays - at 100 percent - and has been involved in some friendly fire incidents that have left teammates on the sidelines.
Junior Wallabies captain Fraser McReight returned to the field on Saturday night after recovering from a thumb injury after he tangled with Paisami, while Jordan Petaia's tackle attempt on the nuggety centre left him with a dislocated shoulder.
Certainly no one blames Paisami for the injuries and his no holds barred style is lauded by coach Brad Thorn, who has compared him to some of the best he had played against and seen.
"It's funny with those guys, Malakai Fekitoa, Shane Webcke, the Franks brothers, they train at 100 per cent and it's a good thing," Thorn said.
Pincus to join Rebels
Queensland back Tom Pincus is set to return from English Premiership side Bristol to join the Rebels.
Pincus will join the squad immediately as an injury replacement for Semisi Tupou, who ruptured his ACL in the preseason.
After playing for the University of Queensland and Queensland Country in club rugby and the NRC, Pincus joined Bristol in mid-2018 following a stint in Sydney.
The brother of Aussie Sevens player Joe, Pincus has had limited opportunities in the Bears side and when the Rebels opportunity came up, the club agreed to release him.
Rebels coach Dave Wessels confirmed the move on Saturday afternoon when asked about Pincus post-match.
"Semisi's got an ACL injury so he's not going to play this season and then with Hodgey out for 4-6 weeks, we felt we needed some reinforcement in the backs," he said.
"Big thanks to Pat Lam and the guys at Bristol for allowing him to come.
"He is Australian, so he is eligible and nice to have a bit of depth there."
Blyth brothers treading same path
Angus Blyth is making his mark for the Reds, nailing down a starting spot in the starting XV but it's not Queensland's bench players that pose the biggest spur to the big lock.
Blyth's younger brother Wilson, who last year signed with the Reds on a developing squad contract through until 2022, continues to follow in his brother's footsteps, winning a prestigious John Eales Rugby Excellence scholarship at Bond University on the Gold Coast.
But he is determined to step out of Angus's shadow.
It's a big ask considering his brother stands at 204cm but it was up to another member of his family, mum Leanne, to spill the beans on their rivalry.
"Wilson is quite competitive. He doesn't just want to be the same as Angus, he always wants to be better," Leanne told a gathering at Bond Uni last week.
"It's that brotherly competitiveness. Wilson won't have a bar of riding on the (Blyth) name, he's very much his own person and wants to be recognised for what he does. That's in his nature."
McKellar reveals fallout of mumps outbreak
Brumbies coach Dan McKellar has revealed more details of the disruption the club's recent outbreak caused for the team in the past fortnight.
McKellar said he was proud of his team's resilience in their win over the Chiefs on Saturday night
"There's been a lot of chat about the virus, the mumps, and it had a massive impact on us last week," he said.
"Last Saturday I was calling players on the day of the game and receiving phone calls saying,, "Such and such is out", having to play guys out of position."
Rugby Australia and the Brumbies worked to try and confirm that mumps was the cause of the outbreak into this week, which also affected their preparation for the New Zealand trip, McKellar said.
"After training on Tuesday, the boys get told they've all got to go and get blood tests done to make sure they're cleared to travei," he said.
"There's players back in Canberra who were unable to travel ,guys that would've been selected if they were fit and available.
"It's certainly been a challenge for us the last 10 days but that backs to the wall, that true grit and resilience is something the Brumbies have always had for the most part and we've seen plenty of it in the last couple of weeks."
The Brumbies have a bye week next week and will be hoping to be fully clear of the issue before they travel to Japan in a fortnight's time.
Cipriani reveals darkest moment
England Test star Danny Cipriani revealed on Friday he once tried to buy a gun to kill himself in an emotional video posted on Instagram just days after the death of his ex-girlfriend Caroline Flack.
British TV presenter Flack, best known for hosting hit reality show "Love Island", was found dead at her London flat last Saturday having taken her own life at the age of 40.
Cipriani, who is with Gloucester in the English Premiership and played 16 times for England winning his last cap in 2018, talked about his past mental health struggles in the video posted to his 213,000 followers.
In the 18-minute speech he paid tribute to Flack, whom he dated last year, and with whom he was still in regular contact.
"I told her everything about me because I felt safe with her," said Cipriani. "I told her all the things I was embarrassed and shameful about. She made me feel OK and ultimately it was embarrassment and shame that killed her."
Cipriani, 32, said when he was 22 he was severely depressed and was seeing a psychiatrist.
"I decided at a point it was time for me to take my own life. I tried to buy a gun," he said. "And I pulled out of it and I tried to buy it and I pulled out and this went on for two months and I couldn't do it because I had some fight in me."
Wisemantel gets a world view with rugby combines
New Wallabies attack coach Scott Wisemantel has spent his time with England in recent years but he has also had a look at some of the world's developing nations.
Wisemantel has been working with World Rugby in its international combines that aim to bring cross-sport athletes and previously unidentified talent into the top rugby ranks.
The combines have brought players like Frank Lomani to Super Rugby and also brought an American ice hockey player into Major League Rugby.
Kiama 7s kicks off next weekend
The annual Kiama 7s is just around the corner, kicking off next Saturday February 29.
A host of men's and women's teams will descend on the NSW coastal town for the highly-anticipated tournament won by Manly in 2019.
You can watch all the action right here next weekend or on au7s.rugby and nsw.rugby.