Door closing for XVs Olympic hopefuls after Singapore, Hong Kong cancellations
The postponement of this year's Singapore and Hong Kong Sevens tournaments could all but close the door on XVs players hoping to make a push for an Olympic berth.

Hong Kong and Singapore have been pushed back to October because of the threat of coronavirus, leaving Sevens sides around the world with an extra month's gap in their international calendar.
Australia has brought in some XVs players for Olympic auditions in recent tournaments but with now only four World Series legs left before Tokyo, the opportunities for last-minute additions are becoming slim.
Luke Morahan, who is currently playing with Bristol in the Premiership, and Sean McMahon, who is currently in Japan, have both played a tournament with the Aussies from overseas.
Walsh said the Asian legs had been earmarked as opportunities to test that duo again, they would have to reassess their plan.
"It depends on their club schedule but we have dates in mind for that to happen and one of them was around the Hong Kong/ Singapore time so we will have to communicate and liaise with their clubs to see if those opportunities are still there," he said.
"At the same time if the door closes or they can't, we've got players here to keep going with the work that we're doing and building towards every world series and the Olympics."
Australia's teams are looking to try and work with other nations to play a non-World Series tournament as an Olympic lead-in instead of Hong Kong and Singapore.
Whether any XVs players would be released from their clubs for that kind of tournament is unclear and Walsh admitted it could limit the opportunities for any cross-format Olympics hopefuls.
"Two less tournaments for them to play in but if we manufacture one that's there then if those guys are available they'll play in that one," he said.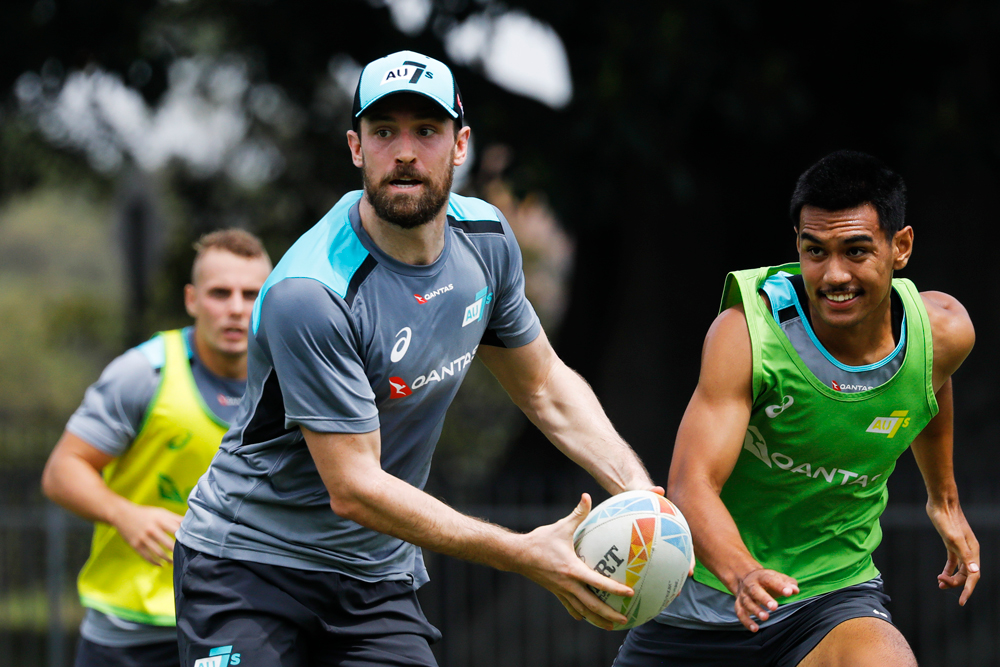 The concept of XVs players, even those with Sevens experience, coming into the team just months before the Olympics is always somewhat of a debate but skipper Nick Malouf said new faces wouldn't worry his side.
"I think we're looking for the best possible team," he said.
"Everyone wants to win a medal otherwise we wouldn't be here.
"If guys can come in and add something to the squad it's going to be great to have them but obviously guys here are training and they're going to have to earn their spot."
Malouf said players like McMahon and Morahan, as well as domestic Super Rugby players like Jack Maddocks and Tom Cusack, had been integrated into the team when they were with the squad.
"I think what's been the pleasing thing is the guys in the squad have been helping bring those new faces up to scratch with our plays, the way we do things around at training," he said.
"The guys coming in certainly haven't been sitting in the corner by themselves, we've been welcoming them in with open arms."
News of the cancellations is a blow for Australia in general, with the side certain to play at least one fewer tournament before the Olympics depending on what alternative they can fashion.
Malouf said that only made the upcoming North American legs more critical for their season.
"It goes from six tournaments before the Olympics to four now so less time for us to work on combinations and less time for us to get experience against the teams we need to beat in Tokyo," he said.
"So, it's hugely important these next two legs to make sure that we're coming together strongly as a squad and perform at the Olympics."
Walsh said while it was a blow to their chances of building some momentum pre-Tokyo, amid an inconsistent season, they were taking an optimistic approach to the news.
"The more we play, the better we get and you've got to build combinations and all that kind of things," he said.
"We did have it scheduled in our calendar for different things but it is what it is.
"We can look at it as a negative, which is it's disappointing but we quickly turned it into a positive.
"We've had to scramble and we're still not quite there yet but we're going to turn what is a bad situation into a good one.
"We get the added bonus of getting to play in October in probably one of the finest Sevens tournaments, being Hong Kong and one of the up and coming ones being Singapore. Disappointment but quickly a win-win."
The Aussie men leave for LA this weekend, taking on the USA, Scotland and Samoa in the LA Sevens pool
The 2020 LA Sevens kick off on Sunday March 1 AEDT, running until Monday March 2.