Reds women finalise Super W preparations with 29-10 loss to Fijiana
Fijiana have helped set a benchmark for the Reds to reach if they are to push for the Super W title this season.
The Reds women suffered a 29-10 loss to their international visitors in a final pre-season hit-out at Ballymore ahead of the Super W season, with Fiji showing the physicality and commitment required to thrive in a wake-up call for Queensland a week ahead of their opening Super W showdown against RugbyWA.
With the Reds having a bye in the opening Super W round, the match proved the perfect warm-up against an opposition preparing for their shot at world championship qualification.
Coach Moana Virtue said the match was valuable to help settle her side for next week and while the Reds were below par in some aspects, their first competitive hit-out of the year had helped set the bar for the remainder of the season.
"We've never had a trial, so it's awesome and we'll be able to go away and fix what went wrong," Virtue said.
"But we cannot be happy with that. Everyone's going to be improving, so it's going to get harder - what we saw from WA (in roune one) is not what we're going to see when we play them.
"And hopefully, what you saw from us today is not what we want to be working towards, we're going to get better."
Players were also able to audition for spots in next week's team, with Virtue closer to deciding on her outfit to face RugbyWA after the clash.
"It was good to see how some girls reacted under pressure," Virtue said.
"From a coach's point of view it was good we got everyone on - there were a few (good) surprises but a few girls went missing as well.
"There were a few girls we wanted to see react under actual game conditions and playing against an international side, what better way."
An injury to New Zealand recruit Hasting Leiataua could prove costly for the Reds, with the playmaker limping off after going down awkwardly in a tackle in the first half.
With her right knee already heavilty strapped, Leiatua looks to have picked up a strain to her left knee and will undergo scans before it is determined whether she will be able to play on Saturday.
Leiataua, who started the match at fullback in the absence of captain Lori Cramer, was recruited to play in the halves and a serious injury would be a massive blow for her and Queensland.
"I feel so sorry for her," Virtue said. "But that's rugby and that's not going to be the last time it happens either, we've just got to run with it."
With the temperature 32 degrees at kick-off the match was played in 20-minute quarters, the teams seeking the shade of Ballymore's McLean stand and plenty of fluids in the breaks.
It was the visitors that took the early lead, flanker Lavenia Tinai crossing after a build-up of possession to give them a 5-0 lead.
And she was in again just minutes later, taking a great pass from centre Ruslia Nagasau to beat the defence, giving the visitors a 10-0 lead at the first break.
The Fijian women showed their ability to play with the same attacking flair as their male counterparts, notching a 100m try in the minute after the re-start.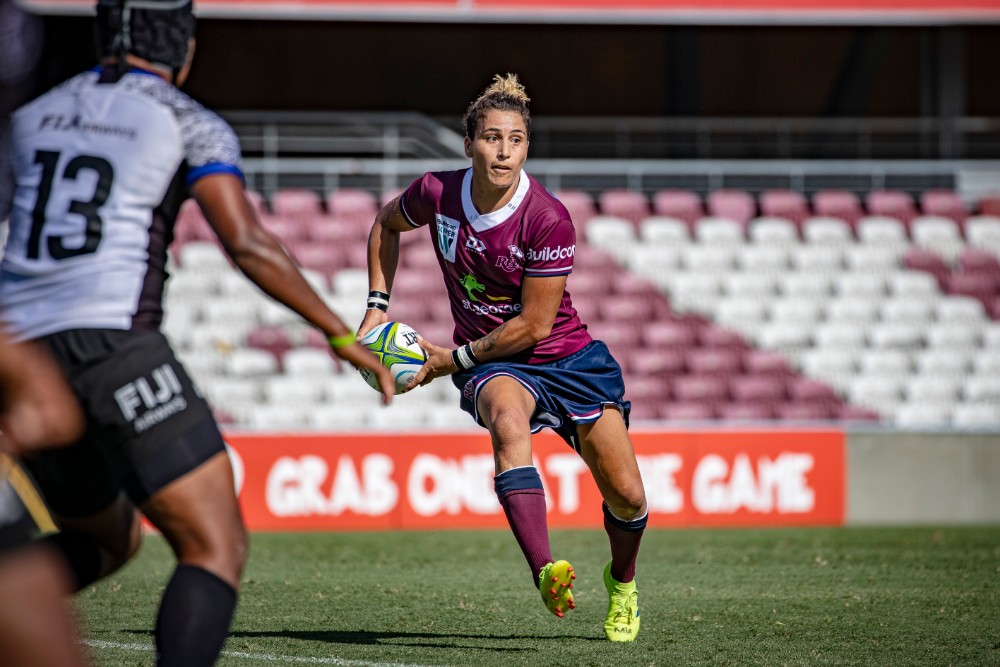 A through-the-legs pass from no.8 Sereema Leweniqilia highlighted a movement that ended with fullback Aloesi Nakodi running 80m to score.
The Reds created chances but down 17-0, inexplicably chose to kick for goal in the second quarter and while Lavinia Gould's successful conversion got them on the board, it made little dent to the momentum of a confident Fijian side.
The visitors posted a fourth try, to centre Nagasau, before the break to take a 22-3 lead to halftime.
The Queenslanders turned things around early in the second half, forcing an error from the kick-off and attacking for the opening 10 minutes before finally breaking through for a try.
In contracst to the opening half, the Reds kept the ball in hand, making Fiji work in defence and reaping the rewards when the visitors' constant indiscipline resulted in players being sin binned.
A two-try hero in the first half, Tainai was handed a yellow card after repeated Fijian infringements and when the referee's warnings continued to be ignored, winger Priscilla Siyata was also sin binned, with the Fijians left with just 13 women on the field.
The Reds made the most of the advantage, spinning the ball wide and crossing through Kauna Lopa.
But they could not get over again, winger Melanie Wilks cut down just short of the line and losing the ball to hand possession back to the visitors.
The Reds attempted to play with ball in hand again in the final quarter but were stung by handling errors and pushed passes.
Fiji had no such problems though, reverting to the exciting play that built them a first-half lead and engineering a try for lock Akosita Ravoto from inside the Reds' half.
Fijiana take on the Waratahs women in Sydney on Friday, with the Reds heading to Perth to play RugbyWA in their opening Super W clash.
Kiri Lingman, who captained the Reds in the absence of regular skipper Lori Cramer said the match was good preparation for their RugbyWA.
"You know Fiji and Fijiana are going to have that flair and that offload game and you talk about it but it's so hard to defend," she said.
"But we stuck it out right to the end and to improve and not let it blow out in that second half is a really good platform for us.
"It was perfect to have a really physical hit-out just then because WA is known for their physicality and we'll be expecting that next week as well."
RESULT
FIJIANA 29
Tries: Tinai 2, Nakodi, Nagasau, Ravoto
Cons: Davuru 2
REDS 10
Tries: Lopa
Cons: Gould
Pens: Gould
TEAMS
Reds to play Fijiana
1. Liz Patu* - Wests
2. Averyl Mitchell* - Souths
3. Christina Sekona* - Sunnybank
4. Kiri Lingman* (C) - Easts
5. Saxon Campbell* – Souths
6. Kirby Sefo* – Bond University
7. Natassja Purontakanen – University of Queensland
8. Okeroa Manihera - Sunnybank
9. Cobie-Jane Morgan* (VC) – Bond University
10. Lavinia Gould* - Wests
11. Ivania Wong* - Sunnybank
12. Sarah Riordan* – Wests/Australian Defence Force
21. Alana Elisaia* - Brothers
14. Melanie Wilks
15. Hasting Leiataua
Reserves
16. Bree-Anna Cheatham* - Wests/ADF
17. Toa Filimoehala* - Easts
18. Wynona Baice* – Wests
19. Hilisha Samoa - GPS
20. Lesa Kaleti Mataafa
21. Gabby Senft - Wests
22. Ivy Kaleta* - Sunnybank
23. Aleena Greenhalgh
23. Kauna Lopa
24. Ayane Hirata* - Sunnybank
24. Destiny Brill - Sunnybank
25. Maerea Tupai - Wests
Fijiana touring squad
Forwards
1. Rudi Vuyeti
2. Ada Dansey
3. Aseri Galo
4. Laisa Tanga
5. Akosita Ravoto

6. Makereta Tunidau
7 Lavenia Tinai
8. Sereema Leweniqila
9.Raychelly Ulueenow
10. Lavena Davuru.
11. Pricilla Siyata
12. Mela Matanatambu.
13. Rusila Nagasau
14. Seini Raoma
15. Aloesi Nakodi
Reserves
16. Nioni Nahee

17. Lailanie Burns
18. Vasiti Rakaeevu
19. Torika Semo
20. Joma Rombootee
21. Salote Vakaturi
22.Elenoa Adinaimata