UPDATE: "We know the team's going good" - Wessels' confidence reinforced after Rebels win
UPDATE: Rebels coach Dave Wessels says he is confident his side is on the right track, after a 24-10 win over the Waratahs.
In their first win over NSW since 2016, the Rebels ensured they finally got on the board in 2020 and extended their opposition's pain.
With rain belting down for much of the match, this was no high octane scoring contest but both sides looked to run the ball even in heavy rain.
Melbourne had the better of the opening 40, dominating territory, but were able to yield just one try from that opening term.
The Waratahs hit back early in the second half but the Rebels stormed home, with Andrew Kellaway scoring two tries in eight minutes to blow the final margin out to 14 points.
Injuries to Anaru Rangi (calf) and Reece Hodge (groin) and the forced late withdrawal of Fijian international Frank Lomani meant the Rebels had to reshuffle their plans early on but coach Dave Wessels was pleased to see his side grit out a win.
"I think in our guts we know the team's going good and the group's super connected and everyone's buying in. you can see that in the way that they played tonight and sometimes things don't happen for you in a game, that's just sport," he said.
"I'm pleased we got the win...I kind of know we're going to have a good season.
"I've always felt like that, I've said that since round one. I think you fundamentally know when you've got a good group of people that are working hard and the things that you're doing are transferring and all those sorts of things and I certainly feel like that with this group."
The Rebels were the side that looked more comfortable in the declining conditions and halves Ryan Louwrens and Matt To'omua were superb in setting the tone for their side.
Both teams were guilty of turning the ball over but it was the Waratahs who felt the most pain of those mistakes.
"I think we had 19 unforced errors, we're turning the ball over after one or two phases," coach Rob Penney said.
"It's been a bit of an issue for us this early part of the year and we're trying to address it but it's something that, it's just a time factor.
"We've just got to keep working hard and try to be smart about what we do.
"There's a group there that's lacking a bit of confidence now, which is understandable so it won't be a revolution of any sort, it'll just be picking bodies and minds up and trying to get them in a position where they feel as though they can contribute meaningfully."
Lomani's exclusion was forced on the Rebels after Rugby Australia deemed they had named too many foreign players in their matchday 23.
Lomani was one of four non-Wallabies eligible players initially named on the bench, along with South African duo Cabous Elouff, Gideon Kogelenberg and Kiwi Steve Misa while Ruan Smith was starting.
With Luke Jones (back) and Jermaine Ainsley (illness) unavailable, Wessels said he believed he would be able to select foreign players in those depleted areas.
It is understood also that the Rebels and Rugby Australia differed on their understanding of the actual maximum number of foreign players permitted to play.
Wessels said post-match, that the side was told by Rugby Australia that they were fielding too many foreigners in their 23 and there had to be a change.

"I'm not 100 per cent clear on it myself," he said.
"Our understanding of the guidelines is very different to what Rugby Australia interpreted as the guidelines.
"We had a few guys out with injury - Luke Jones, Trevor Hosea, Esei (Ha'angana) injured so the three locks we picked tonight are literally our only three fit locks.
"We have two injuries at tighthead with Jermaine also out so young Cabous Elouff who's a foreign developing player came in as part of our squad and then late last night we were basically instructed to swap Frank Lomani from the bench for Theo Strang.
"We'll keep on having those discussions with Rugby Australia to understand how their interpretation of the guidelines was different."
To'omua and Waratahs 10 Will Harrison traded early penalty kicks and then the heavens truly opened up at AAMI Park.
Rather than dry up the scoring, though, the Rebels actually scored their first try in the torrential downpour through Marika Koroibete.
A Rebels lineout overthrow bounced into Billy Meakes' hands and though the Waratahs were able to stop him short of the line, Melbourne were in a dangerous position.
Melbourne continued to pepper the Waratahs' line in the proceeding phases and a pinpoint Ryan Louwrens pass found Koroibete in space on the wing for their first.
The Rebels began to build some momentum after that as the rain eased but they were hit with another backline reshuffle due to injury.
Utility Reece Hodge exited the game before the 20-minute mark, grabbing at his right thigh.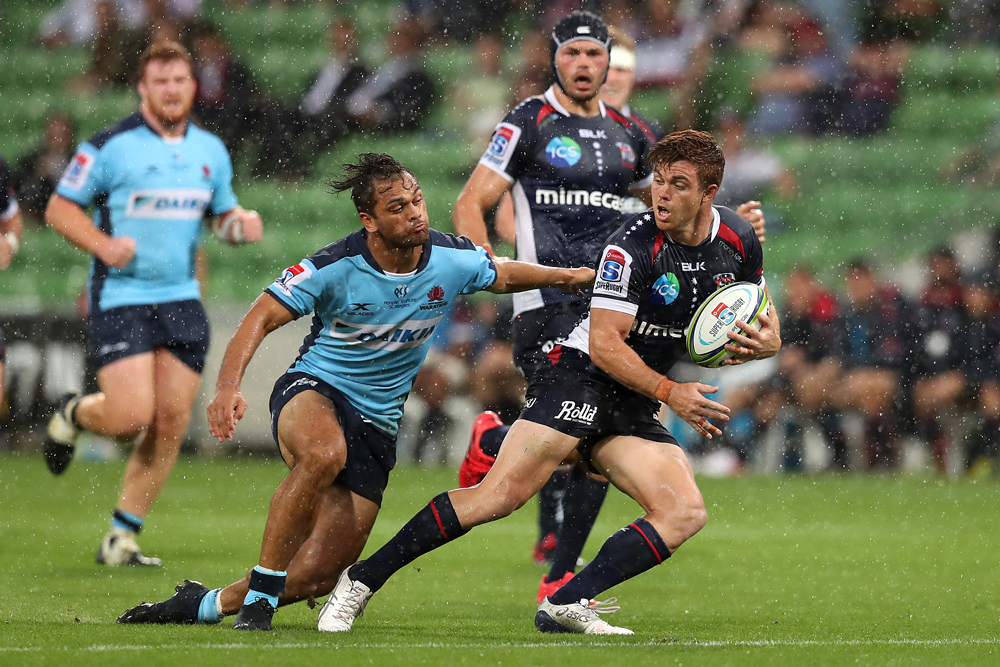 Louwrens went close to scoring Melbourne's second off the back of a scrum but the halfback was forced into touch.
The scrum gave the Rebels some early joy and a penalty advantage from that passage gave then the chance to pack down again.
A To'omua crossfield kick from their next scrum was headed for Koroibete but Kurtley Beale was able to disrupt the speedster in the contest and the ball went into touch.
The Rebels continued to heap the attacking pressure on the Waratahs and had a second potential Billy Meakes try disallowed for obstruction.
Waratahs prop Harry Johnson-Holmes gave NSW the lead for the first time in the 46th minute, finishing off a patient attacking passage to score.
To'omua answered that score with another penalty just two minutes lafer, though, snuffing out the Waratahs' advantage.
The Rebels took the opportunity to go for points as the clock ticked over and a third To'omua penalty gave them a bit of breathing space.
Another dose of patient attack led to the match sealer for Andrew Kellaway in the 74th minute.
To'omua drew Kurtley Beale out of the defensive line and offloaded to his skipper Dane Haylett-Petty at the perfect moment.
Haylett-Petty sent a quick pass into Kellaway's hands to stretch their lead to nine points.
Melbourne weren't quite done attacking and they pushed for the line with a series of pick-and-go phases in the dying seconds.
Kellaway pounced yet again in that moment, ready to swallow up a Theo Strang cutout pass and fall over the line.
The result leaves the Waratahs with a 0-3 record after their opening three matches, their worst start to a Super Rugby season since the competition's inception.
Waratahs captain Rob Simmons was blunt about his team's position speaking after the game.
"I think we all know we're in a hole, we're oh and three but there's no way out of it except to fight our way out," he said.
"We have to stick in there, we have to keep learning and keep fronting up week to week."
The Waratahs will have a week off next week to contemplate their poor start to 2020 while the Rebels travel to Ballarat to host the Sharks.
RESULT
Rebels 24
Tries: Kellaway 2, Koroibete
Pens: To'omua 3
Waratahs 10
Tries: Johnson-Holmes
Cons: Harrison
Pens: Harrison