Experience puts Beale in line for Waratahs' starting flyhalf role
Super Rugby experience shapes as the factor that could see Kurtley Beale don the Waratahs 10 jersey this Saturday against the Crusaders.
Beale hasn't started for the Waratahs at 10 since 2016, when he played the first three matches at flyhalf when starter Bernard Foley was sidelined with a shoulder injury.
Since then, Foley has started in all but a handful of games with Mack Mason starting in two matches as 10 last year and playing eight minutes in two others off the bench.
Beale shifted into 10 for the Waratahs against the Reds in their final trial last Friday night but Mason and youngster Will Harrison played the majority of minutes in the preseason trials.
Mason is unlikely to suit up for the Waratahs on Saturday after suffering a groin injury in their final trial against the Reds but 20-year-old Harrison has arguably been the most impressive of the trio in trial matches.
Despite his promise, throwing Harrison into the cauldron against the reigning champion Crusaders in a round one away trip to New Zealand could be classed a risky move.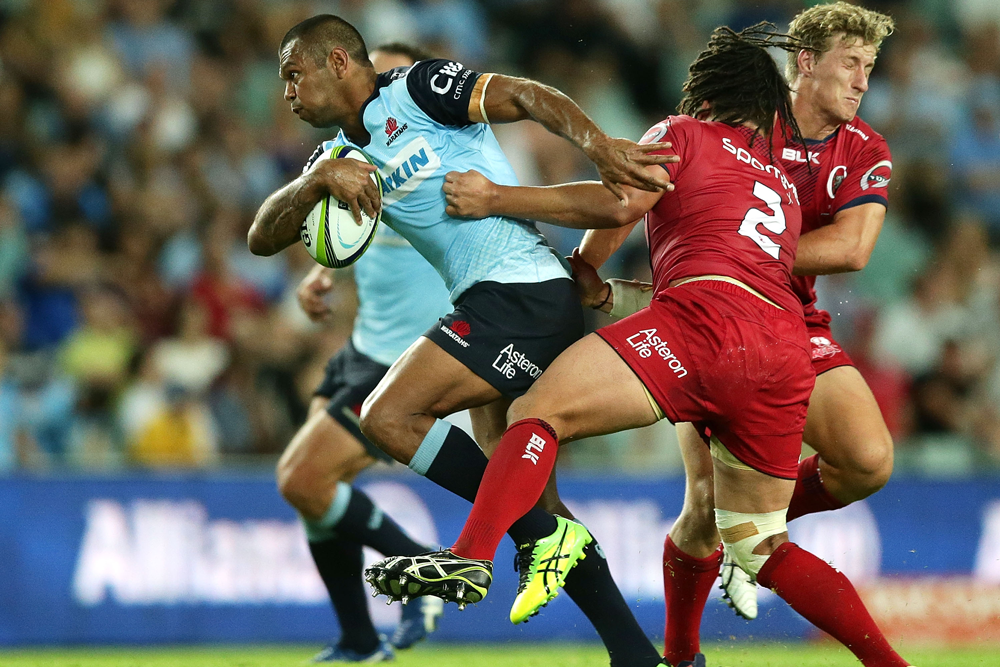 Waratahs attack coach Chris Whitaker hinted as much when asked about the flyhalf selection on Monday and the value of Beale's Super Rugby experience when considering that pick.
"There's a few factors isn't there?," he said.
"Crusaders over there our first game up, it's a big game.
"It's going to be good for us, it's going to give us a bit of a yardstick to see where we are, playing the champions.
"Will's going to be the future of rugby like a lot of the guys are here but now it's the balance of when to throw him in and give him that experience to go out there.
"What you don't want to do is throw him in too early on a big occasion where it hurts them.
"As long as you get the right players around him and he's confident, we wouldn't have any problems putting him in there."
Balancing the hesitation of throwing Harrison in too early and not giving him enough experience to seamlessly transition into Super Rugby is something the Waratahs will be conscious of.
Mason has been with the Waratahs since 2017 but has featured in just six games in that time, left unused on the bench in four of eight matches last year.
The two starts Mason did have in 2019 were defeats, including a shock loss to the Sunwolves, and Whitaker admitted the 23-year-old's path had not been ideal.
"It was unfortunate for Mack because i think the games didn't go his way. If it went to plan, our intention was to give him game time in those first three games (last year)," he said.
"Unfortunately those games came down to one or two points, whether we won or lost them, and we had the incumbent Wallaby no 10 playing.
"Things didn't work out the way we wanted that's for sure and we put our hands up for that but we had every intention to give him some game time."
The Waratahs will face a Crusaders outfit on Saturday night who hasn't lost at home since 2016 and though they will play at Nelson rather than in Christchurch, the trip is no less intimidating.
Whitaker said it was hard to get a read on any changes to their opponents ahead of round one but expected a tough challenge.
"They've got a good culture over there," he said.
"When you've got a culture like that, you bring in guys and they're expected to perform," he said.
"They've got a few guys who are missing from the World Cup who have left New Zealand, very similar to us.
"It's always difficult the first couple of rounds to pick apart a team because you've obviously got footage but it's only trial matches and what they do in trial matches is probably going to be very different to a competition game."
Mason and Ned Hanigan are the only major injury worries for the Waratahs heading into Saturday's match.
Hanigan will miss the match with a concussion, still yet to return to full contact training after a recent head knock.
Officials are confident he will be in the selection mix for the side's second round match against the Blues in Newcastle.
The Waratahs take on the Crusaders in Nelson on Saturday February 1, kicking off at 5:05pm AEDT, 7:05pm local, LIVE on FOX SPORTS, Kayo and via RUGBY.com.au RADIO.