One Percenters: Waratahs suffer major Super W blow with neck injury to Test star
The Waratahs women have suffered a massive blow ahead of the Super W season, with Test front-rower Emily Robinson injuring her neck in a training incident.
NSW Rugby issued a release on Sunday confirming Robinson is still seeing specialists but will miss the entire Super W season, which begins next month.
Robinson took to Instagram on Saturday to say her neck was broken, and it's understood the fracture occurred in an innocuous tackle and was not the result of scrummaging.
"Can break my neck. But can't break my smile. I'll be back. #uptahs #ahhhmyneck #hasntstoppedmetalking," she wrote.
The Waratahs release said Robinson is hoping to return to full training mid-year.
"The way the girls and the coaching have looked after me and the support they've given me since [the injury] has been amazing," Robinson said in the release.
"It's going to be hard to miss the [Super W] season, but I'll still be around the group and contributing any way I can to help us bring home another title."

Waratahs women's coach Campbell Aitken said Robinson would be missed as the team aim for a third straight title.
"We're just working through the details with Emily now, she's seeing the necessary specialists and getting an understanding of timelines for return to play," said Aitken.

"Even though she can't be a part of things on the field, Emily will have an important role to play off it.
"She'll still be an active part of our leadership group and we'll be getting her involved in coaching throughout the season – something she's been working on for a few years now.
"We're disappointed for Emily to be missing the season, but she'll be buzzing around the group in the meantime and back into training before we know it."
Robinson was a member of the 2018 and 2019 Super W-winning sides for NSW, and has ten Test caps for the Wallaroos.
Maddocks move a win-win: Wessels
Rebels coach Dave Wessels says the departure of Jack Maddocks to the Waratahs was a win-win for NSW and Melbourne.
Speaking about the move for the first time since it was confirmed, Wessels said Maddocks' move would also open up the opportunity for the Rebels to nab a "big fish" with their salary cap space.
"I've got a lot of time for Jack. I can understand he wanted to spend a lot more time with his mum and with his family back home in Sydney and I think he sees an opportunity for himself to play fullback, which is his preferred position and to be honest, we've got a lot of confidence in the backs we have so it kind of was an opportunity that made sense for both clubs," he said.
"We have some money, a fair bit of money now in the salary cap that we haven't spent and we're hoping to land some big fish with that basically dependent on different positional groups that we might need.
"I think both us and the Waratahs feel like we've got a good outcome from the situation. "
These things are never totally black and white but I think...we've got guys like Dane (Haylett-Petty) and Marika (Koroibete), (Reece) Hodge, Tom English and Andrew Kellaway, guys with a lot of Super Rugby experience who can play in that position.
When he arrived at the Waratahs, Maddocks said that some homesickness might have affected his form during the year but Wessels said he didn't question Maddocks' commitment to the Rebels.
"I would say jack always gave 100 per cent for our team, he's well-liked by the groups, well-liked by the coaches," he said.
"I think he probably saw after israel Folau left maybe an opportunity for him to play 15 which he might not have got down in Melbourne.
"I know he's very close to his mum and his brothers so it kind of made sense. It's a competitive positional group for us so we got a deal with the Waratahs that we feel we got a good outcome from."
Maddocks played his first game for the Waratahs on Friday night against the Reds, starting on the wing and then moving into fullback.
Reds receive true country hospitality in Dalby
Reds players were treated to some traditional country hospitality after a clinic with Dalby's junior players on Wednesday night.
The entire playing squad, team staff and QRU staff headed to the Jondaryn grain property of Reds prop Harry Hoopert, where his parents Adrian and Sandra had cooked up a massive feast.
All up, 65kg of meat, including brisket, pork, lamb and homemade sausages were served to the horde, with only 3kg left at the end of the night.
Despite having been unable to plant grain for a year due to the ongoing drought, the Hooperts happily hosted all involved and even put on activities including clay target shooting.
Allan not following in "Captain Grumpy's" foosteps
New Brumbies captain Allan Alaalatoa might have been destined to find himself in a leadership position, following in the footseps of his namesake Allan Border.
Alaalatoa was named after legendary Test cricket captain Border and has followed in his path in ascending to his team's captaincy.
Border was nicknamed "Captain Grumpy" when he set his focus on Australia reclaiming the Ashes in 1989 and it's a tag that stuck with the batsman.
Alaalatoa sees the interesting parallel between the two men but he doesn't think he'll be earning any grumpy moniker in his captaincy.
"I was named after Alan Border and my dad was a huge fan of him and obviously he's a famous Australian cricketer for us," he said.
"The way it's all worked out, when you go back and think about it, it's a very special thing but I hadn't actually thought about it until you mentioned it.
"I do have a bit of a tag going around, the boys say I do get a bit angry on the field but I think I've just got to in some ways control that but not try and change what I've been doing because that's the reason I've got the job."
Mullet not the Wright cut for Reds skipper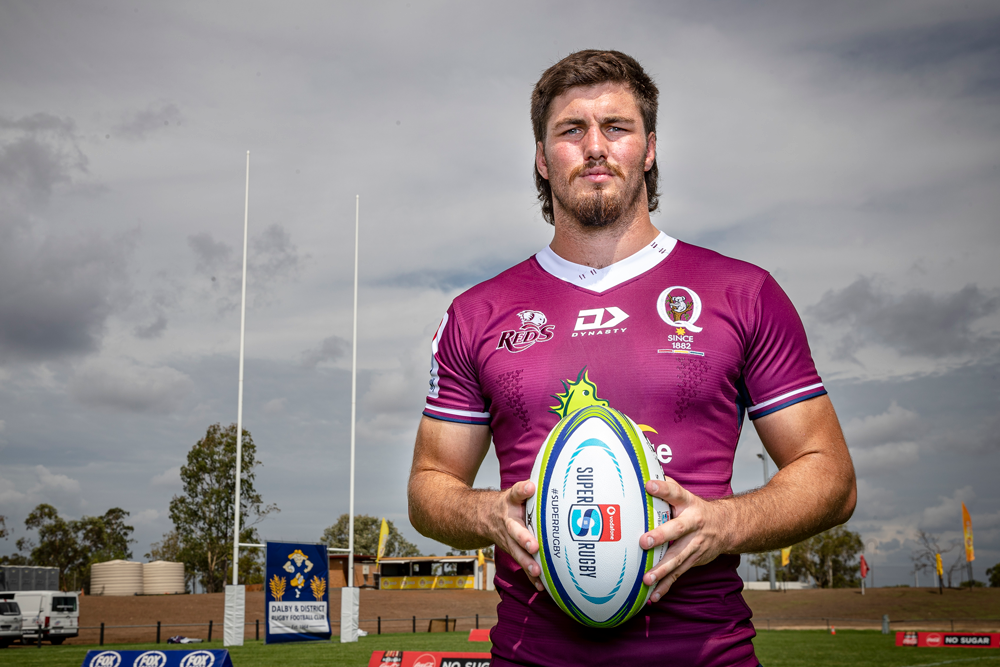 Speaking of captains, Reds captain Liam Wright has been copping plenty for his hairstyle over the pre-season but don't expect to see the mullet for too long.
Wright's locks are likely to get the chop ahead of his team's clash against the Brumbies in the opening Super Rugby round in Canberra on Friday.
The Wallaby backrower's pre-season frippery saw him sport a long beard last year - but the oppressive conditions put paid to that becoming a tradition.
Instead, a few of the players, including lock Izack Rodda have joined the mullet club.
Wright says the effort has been a nod to former Reds captain Scott Higginbotham but he's likely to be sporting a neater style by Friday.
Beale pops the question
It must be engagement season in rugby. Last weekend, Sevens duo Charlotte Caslick and Lewis Holland took the plunge and this weekend, Wallabies and Waratahs star Kurtley Beale popped the question.
Beale posted the engagement announcement on Saturday night, revealing that he is set to marry long-time partner Maddie Blomberg.
Rugby to help Braidwood rebound
Many Australian regional towns have been left devastated by a brutal bushfire season and one such town, Braidwood, is looking to use rugby to help rebound from the disaster.
The town, an hour's drive east of Canberra, is holding a Sevens tournament to raise money for the community's bushfire recovery effort.
The initiative has been so popular that registrations for every division are now exhausted.
The Braidwood tournament is being held on February 8. For more info on how to support the day, visit the Redbacks Facebook page.
And don't forget to have a read about the history of the famous Braidwood club with this excellent feature from Stu Walmsley.