New Australian coach Dave Rennie says Michael Hooper will have to re-earn his Wallabies spot - and the captaincy - in Super Rugby like all other players.
But a day after he relinquished the Waratahs captaincy, Hooper's Wallabies teammates have lined up to back the flanker as the right man to continue leading the Aussie team.
Just hours after Hooper passed the NSW captaincy to Rob Simmons, Rennie met with the 99-Test forward on Wednesday at Waratahs training for the first time.
Rennie said Hooper had shared the "learnings" of the Wallabies' disappointing 2019 Rugby World Cup campaign, and while unwilling to divulge what those were, the new Wallabies coach was more forthright when it came to his thoughts about Hooper and the national captaincy.
"I spoke to Hoops yesterday," Rennie said.
"He seemed like he is in a really good headspace, he has obviously had a break and come back in really good nick. He is very excited contribute, he will still contribute in meetings just without the (c) tag next to him.
"But the message we will be giving everyone is you have got to earn the right to play so we will be picking guys based on Super Rugby form."
Asked if that extended to Hooper, and his captaincy, Rennie said: "Absolutely."
Key Wallabies players backed Hooper to retain the Australian captaincy despite the flanker making the surprise call to step down as Waratahs skipper this week.
Rebels and Wallabies playmaker Matt To'omua said the thought of Hooper not retaining the Australian captaincy wasn't really something he had considered but admitted that the influence of new coach Rennie could change that.
"Hoops has got so much experience there so for him to stay on as Wallabies captain, I think most of us would've considered a (given) you know, but the elephant room being we've got a new coach, a whole new setup so we'll see that works out," he said.
"But he's got a wealth of knowledge and experience now and I think he's got that clarity of being here for another four years at NSW anyway so the idea of helping someone out, whether it be Rob or whatever, there's obviously a lot of benefit in it.
"It's a pretty taxing role to be a captain of both your provincial team and your country so I can see probably why even from a personal workload thing I can understand that.
"I think having some stability and having Hoops in that leadership role at Wallabies would be great because he's got that wealth of knowledge and experience there and you'd hate to see that not utilised."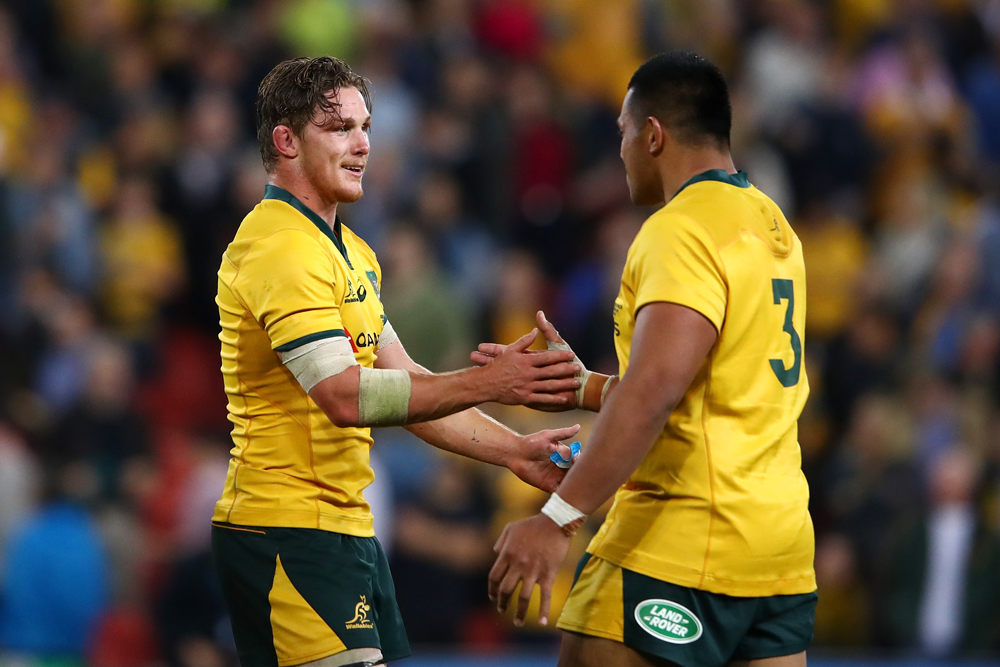 New Brumbies captain Allan Alaalatoa said Hooper would surely be the first person considered for the gig even with a new coach in Dave Rennie joining up with the side.
"I hope that Hoops does remain Wallabies captain but in saying that, we've got a new coach and anything can happen. I know that he'll definitely be first considered for that role.
"In terms of him balancing that (workload) out, I never saw it take a toll on him.
"I think that was a testament to him, he'd always, when he's in front of the group he's showing a positive attitude and always putting the group first so it was a shock decision when I read it yesterday.
"Looking at it and thinking over it last night, I think it's going to be great for him and I think it's going to make him grow as a leader.
"I think he's going to learn a lot this year from just sitting a little bit back and watching Simmo work and almost having that fresh feel when he moves into Test level."
Rebels captain Dane Haylett-Petty said Hooper had borne a great deal of responsibility for a long time and it was only natural that something had to give.
"I think being captain I've learned a lot from Hoops, he's a very good leader but I've also seen how draining it can be," he said.
"I don't know how he's done it for both teams for so long, I think Simmo will be a very good leader. Hoops will still lead from the front and do what he always does and I'm sure he'll do a good job for the Wallabies."