TEAM NEWS: Petaia returns for Reds, Speight to make Queensland debut against Tahs
UPDATE: Reds coach Brad Thorn says he will be happy if he can get 40 minutes out of his star centre Jordan Petaia as Queensland emphasise fitness over immediate flair for the Wallabies teen.
Petaia missed Queensland's opening trial against the Rebels last week but has been named in the Reds' team for their final pre-season clash against the Waratahs in Dalby on Friday.
He played just one game for the Reds last season before suffering a season-ending foot injury, made his return in the World Cup, where he earnt his first Wallabies cap in a team that also contained Queensland recruit James O'Connor.
The pair will reunite on Friday, to play for Queensland against the old enemy in their final hit-out of the pre-season.
"Just getting his body right has been the biggest thing, he hasn't done much training with the team," Thorn said of Petaia, who has spent time strengthening his hamstrings and core to prevent further injury this year.
"He's a very valuable member of the team. It was tough last season losing him pretty much after round one.
"That was disappointing for Jordy and for us but it was great that he finished on a high doing so well without any rugby - he was one of the better performers for the Wallabies, I thought.
"We want to keep him on the pitch. He's a special talent and he adds a lot to the team.
"But I emphasise the word team, we need everyone to step up."
Thorn said the Reds had opted to wrap Petaia in tissue paper early in the pre-season given his age and the wear and tear on his body early in his career.
"We're just being careful with him," Thorn said.
"Before Christmas he would have hardly touched the footy, it was about getting his body right.
"He came in really young, he'd just turned 18 and he's had a few niggles and when you come in that young, physically there's a lot of pressure on you, mentally, there's a lot of pressure at that level.
"It's good that they're trying to get a base fitness for him. "Since we've been back from Christmas he's been a lot more involved in the rugby. He's still pretty rusty but it doesn't seem to take long for him to progress."
Thorn is also taking a safety-first approach with local hero Harry Hoopert, who was not named in the Reds' squad yesterday.
The Jondaryn product and former Dalby Wheatmen player was desperate to trot out in front of a home crowd. But after suffering a neck injury that caused a bulging disc last year, and aggravating the issue during the NRC, he will be rested to ensure he is fully fit for round one.
Brumbies recruit Henry Speight has been named on the wing to make his Reds debut after inking a two-season deal last year.
The Reds named a 26-man squad to take on the Waratahs and made few changes from the team that beat the Rebels 57-5 in Gladstone last week.
After playing in all eight matches for Brisbane City in last year's National Rugby Championship (NRC), University of Queensland backrower Sam Wallis has been selected in tomorrow's uncapped fixture after being invited to train with the Reds during the pre-season.
The clash is the first time in more than a decade that Queensland and NSW will face off in a pre-season match, with the last game also on the Darling Downs, when the Reds hosted the Tahs at Toowoomba in 2009.
While some suggested last year the heat had gone out of the traditional rivalry, captain Liam Wright said playing the Waratahs was still special for any Queensland team.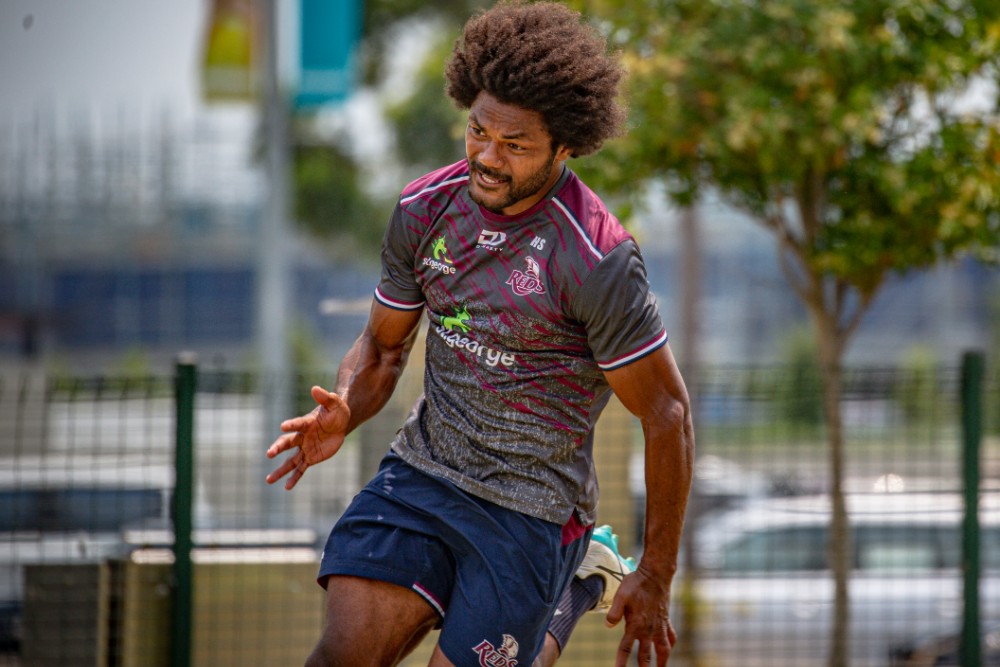 "I think every time we go to play NSW it's a big one - as it is with most Super Rugby teams - but there's that State of Origin sort of rivalry between NSW and Queensland," Wright said.
"We haven't got up on them in a long time now and we're ready to make that mark and although it's just a pre-season game, we want that win. any win over NSW is a good win."
That rivalry didn't extend to dismissing Waratahs captain and former Red Rob Simmons though.
"It's a bit weird - he's a Theodore boy, so he's a Queenslander through and through but I think he's going to lead them really well.
"He's a great bloke and he certainly helped me out a lot around the traps at Queensland and then the Wallabies, so I'm really happy to see him do well down there - but hopefully we're going to notch up his first loss as skipper."
The Reds take on the Waratahs at Dalby Leagues Club on Friday, January 24, kicking off at 7:30pm local (8:30pm AEDT) and streamed via RUGBY.com.au.

TEAM
Reds to play Waratahs
1. Dane Zander
2. Alex Mafi
3. Taniela Tupou
4. Angus Blyth
5. Tuaina Taii Tualima
6. Angus Scott-Young
7. Liam Wright (c)
8. Harry Wilson
9. Tate McDermott
10. Isaac Lucas
11. Henry Speight
12. James O'Connor
13. Jordan Petaia
14. Jock Campbell
15. Bryce Hegarty
Reserves
16. Brandon Paenga-Amosa
17. Dave Feao
18. Josh Nasser
19. Ryan Smith
20. Seru Uru
21. Moses Sorovi
22. Hamish Stewart
23. Ilaisa Droasese
24. Chris Feauai-Sautia
25. Sam Wallis
26. Hunter Paisami