"We won't sell ourselves short": RugbyWA women determined not to repeat Super W mistakes
One thing became clear in RugbyWA's post-mortem of their 2019 Super W season: they sold themselves short.
And returning coach Sebastian Delport is determined it won't happen again.
RugbyWA finished fourth in the five-team competition, missing a spot in the playoffs, as they did in Super W's inaugural season.
But their efforts to finish within five points of the Brumbies in the final round game - a match that determined which team would head to the finals - showed the team from the west they were capable of raising their game to another level.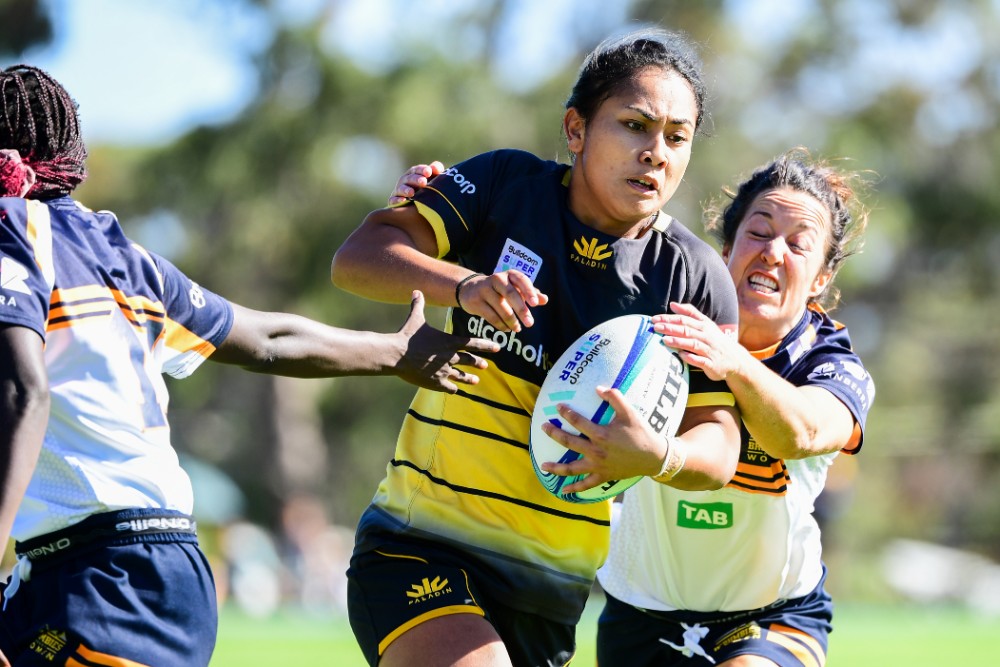 "We want to do better than the fourth-place finish we had this year," Delport said.
"The review we did as a program at the end of that campaign was pretty clear that we sold ourselves short and we should have performed better in a lot of our games.
"We want to make progress and at a minimum be competing for a playoff spot and a shot at a place in the grand final."
Delport returns to the top job in WA after stepping away from the role last season after a move interstate for work.
Now back in Perth, he takes the reins again and admitted it had been difficult to watch on from the sidelines.
"It was exciting to see the team run out for the second year but it definitely left me with itchy feet as far as wanting to get back involved with the program and I was really humbled to be able to get back involved with the program when I moved back to WA," he said.
"The competition as a whole is going from strength to strength, so to be back involved and to be a part of that continued growth is really exciting."
He expects to see that growth continue, despite WA losing one of their four Wallaroos representatives after Mhicca Carter switched codes in an off-season shock, rookie-listed by the West Coast Eagles.
"I think there definitely will be growth going into season three," Delport said.
"The expanded Wallaroos schedule will have helped a large group of PONI (players of national interest) players and the actual Wallaroos squad continue their development.
"Each state program has shown growth from year one into year two and I expect that it will be no different going into year three.
"The Brumbies showed a lot of development from year one into year two and there's a bit of turnover in their squad and there's been a similar turnover in our squad both from year one to year two but also this year into the squad for the 2020 campaign.
"We're starting to see a transition of the next generation of players into Super W, which is exciting but at the same time, I think it'll lead to the closing of gaps between the other three teams and the teams that have made back-to-back finals."
That's partly due to the players coming into the open ranks already having rugby skills.
While junior girls competition finishes at U14 level in WA, with players then having to transition to open women's competition, several teens are graduating through the Aon Uni Sevens program.
"They've been playing the game from a young age and have come through female pathways in their teenage years and a lot of them are playing XVs and sevens," Delport said.
"It's fantastic that they're getting that exposure to high level competition in both formats of the game and they can bring those skill sets and that knowledge and experience into these competitions that continue to go from strength to strength."
But it's not just the newcomers that are making strides.
After identifying fitness and strength and conditioning as issues last season, the WA women returned to the training track in September and Delport expects his experienced players to be able to take their games to the next level as well.
"We've got a fair group of our squad that have played both sevens and XVs and a number of girls have been a part of the UWA Aon campaign have now transitioned into our squad for Super W.
"I think they, as well as some of our XVs specialists, are going to be knocking on the door for PONI representation if they continue their current level of growth."
Improvements in fitness and skill are one thing.
"Mindset is another really important factor," Delport said.
"Having that belief that the work that we've done and the process that we're developing is one that they can believe in and have confidence in.
"We've had a much longer pre-season this year than we had in the previous two iterations of the tournament and the squad will be a lot more fit for purpose - fit for rugby and fit for 80 minutes of representative rugby - and the work we've been doing through our emerging academies around skill development should start to bear fruit as well.
"Those two factors combined with a stronger belief in our skill set, our ability to stay in that arm wrestle for 80 minutes and come away with the win will hopefully get us across the line."
PLAYERS TO WATCH
Frieda Ah-Sam
The teen prop will become a second-generation player for Rugby WA and has great potential in one of the most technical positions on the field.
"She's the first second-generation player from the same family coming into our program, which is exactly what we want," Delport said.
"She's going to be playing tighthead for us which is really exciting and she's got huge potential to push on and hopefully knock on the door for a PONI place."
Brooklyn Teki-Joyce
One of the players to have come into the Super W squad from the UWA sevens program, the young gun is an exciting addition for the West Australians.
"The average age of our squad is 23 for this campaign, so there's a large group of young campaigners knocking on the door," Delport said.
"I'd probably nominate all of the players that have come from the Aon program and are now part of our squad (as rising stars)."
Langley Sesega
An Australian representative at the Commonwealth Youth Games in 2017, Sesega is one of the teens that will be bidding to take the next step in their games in the absence of senior player Mhicca Carter.
"Players like Ayisha Wigley, Brooklyn Teki-Joyce, Pania Kara, Langley Sasega, they're all fantastic players who are all under the age of 19 and have that ability to do something special on and off the ball both in the sevens and XVs format," Delport said.
RugbyWA open their Super W campaign on Sunday February 15 against the Brumbies at GIO Stadium, kicking off at 4:35pm AEDT.