Perfect Tens: The Junior Wallabies playmakers that could be wearing the no.10 jersey at your club
The terrific trio of playmakers that guided the Junior Wallabies to their first Junior World Cup final in almost a decade is now bidding to wear the no.10 at Australia's Super Rugby franchises.
The Junior Wallabies lost the World Rugby U20 championship final to France by a single point last year, their campaign spearheaded by three playmakers who shared their talents across the backline.
Will Harrison, Noah Lolesio and Isaac Lucas played at flyhalf, inside centre and fullback respectively in the Junior Wallabies' charge to the World Rugby U20 championship final, giving Australia three genuine playmaking options.
Each is now trying to make the transition to the Super Rugby ranks, the young dynamos fighting for the coveted no.10 jersey at Australia's domestic clubs.
With the departure of senior five-eighths Christian Lealiifano, Bernard Foley and Quade Cooper after the World Cup cycle - taking with them 401 Super Rugby games and more than 160 Tests' worth of experience - there's a dearth of senior playmakers in Australia's Super Rugby ranks, opening the doors for the young trio to take their chances if they're good enough.
Lucas played eight Super Rugby games last year, including starting at no.10 against the Waratahs and will be a regular in maroon this season, likely to start every game unless injury intervenes.
And he's thrilled at the thought that his mates could be joining him in the Super Rugby ranks.
After a strong NRC season with the Canberra Vikings, Lolesio is looking the likely flyhalf candidate at the Brumbies, battling another pair of young guns in another recent Junior Wallabies graduate Bayley Kuenzle and teen prodigy Reesjan Pasitoa.
While Kurtley Beale is likely to line up at no.10 for the Waratahs, Harrison could make his debut this season, with NSW understanding they need to blood new talent after losing several experienced players.
"It's really exciting," Lucas said of the prospect of all three taking on playmaking roles in Super Rugby.
"Obviously we've had a good year together with the Junior Wallabies. I thought we complimented each other really well in that team and it's good to see the respective states giving them a shot, so it's very exciting for all of us."
Randwick young gun Ben Donaldson was also a member of the Junior Wallabies squad - earning man-of-the-match honours for his performance at flyhalf in the semi-final when Harrison was ruled out with concussion - and is a member of the Waratahs' Elite Development Squad.
Australian U20 coach Jason Gilmore said all four had the ability to take the step to the next level.
"The good thing about those four is that they're all different, which is great for Australian rugby," Gilmore said.
"Donno's that real silky, play what's in front guy. Zaccy's a really good ball runner and provides that spark with his carry.
"Will Harrison is probably that more traditional steers the ship around flyhalf and Noah's a really confident lad that will back his ability.
"But as a five-eighth, it probably takes you until your mid-20s to really understand your game.
"You only have to look at guys like Sam Green and Jake McIntyre, who are playing really well overseas because they are in their mid-20s and have learnt their craft."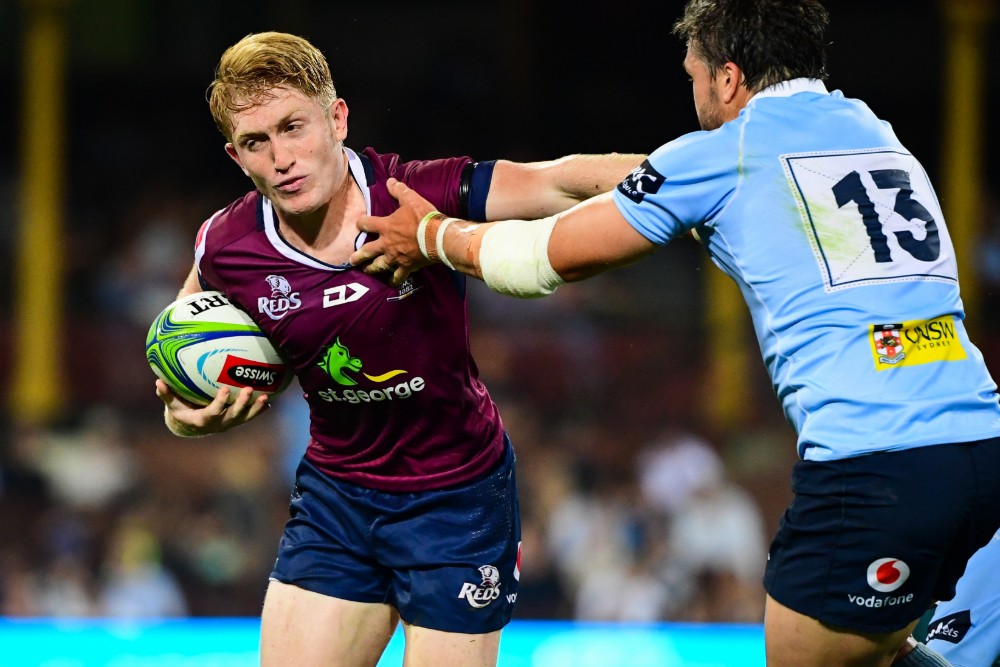 Certainly they have had good role models.
All four worked closely with Stephen Larkham in the lead-up to the Junior World Cup, with Harrison praising his input.
" 'Bernie' has been awesome for me," Harrison said.
"I've had a lot of one-on-one time and for a player of his (calibre) and what he's done in rugby, I think it's amazing.
"It just shows what a good person he is on and off the field. Giving back to boys coming up like myself, I just can't thank him enough.
"I don't think many other 20s squads would have a 100-cap flyhalf come in and help out, so it just shows what a character he is and we need more of them, so I'm definitely looking up to him when I go into the game, for sure."
Lolesio too, has learnt from a master, taken under the wing of Christian Lealiifano when he arrived at the Brumbies and soaking up as much knowledge as he could before the Wallaby's move overseas following the recent World Cup.
"When I went fulltime Christian was a real role model for me," he said.
"I just asked questions - he probably got a bit annoyed from me - but I felt like he always had time for me and I'm forever grateful for Christian."
Lolesio said it was "extremely humbling" to be in the conversation for the starting flyhalf spot.
"At this moment in time, I really just want to put my head down and focus and come into the pre-season ready to go."
While the young guns are ready to go, Gilmore has urged caution and patience, something he says the Super Rugby coaches are all aware and supportive of too.
"We've just got to be careful in that we show patience with them, because they're going to make mistakes - that's all a part of learning," he said.
"But we can't chuck them out at 22 because they haven't won a comp for our Super teams yet, we've got to keep persisting with them because they're such good footballers."