Boyle ruled out for season in Super W shock for Reds
Queensland's quest for a maiden Super W title has suffered a blow with Wallaroos forward Millie Boyle likely to miss the entire season due to a back injury.
Boyle had a breakout season across two codes in 2019 making her State of Origin debut for NSW as well as representing rugby league's Jillaroos, on top of playing four Tests for the Wallaroos following Queensland's Super W campaign.
But the workload has told on Boyle's body, with a bulging disc in her back preventing her from taking part in Australia A's recent Oceania tournament campaign in Fiji.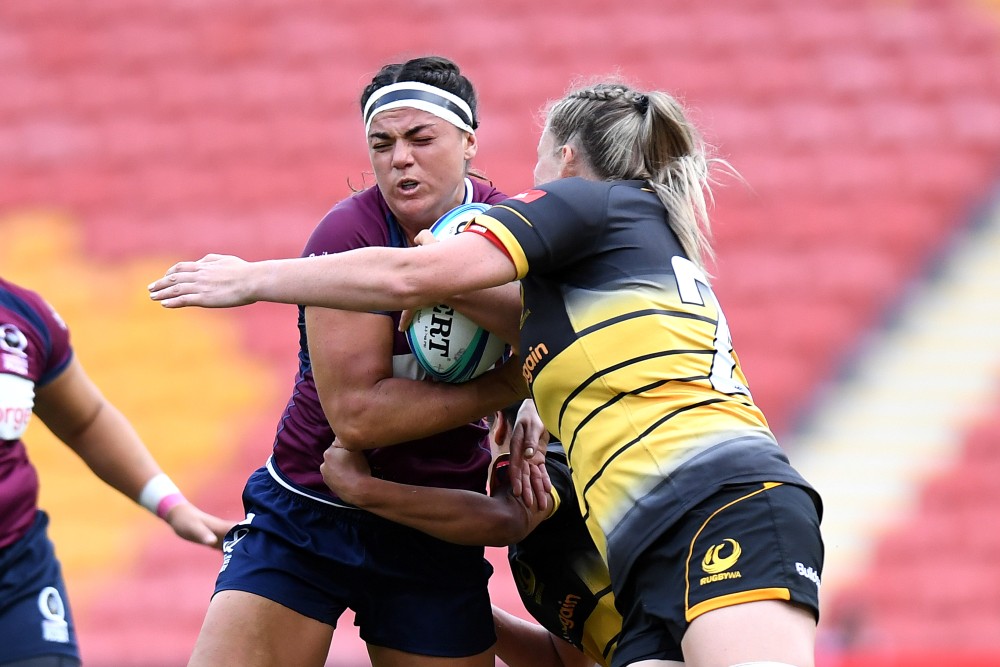 The injury was also expected to prevent her from starting the Super W season but Reds coach Moana Virtue said she was planning to be without her strike backrower for the entire campaign.
"I think we're just going ton plan on her not being available really," Virtue said of Boyle.
"They say maybe the last game but that's if everything goes right.
"You never want anyone to play that's not 100 per cent - it's not fair on her, it's not fair on the team."
It's a blow for Queensland and not the only one they face in the back row, with Scottish international Eilidh Sinclair also off the books next season after rupturing her ACL playing sevens in Scotland.
"But injuries happen and when you come from clubland, you're used to injuries happening, so I'm resilient to that," Virtue said.
"We'll deal with it, there's nothing I can do about it, just move on and try and give someone else an opportunity.
"There'll be a 'new Millie' this year."
The injuries are likely to hand an opportunity to Canadian Test representative Gabby Senft, who trained with Queensland late last season after their squad had been completed.
"She came in late in the piece, so all we could do was have her as a shadow and if there was an injury in that loose forward pack, she would have been the first in, so it gives her an opportunity as well."
In a welcome boost, Reds captain Kiri Lingman has recovered well from shoulder surgery and is on track to start contact work after Christmas, meaning she is likely to be ready for round one.
Injuries are not the only thing that will force a reshuffle for Queensland though, with young gun Alysia Lefau-Fakaosilea joining the sevens program and pushing for an Olympic berth, meaning she is unlikely to play across XVs as well.
Concussion has kept the teen - who made her Wallaroos debut last season, playing four Tests - ruled out of action until the new year when she is likely to make her debut on the world series and push for a spot in the Tokyo Games squad.
"She and Sammie (Treherne) are both in the sevens program and I would say we probably won't get them because obviously the Olympics are a big driving force," Virtue said.
"That's fine and I want the girls to play (sevens), I want them to compete in that.
"We might name them and see what happens but we'll have two girls who will (fill those spots) if they don't.
"We'd love to have them because they both come from XVs backgrounds and their pathway has come through us to get to that place.
"But it's the Olympics, so I understand."