Rugby is set to be promoted as a vehicle to help veterans transition from the defence forces, through a partnership between Rugby 1st and Veteran Sport Australia.
The values and mateship in rugby are seen as a close fit for the ideals and beliefs defence force personnel practice throughout their careers and miss as they transition out of the service and into civilian life.
Given that, Rugby 1st - a "not-for-profit business activation community created for the betterment of rugby - is aiming to introduce at least 100 veterans to the sport over the next 12 months with the help of Veteran Sport Australia, connecting them to local clubs in a move seen as beneficial to both parties.
The program was launched on Friday morning at the Anzac Memorial in Hyde Park.
Angus Stewart, a founder and director of Rugby 1st, came up with the idea of the veterans transition program with father Rod, a retired army major who understood the need to help veterans utilise the skills picked up in a defence force career while joining a rugby "tribe" that could replicate the bonds of mateship found in the services.
"He saw that what we do in rugby and what we do in the team and club environment, we replicate in many ways unknowingly what the military miss out on when they transition out, and that's the team and club community that provides their comfort and reassurance and support and their networks," Stewart said.
While his own father transitioned well from his service, being poached to work on the railway in the Pilbara due to the engineering skills he picked up in the army, he was motivated to do more for the men and women who struggle to return seamlessly to civilian life.
"He transitioned well but to this day, his closest group of friends are his Duntroon buddies from his class back in 1957," Stewart said.
Some heavy hitters have endorsed the program too, with former Governor General Sir Peter Cosgrave an ambassador.
Veteran Sport Australia is the key legacy program of Sydney's Invictus Games, with its aim to continue to support Australian teams selected for that event, as well as to use the Australian sport system to create more opportunities for veterans and their families to engage.
VSA general manager Michael Hartung said that was where the partnership with Rugby 1st had come about.
"Just being part of that community, even in a social sense is such a positive thing in terms of their health and well being," Hartung said.
"Opportunities to referee or coach, or be involved in club administration or even being on the barbecue on the weekend are things that will introduce people to new communities and allow them to be part of something that will help them."
The former chairman of the Australian Rugby Foundation in Hong Kong, Stewart said Rugby 1st had developed a "toolkit" to help clubs reach out to both transitioning vets and the 640,000 former servicemen and women already in the community.
"We create, design and execute the program in conjunction with Veteran Sport Australia and they reach out to their veteran community," Stewart said.
"It's a very inclusive framework and it's not just about playing."
In fact, Stewart said only about a third of the vets looking to engage with rugby clubs were seeking to play the sport.
"The other two-third are those who want to apply the skills that they've learnt in the military - leadership, planning, execution, organisation - and bring those into a club where they get recognised for those skill sets and find themselves a community at the same time," he said.
"That benefits both parties, it's a win-win the whole program."
The benefits are not just physical and social though, with hopes the program will help bolster the mental health of veterans transitioning out of the defence forces.
"Mental health is really a topic that is becoming an issue right across the community. We know that in Australia we've got about 640,000 veterans and of those, there's 5000-6000 that come out of service every year," Hartung said.
"Within that first five years of leaving service, up to 46 percent meet the diagnostic criteria for a mental health issue and a lot of that ties back to their time in service.
"So it's a really important thing for those transitioning out with existing issues - whether that's physical or mental health - to help deal with those and as a holistic plan of support, look at some of these proactive measures.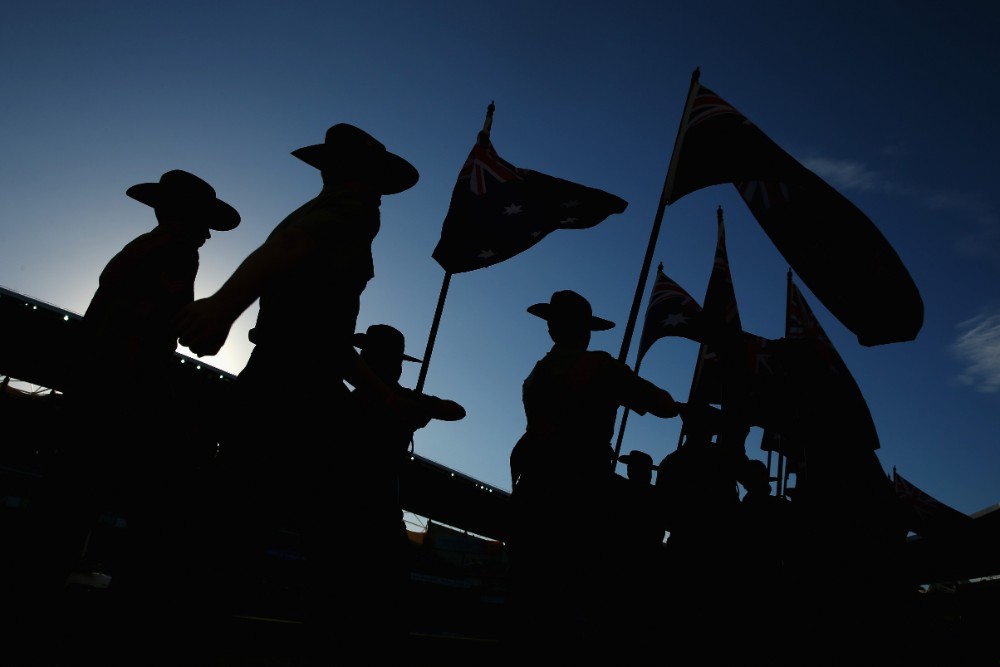 "And then also for those transitioning out, to look at what can be done before something happens, to prevent it from coming on.
"And in both those circumstances, getting involved in sport, and the communities that sport really thrive on, are things that can make a significant difference."
VSA work with more than 30 sports organisations but Hartung said rugby had particular synergies with the defence forces.
"There's almost that tribalism. It really relates quite well to shoe who have served and there's been a really strong rugby culture and rugby program in the ADF for a long time, so there's a natural connection in service and it would be great to continue that connection beyond service and I think that's where we can act now."
Seven clubs are currently involved in a pilot program, including Gordon, whose former president, Rugby Australia board member Hayden Rorke is also involved with the program.
"I've been involved with the club for 40 years and we're very proud to be the inaugural club around this program and this initiative, which I think is a great one," Rorke said.
"In rugby you put your body on the line, in the military services, you put your life on the line, that's the ultimate sacrifice.
"We've lost a lot (of servicemen and women) over the years and we're very proud of the fact that we're associated with this program on that basis."