Aon Uni 7s: UQ secure second Uni 7s Series title
The University of Queensland is certain to claim a second Uni 7s series title in three seasons but day two in Canberra will determine whether they share the spoils.
UQ came into the tournament six points clear of their nearest rival and are on track for another top two finish in their pool, guaranteeing them a minimum 14 points from this tournament.
That means their fierce rivals and current series runners-up Griffith University would need to win the final tournament to force an overall series tie but UQ can not be knocked out of top spot entirely.
Sydney Uni face the same equation but they are still waiting to secure their semi-final spot after a loss to the University of Adelaide in their first day of matches.
The two Queensland sides go head-to-head in their final pool match on Sunday morning, before the semis kick off at 12pm AEDT.
After day one in Canberra, it's the University of Adelaide who have made the biggest statement, sitting on top of its pool with three wins from three matches and on track for a semi-final berth.
The South Australians lead UC by two points, with Sydney Uni back in third in that pool.
The day two action kicks off on Sunday at 9am AEDT, with every moment LIVE on RUGBY.com.au.
The tournament kicks off at 9am on Saturday and continues on Sunday, with the final at 2:40pm AEDT. All games from both days' play will be streamed LIVE at RUGBY.com.au.
STANDINGS
After Day one
Pool A
1. University of Adelaide - 9 pts
2. University of Canberra - 7 pts
3. Sydney Uni - 7 pts
4. UWA - 5 pts
5. University of Melbourne - 4 pts
Pool B
1. UQ - 9 pts
2. Griffith Uni - 8 pts
3. Bond Uni - 6 pts
4. UTS - 6 pts
5. UNE - 3 pts
Series Standings (before University of Canberra)
1. UQ - 56 pts
2. Griffith Uni - 50 pts
3. Sydney Uni 50 pts
4. Uni of Canberra - 38 pts
5. UTS - 36 pts
6. Uni of Adelaide - 36 pts
7. Bond Uni - 22 pts
8. Uni of Melbourne 18 pts
9. UWA - 14 pts
10. UNE - 10 pts
RESULTS
Round 1
University of Adelaide 26 - University of Canberra 7
University of Melbourne 0 - University of Sydney 5
University of New England 17 - Bond University 26
University of Queensland 14 - University of Technology Sydney 12
Round 2
University of Western Australia 29 - University of Melbourne 10
University of Sydney 5 - University of Adelaide 28
University of Technology Sydney 17 - Griffith University 17
Bond University 12 - University of Queensland 21
Round 3
University of Sydney 19 - University of Western Australia 10
University of Canberra 29 - University of Melbourne 7
University of Queensland 17 - University of New England 10
Griffith University 33 - Bond University 12
Round 4
University of Melbourne 7 - University of Adelaide 42
University of Western Australia 12 - University of Canberra 31
Bond University 19 - University of Technology Sydney 45
University of New England 12 - Griffith University 22
SCHEDULE
Sunday October 27. All times AEDT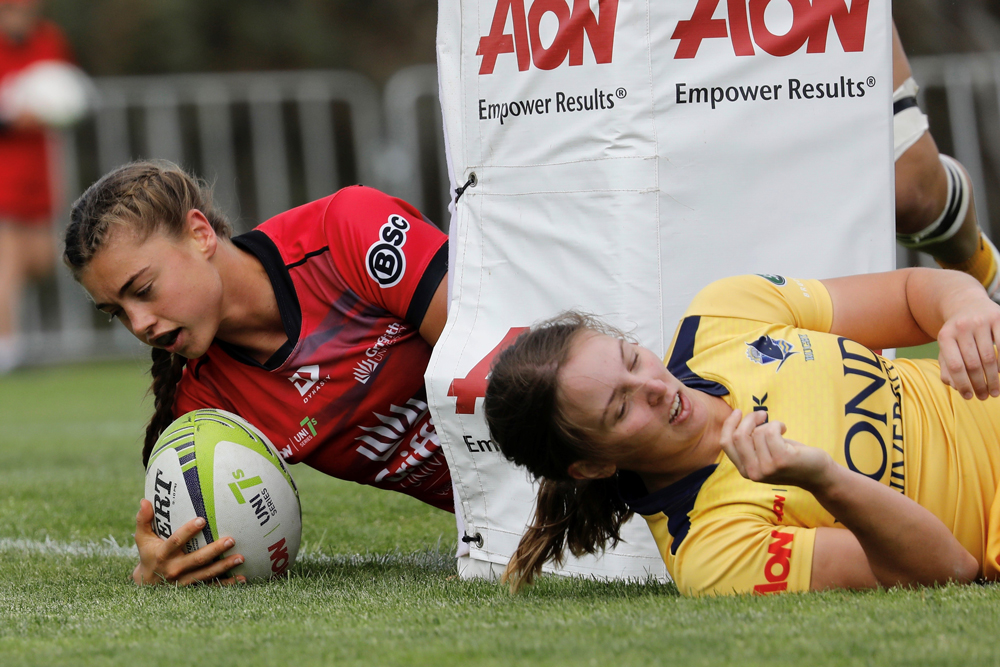 Round 5
9am - University of Canberra vs University of Sydney
9:20am - University of Adelaide vs University of Western Australia
9:40am - Griffith University vs University of Queensland
10am - University of Technology Sydney vs University of New England
Semi-Finals
11am - 3rd Pool A v 4th Pool B
11:20am - 3rd Pool B v 4th Pool A
11:40am - 1st Pool A v 2nd Pool B
12pm - 1st Pool B v 1st Pool A
Finals
1pm - 9th/10th Playoff
1:25pm - 7th/8th Playoff
1:50pm - 5th/6th Playoff
2:15pm - Bronze Medal Match
2:40pm - Gold Medal Match